Ducati Diavel Service Manual: Reassembly of the timing pulleys
Fit the pulley (11) on the flange (24), aligning the timing mark (d) on the pulley with the timing mark on the (e) on the flange.
Install the washer (23) up against the pulley, aligning the timing notch (f) with the timing marks on the pulley and the flange.
Insert the three screws (22) in the threaded holes (g) of the flange.
Tighten the screws (22) to a torque of 10 nm (min. 9 Nm - max. 11 Nm) (sect. 3 - 3, Engine torque settings).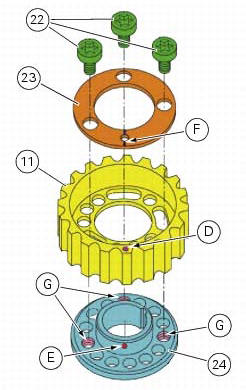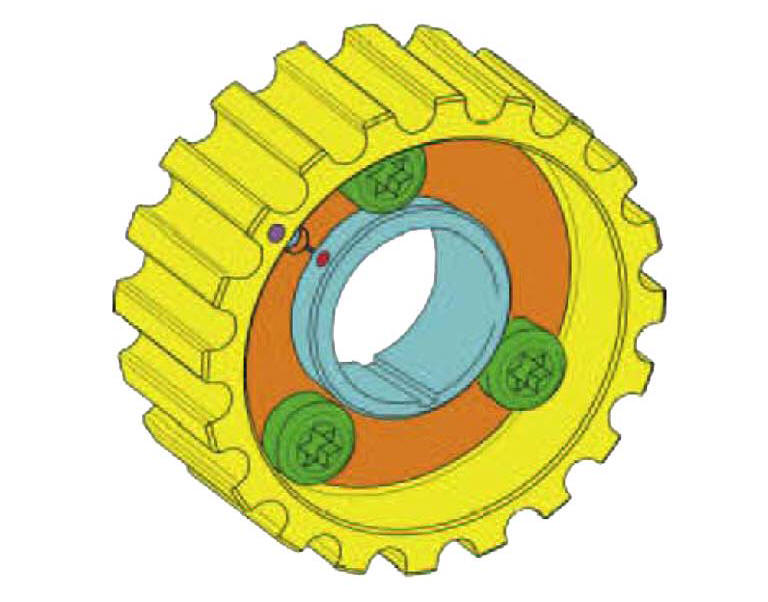 Apply the recommended threadlocker to the threads of the studs. Insert the tensioner pins (12) on the cylinder heads, and tighten them using the tool code 88713.1821. Tighten the tensioner pin ...
Check that the keyway on the end of the camshaft is in good condition and without burrs. Fit a woodruff key (b) in the keyway of each camshaft. Fit the pulley (11) on the camshaft, inserti ...
Other materials:
Removal of the lubrication system
Disconnect the sensor (12) of the main wiring. Open the pipe grommet (11). Undo the screw (8) and slide out the plate (9). Slide the tubes (7) out of the half-casing having care not to damage the tubes o-rings (a) that guarantee the coupling sealing. Undo and remove the sc ...
Refitting the timing belts
Rotate the pulleys on the timing belt driveshaft until the timing mark on the outer roller is aligned with the mark on the clutch-side crankcase cover. In this condition, the horizontal cylinder piston will be at top dead centre. Install in the alternator cover seat the tool code 88713.20 ...
Cleaning and replacing the spark plugs
Spark plugs are essential to smooth engine running and should be checked at regular intervals. The condition of the spark plugs provides a good indication of how well the engine is running. Have the spark plugs inspected or replaced at a ducati dealer or authorised service centre; they will ...