Ducati Diavel Service Manual: Reassembly of the timing pulleys
Fit the pulley (11) on the flange (24), aligning the timing mark (d) on the pulley with the timing mark on the (e) on the flange.
Install the washer (23) up against the pulley, aligning the timing notch (f) with the timing marks on the pulley and the flange.
Insert the three screws (22) in the threaded holes (g) of the flange.
Tighten the screws (22) to a torque of 10 nm (min. 9 Nm - max. 11 Nm) (sect. 3 - 3, Engine torque settings).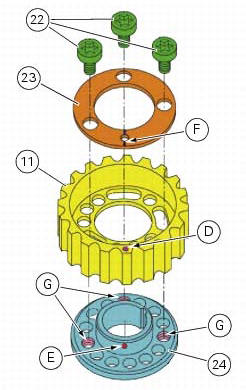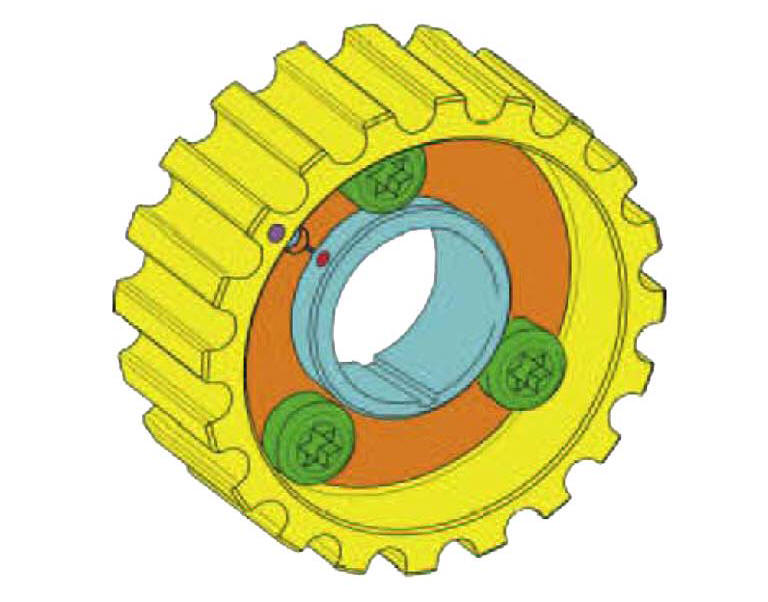 Apply the recommended threadlocker to the threads of the studs. Insert the tensioner pins (12) on the cylinder heads, and tighten them using the tool code 88713.1821. Tighten the tensioner pin ...
Check that the keyway on the end of the camshaft is in good condition and without burrs. Fit a woodruff key (b) in the keyway of each camshaft. Fit the pulley (11) on the camshaft, inserti ...
Other materials:
Rear-view mirrors
Rear-view mirror Screw U-bolt Spring washer Spare parts catalogue Diavel abs handlebar and controls Diavel carbon abs handlebar and controls Important Bold reference numbers in this section identify parts not shown in the figures alongside the text, but which can be found in ...
Reassembly of the oil pump
Check that the circlip (3) and tongue (13) are present on the pump. Fit the pump drive gear (12) on to the oil pump and secure it by installing the circlip (6) in its groove. Insert the by-pass valve pump (17), the spring (16) and screw the plug (14). Tighten the plug (14) to a torque of ...
Refuelling
Never overfill the tank when refuelling. The fuel level should always be below the rim of the filler recess. Warning Use low-lead fuel with 95 octane rating at origin minimum (see "top-ups" table, page 173). Check that no fuel is trapped in the filler cap recess. ...