Ducati Diavel Service Manual: Timing system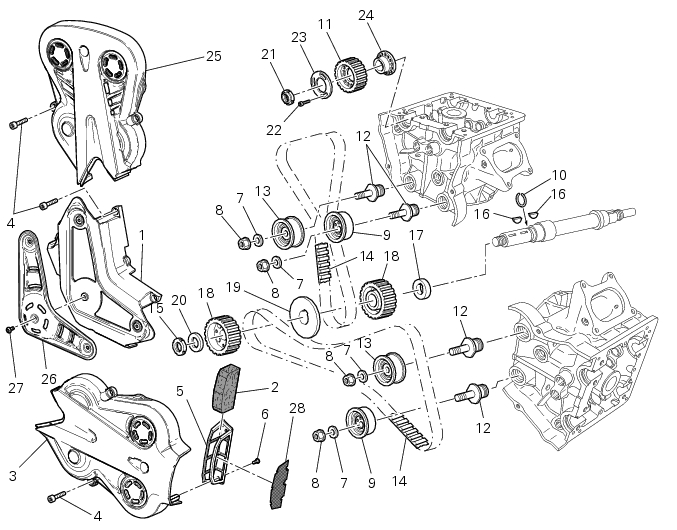 Central external cover
Air filter
Horizontal cylinder timing belt cover
Screw
Filter support
Screw
Washer
Nut
Tensioner pulley assembly
Circlip
Camshaft pulley
Tensioner pin
Idler pulley assembly
Timing belt
Nut
Key
Spacer
Camshaft pulley
Driveshaft pulley spacer
Spacer
Nut
Screw
Washe
Spacer flange
Vertical cylinder belt external cover
Central protection
Screw
Mesh
Spare parts catalogue
Diavel abs Timing system
Diavel abs cylinder head: timing system
Diavel carbon abs timing system
Diavel carbon abs cylinder head: timing system
Important
bold reference numbers in this section identify parts not shown in the figures alongside the text, but which can be found in the exploded view diagram.
Note
For clarity, the figures show the engine removed from the frame.
To work with the engine installed, first proceed as follows: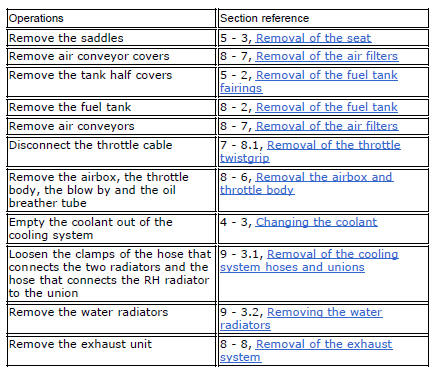 Note
Remove also any parts which may impede the procedure in any way.
Set the engine to the configuration described for the "checking and adjusting the valve clearances", previously indicated. Install tool 88765.1188 (G) in the spark plug bore to determine the ...
Loosen the screws (4) securing the central external cover (1) and remove it from the central side. Undo the fixing screws (4) of the external cover (25) and remove it from the vertical therma ...
Other materials:
Overhaul of the crankcase halves
Carefully examine the engine crankcase halves. Check that the surfaces of the crankcase halves are perfectly flat using a reference surface. Check that the bearings (1) and (18), and the bushings (2) and (17) are in optimum conditions. Note that the main bearings must always be changed in p ...
Check engine oil level
Check the engine oil level through the sight glass (1) on the right-hand side of the oil sump. Stop the engine and allow a few minutes for the oil to settle to a steady level. Oil level must be checked with the vehicle perfectly upright and the engine cold. The oil must be between the m ...
Dashboard on tank
Menu 1 (tot, trip1, trip2, trip fuel). Menu 2 (cons.Avg., Cons., Speed avg, air and trip time) if active. Gear / neutral indication. Icon referred to the function below from menu 1. Indication of engine setting for the currently set riding style. Currently set riding style (riding mode) ...