Ducati Diavel Service Manual: Timing system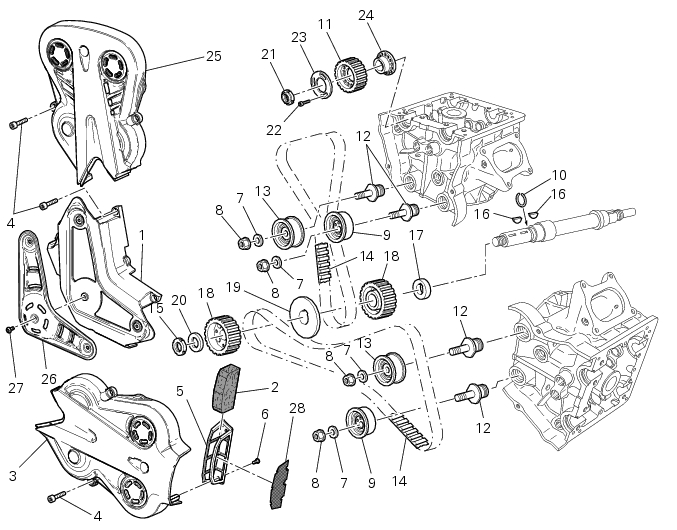 Central external cover
Air filter
Horizontal cylinder timing belt cover
Screw
Filter support
Screw
Washer
Nut
Tensioner pulley assembly
Circlip
Camshaft pulley
Tensioner pin
Idler pulley assembly
Timing belt
Nut
Key
Spacer
Camshaft pulley
Driveshaft pulley spacer
Spacer
Nut
Screw
Washe
Spacer flange
Vertical cylinder belt external cover
Central protection
Screw
Mesh
Spare parts catalogue
Diavel abs Timing system
Diavel abs cylinder head: timing system
Diavel carbon abs timing system
Diavel carbon abs cylinder head: timing system
Important
bold reference numbers in this section identify parts not shown in the figures alongside the text, but which can be found in the exploded view diagram.
Note
For clarity, the figures show the engine removed from the frame.
To work with the engine installed, first proceed as follows: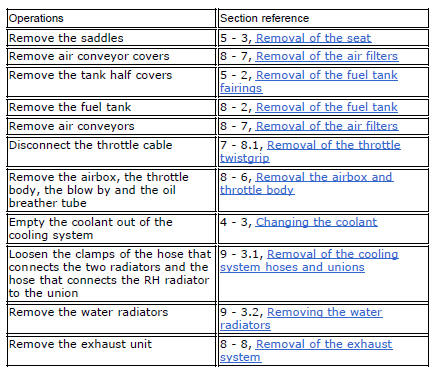 Note
Remove also any parts which may impede the procedure in any way.