Ducati Diavel Service Manual: Removal of the movable tensioner/timing belt
Loosen the nut (8) and remove the washer (7) and the tensioner pulley (9) from the pin (12) on the cylinder head.
Remove the timing belt (14) from the horizontal cylinder assembly.
Important
If the belts are to be re-used, mark the direction of rotation with an arrow and also mark the cylinder they belong to.
Repeat the procedure for the other cylinder.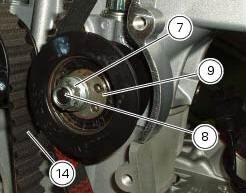 Loosen the screws (4) securing the central external cover (1) and remove it from the central side. Undo the fixing screws (4) of the external cover (25) and remove it from the vertical therma ...
Insert the tool code 88713.1806 In the pulleys to lock their rotation and use the bush supplied to loosen the fixing nuts (21) of the pulleys. important On reassembly, always use new nuts. Remov ...
Other materials:
Clutch lever
Lever (1) disengages the clutch. It features a dial adjuster (2) for lever distance from the twistgrip on handlebar. The lever distance can be adjusted through 10 clicks of the dial (2). Turn clockwise to increase lever distance from the twistgrip. Turn the adjuster counter clockwise to decrea ...
Swingarm
Swingarm pivot Washer Special screw Bush Sealing ring Roller bearing Special screw Rear swingarm Spacer Bearing Spacer Spacer Hose clip Pin Chain slider (lower) Washer O-ring Calliper mounting bracket Circlip Spacer Inner ring Hub Cable grommet Ch ...
Recovery procedure in the event of electric steering lock fault
If any fault occurs during activation of the electric steering lock: for example, if the pin jams, if the handlebar is moved while the pin is deployed or if there is excessive strain on the electric pin actuator motor, the electric steering lock is automatically disengaged and the hands free s ...