Ducati Diavel Service Manual: Recovery in the event of flat active key battery
If the active key battery is running low or is flat, the hands free system shows the relative icon on the dashboard.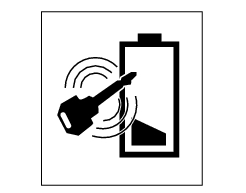 The following image shows the icon appearing on the circular area of the dashboard: this indicates that the active key battery is flat.
For the replacement procedure of the active key battery refer to paragraph "active key" - "replacing the battery in the active key" of this chapter.
The active key still works even if its battery is flat. In this case, however, it functions in exactly the same way as the passive key. During the dashboard switch on procedure, the key must be physically placed on the antenna. To reach the antenna remove the seat (sect. 5 - 3, "Removal of the seat").
Note
After the active battery key is replaced, the low battery icon may still be displayed the next time the dashboard is switched on. This icon will disappear after a few seconds.
When the dashboard is on and the key has been recognised, the hands free attempts to detect the key every 60 seconds. If the engine is off and the on/off switch on the handlebar is turned to "run ...
If any fault occurs during activation of the electric steering lock: for example, if the pin jams, if the handlebar is moved while the pin is deployed or if there is excessive strain on the electri ...
Other materials:
Warranty
In your own interest, and in order to guarantee product reliability, you are strongly advised to refer to a ducati dealer or authorised service centre for servicing that requires any particular technical expertise. Our highly skilled staff have the tools required to perform any servicing job ...
Evaporative emissions canister system (usa versions only)
Usa models are equipped with an additional system with an evaporative emissions canister that prevents fuel fumes from being discharged into the atmosphere. The breather hose (4) is connected to the canister filter (1); when the fuel has been filtered, it is returned through the hose (2) to t ...
Removal of the lubrication system
Disconnect the sensor (12) of the main wiring. Open the pipe grommet (11). Undo the screw (8) and slide out the plate (9). Slide the tubes (7) out of the half-casing having care not to damage the tubes o-rings (a) that guarantee the coupling sealing. Undo and remove the sc ...