Ducati Diavel Service Manual: Recovery in the event of flat active key battery
If the active key battery is running low or is flat, the hands free system shows the relative icon on the dashboard.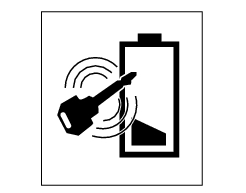 The following image shows the icon appearing on the circular area of the dashboard: this indicates that the active key battery is flat.
For the replacement procedure of the active key battery refer to paragraph "active key" - "replacing the battery in the active key" of this chapter.
The active key still works even if its battery is flat. In this case, however, it functions in exactly the same way as the passive key. During the dashboard switch on procedure, the key must be physically placed on the antenna. To reach the antenna remove the seat (sect. 5 - 3, "Removal of the seat").
Note
After the active battery key is replaced, the low battery icon may still be displayed the next time the dashboard is switched on. This icon will disappear after a few seconds.
When the dashboard is on and the key has been recognised, the hands free attempts to detect the key every 60 seconds. If the engine is off and the on/off switch on the handlebar is turned to "run ...
If any fault occurs during activation of the electric steering lock: for example, if the pin jams, if the handlebar is moved while the pin is deployed or if there is excessive strain on the electri ...
Other materials:
Side stand
Important Before lowering the side stand, check that the ground is sufficiently even and firm. Do not park on soft or pebbled ground or on asphalt melted by the sun heat and similar or the motorcycle may fall over. When parking on a slope, always park with the rear wheel on the downhill sid ...
Checking the fuses
The main fuse box (1) and the secondary one (2) are located in the tool tray; to reach the fuse box remove the seat as specified under sect. 5 - 3 "Removal of the seat". The fuses are accessed by removing the cover, which shows the ampere ratings and mounting locations. For ampere ratings ...
Cylinder compression test
Note The on-screen icons used during this procedure are explained in a table at the end of this section. Engine performance is directly correlated to the pressure that can be measured in the combustion chambers of the two cylinders. Pressure which is too high/low or an excessive difference be ...