Ducati Diavel Service Manual: Alternator
It is equipped with a 12 v, 430 w generator, consisting of a fixed element (stator, a) located on the generator cover and of a movable element (rotor, b) fixed to the crankshaft.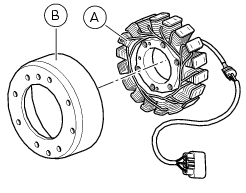 Note
To check the battery charging system for faults, use the dds diagnosis instrument and follow the instructions given in the paragraph, "testing the battery charging system" (sect. 6 - 11).
The absolute value of voltage measured across the terminals of two of the three yellow cables (the measured value will be the same whichever combination of cable is used) must be within the range indicated in the table below.
(Ambient temperature: 35 C - 70 C)
Important
Before testing, disconnect the alternator wiring from the electrical system when the ignition key is set to off.

Values significantly lower than those indicated above can be due to:
Partially demagnetised rotor;
Short-circuited windings.
In the above cases the whole alternator assembly (rotor and stator) should be renewed.
If checks have a favourable outcome, reconnect the alternator to the regulator with ignition key on off. Make sure that no cables are damaged or disconnected.
Removal of the alternator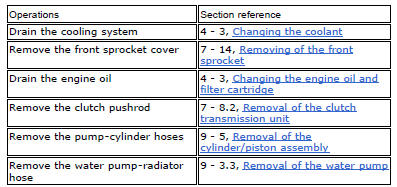 Disconnect the cables of the alternator-side electric system (sect. 6 -1, Routing of wiring on frame).
Remove the generator cover, the stator (a) and the rotor (b) (sect. 9 - 8, Removal of the generator cover).
Refitting the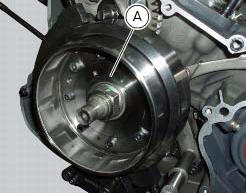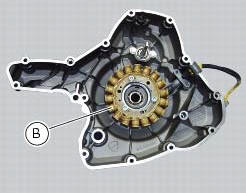 Refitting the generator
Fit the rotor (b), the stator (a) and the alternator-side crankcase cover.
Connect the cables of the generator side electric system (refer to the table in chapter "routing of wiring on frame", sect. 6 - 1).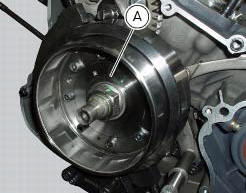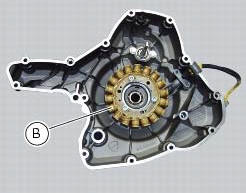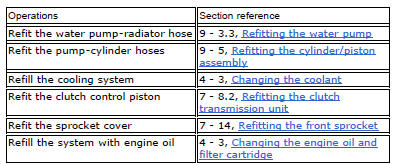 Battery safety rules Warning Before carrying out any operations on the battery, keep in mind the safety standards (sect. 1 - 3, General safety rules). When under charge, batteries produce explo ...
The rectifier (1) is placed in the electrical components compartment. The rectifier/regulator consists of an aluminium casing containing the diodes that rectify the current produced by the alter ...
Other materials:
Check the engine oil pressure
Note The on-screen icons used during this procedure are explained in a table at the end of this section. To measure the pressure of the lubrication circuit, use the engine oil pressure test point (19) as described below. Disconnect the wiring connector (f) of pressure switch (1) and rem ...
Brakes
Separate-action anti-lock brake system operated by hall-type sensors mounted to each wheel, with phonic wheel detection: abs can be disabled. Front Semi-floating drilled dual disc. Braking material: steel. Carrier material: aluminium. Disc diameter: 320 mm. Hydraulically operated ...
Instrument panel on tank
Menu 1 (tot, trip1, trip2, trip fuel). Menu 2 (cons.Avg., Cons., Speed avg, air and trip time) if active. Gear / neutral indication. Icon referred to the function below from menu 1. Indication of engine setting for the currently set riding style. Currently set riding style (riding m ...