Ducati Diavel Service Manual: Refitting the fuel tank
If the fuel tank has been disassembled into its component parts, reposition all the parts as shown in the exploded view.
In particular: tighten the screws (13) to a torque of 5 nm +/-10% (sect. 3 - 3, Frame torque settings).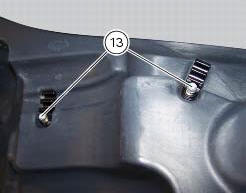 Refit the tank by inserting its rear side into the pin on the frame, as shown in the figure.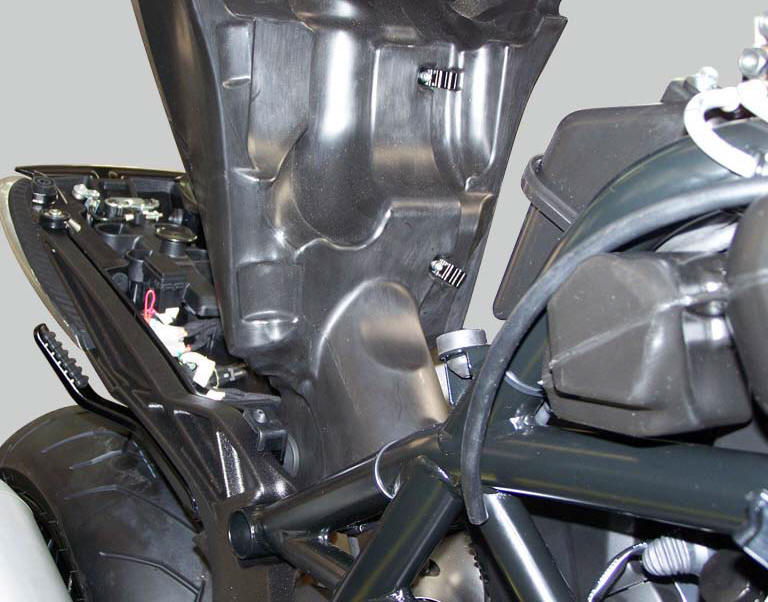 Smear the o-rings (l) installed on fuel hose couplings (c) with rubber lubricant.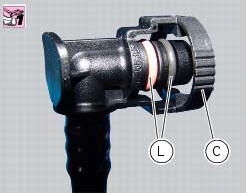 Connect the two quick-release fittings (c) of the fuel pipes following the removal order, paying attention to insert the Delivery on the filler marked with out and the return on the filler marked with in.
Connect connector (d) of the fuel level sensor to the main wiring.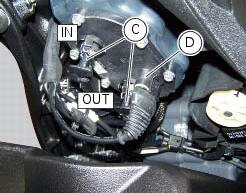 Attach the fuel hoses (12) to the hose clips (14).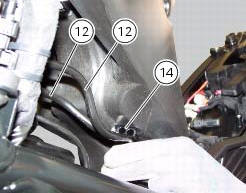 Refit the flange cover (a) by tightening the screws (b) to a torque of 4 nm +/- 10% (sect. 3 - 3, Frame torque settings).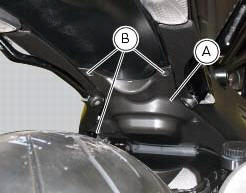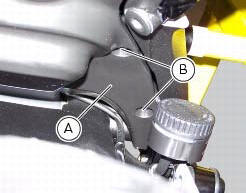 Position, without tightening, the front retaining screw (4).
On both sides of the tank plug, place the two breather pipes (8) and (15) and insert them on the plug.
Check correct position of the tank (1) and tighten the two front retaining screws (4) to a torque of 10 nm +/- 10% (sect. 3 - 3, Frame torque settings).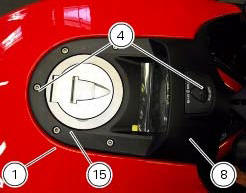 Positioning of the fuel tank breather and drain hoses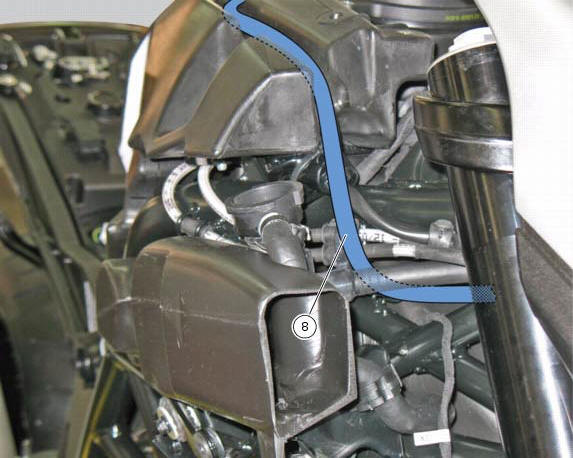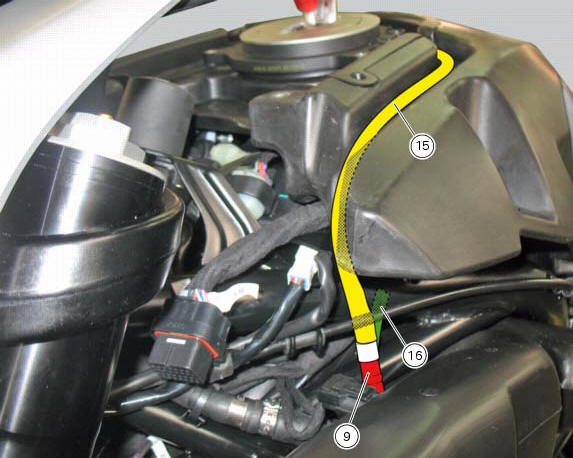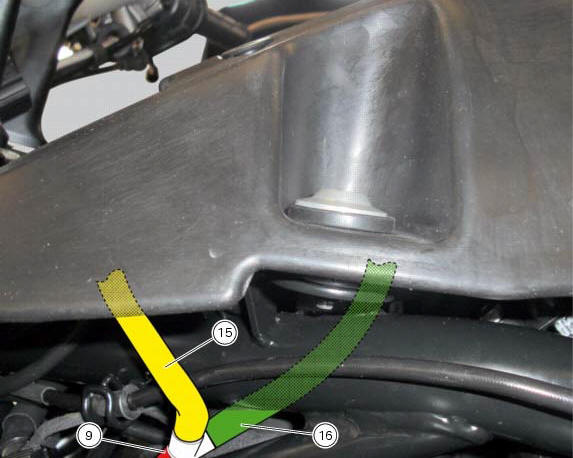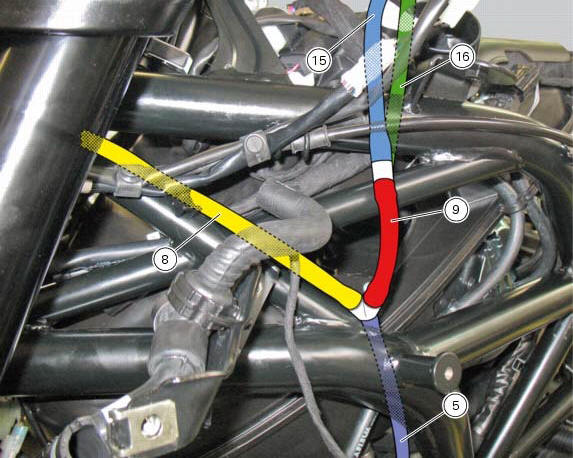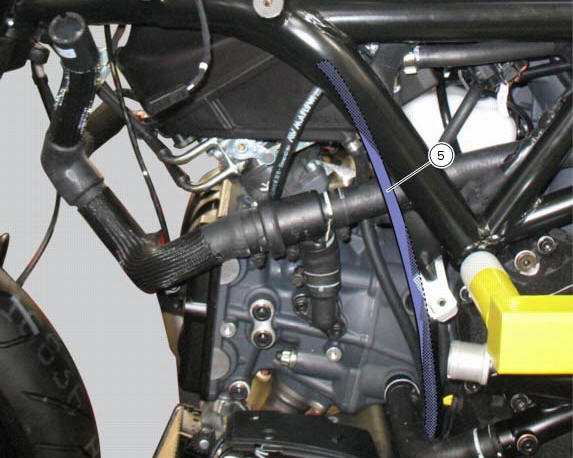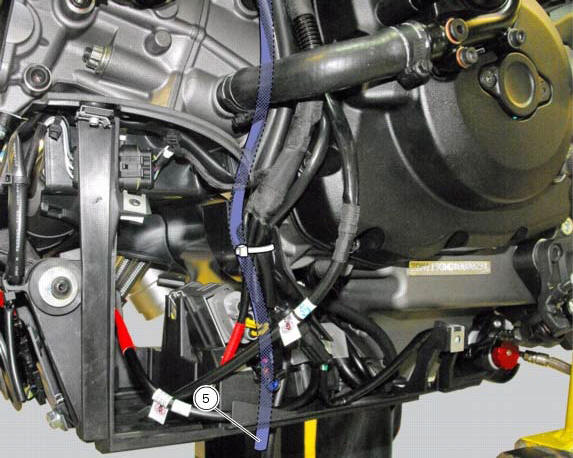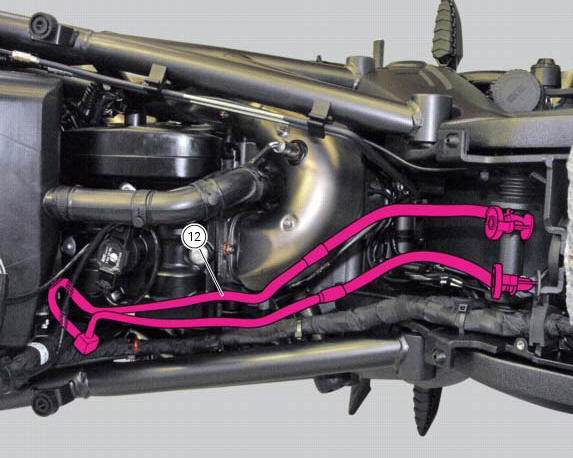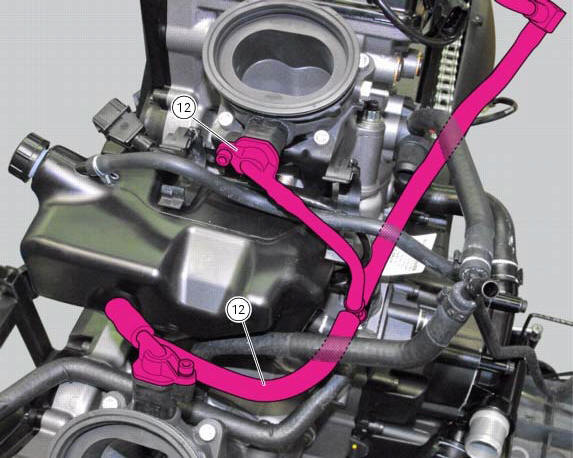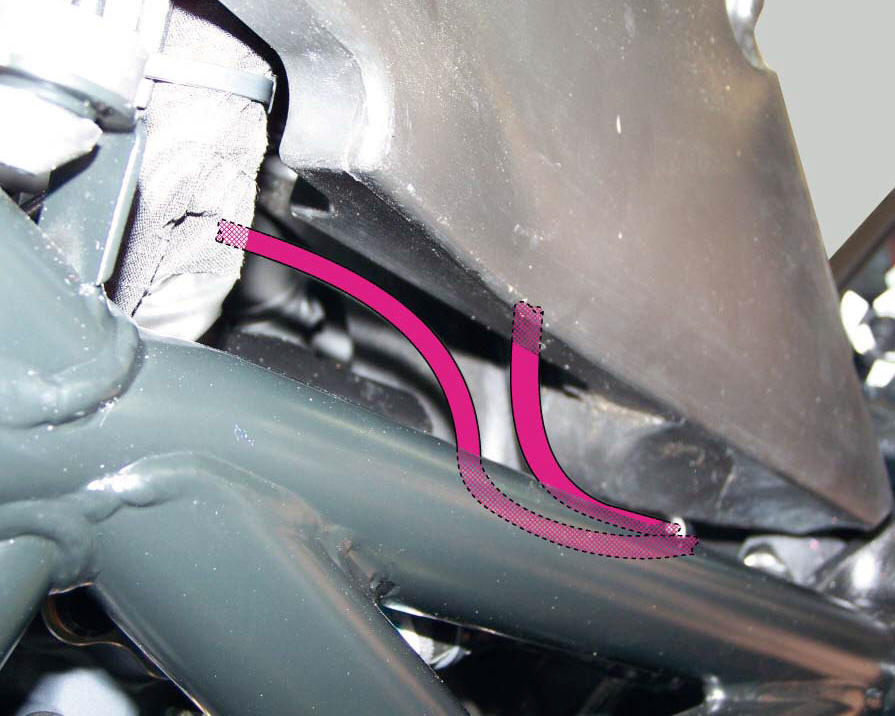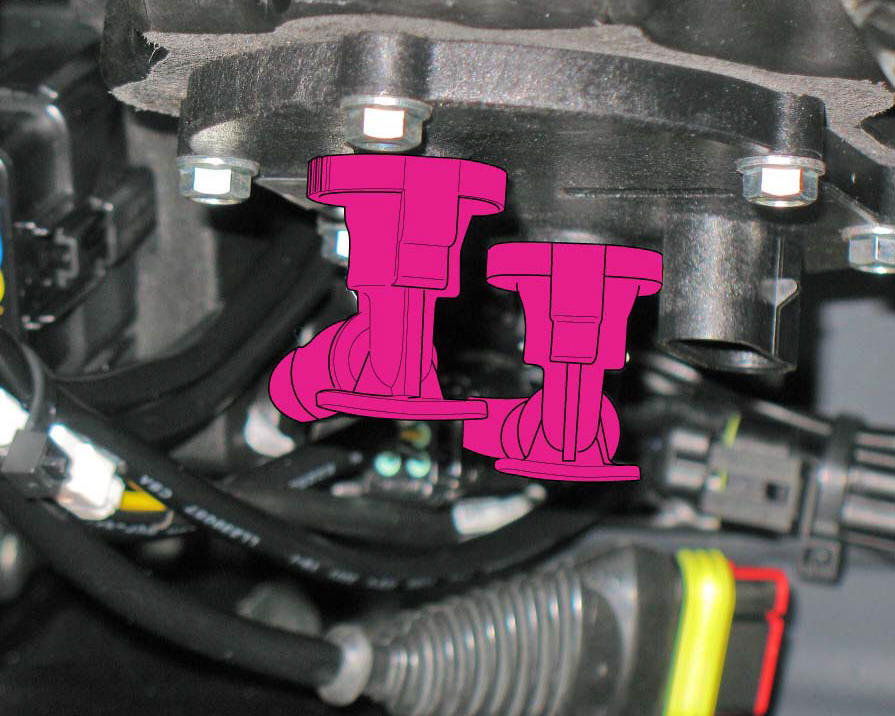 Insert the flange (20) in its housing in the fuel tank. Apply prescribed threadlocker to the screws (9) and tighten to a torque of 6 nm +/- 10% (sect. 3 - 3, Frame torque settings), following th ...
Airbox O-ring Injector Throttle body assembly Screw Clamp Intake manifold Screw Pressure sensor Screw Clamp Hose Sealing washer Intake manifold Sealing washer Scre ...
Other materials:
Adjusting the rear shock absorber
The rear shock absorber has external commands that enable you to adjust the setting to suit the load on the motorcycle. The adjuster (1, fig. 111) Located on the lower connection holding the shock absorber to the swingarm adjusts the damping during the rebound phase (return). The knob (2, f ...
High beam lights not working
Fault codes The hi beam light on the (slave) dashboard flashes at 1hz frequency. Wiring diagram Location of elements on motorcycle (A) injection relay; (b) etv relay (throttle valve operating engine); (c) radiator fan relay; (d) hands free relay. Fuses located at the rear left of the ...
Oil pump
Complete oil pump assembly O-ring Circlip O-ring Pump body Circlip Reducer bush Spring washer Screw Screw Spring washer Pump drive gear Key By-pass plug Locating bush By-pass spring By-pass valve Spare parts catalogue Diavel abs filters and oil pump Diavel ...