Ducati Diavel Service Manual: Refitting the intake manifold and coolant union
Apply prescribed threadlocker to the fitting (12), start it with seal (24) and tighten it to a torque of 2.5 Nm (min. 2 Nm - max. 3 Nm) (sect. 3 - 3, Frame torque settings).
Install the pipe (b) and tighten the clamp (a) to the torque of 1 nm +/- 10% (sect. 3 - 3, Engine torque settings).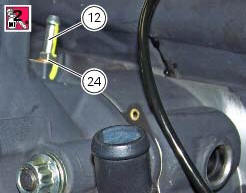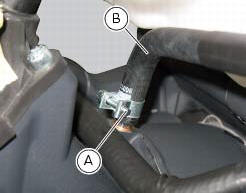 Check that the mating surfaces of the cylinder head and manifold are perfectly flat and clean and install the intake manifold (25) on the cylinder head.
Lock the fixing screws (21) to the torque of 10 nm (min. 9 Nm - max. 11 Nm) (sect. 3 - 3, Engine torque settings) in a cross-pattern sequence (1-2-3-4).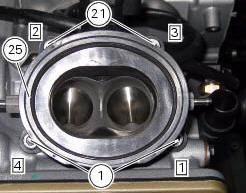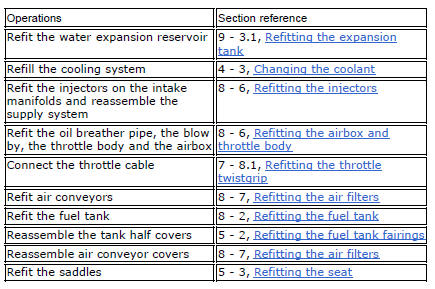 Loosen the clips (f) and remove the hoses (t). Remove the manifolds (25) undoing the screws (21). Loosen the clamp (a) and remove the hose (b). Remove the union (12) and recove ...
Closing rocker arm shaft Opening rocker arm shaft Opening rocker arm Closing rocker arm (left) Valve opening shim Half rings Valve closing shim Sealing ring Valve guide Exhaus ...
Other materials:
Checking and adjusting the valve clearances
Note For clarity, the figures show the engine removed from the frame. Move the piston of the cylinder being checked to tdc of the power stroke: in this condition, all the valves are closed and the timing shafts come in neutral position and, therefore, free to rotate; check to the valve cl ...
Transmission
Wet clutch controlled by the lever on left-hand side of the handlebar. Transmission from engine to gearbox primary shaft via spur gears. Front chain sprocket/clutch gearwheel ratio: 33/61 6-speed gearbox with constant mesh gears, gear change pedal on left side of motorcycle. Gearbox ou ...
Removal of the rear brake calliper
Important The brake manufacturer advises against any servicing of the internal components of brake callipers or the master cylinder. Incorrect overhaul of these critical safety components can endanger rider and passenger safety. Before removing the parts in question, you must first carry ou ...