Ducati Diavel Service Manual: Refitting the intake manifold and coolant union
Apply prescribed threadlocker to the fitting (12), start it with seal (24) and tighten it to a torque of 2.5 Nm (min. 2 Nm - max. 3 Nm) (sect. 3 - 3, Frame torque settings).
Install the pipe (b) and tighten the clamp (a) to the torque of 1 nm +/- 10% (sect. 3 - 3, Engine torque settings).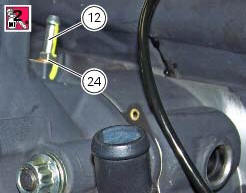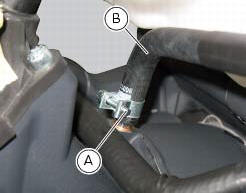 Check that the mating surfaces of the cylinder head and manifold are perfectly flat and clean and install the intake manifold (25) on the cylinder head.
Lock the fixing screws (21) to the torque of 10 nm (min. 9 Nm - max. 11 Nm) (sect. 3 - 3, Engine torque settings) in a cross-pattern sequence (1-2-3-4).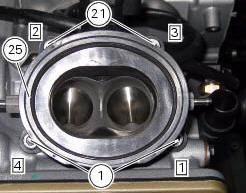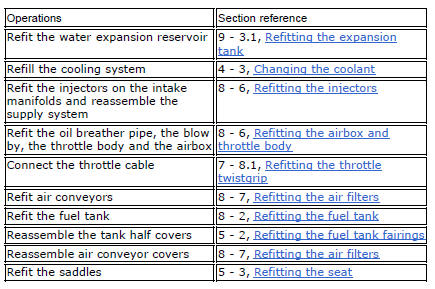 Loosen the clips (f) and remove the hoses (t). Remove the manifolds (25) undoing the screws (21). Loosen the clamp (a) and remove the hose (b). Remove the union (12) and recove ...
Closing rocker arm shaft Opening rocker arm shaft Opening rocker arm Closing rocker arm (left) Valve opening shim Half rings Valve closing shim Sealing ring Valve guide Exhaus ...
Other materials:
Alternator
It is equipped with a 12 v, 430 w generator, consisting of a fixed element (stator, a) located on the generator cover and of a movable element (rotor, b) fixed to the crankshaft. Note To check the battery charging system for faults, use the dds diagnosis instrument and follow the instruct ...
Radiator fan relay
Introduction The radiator fans are powered via a specific relay, which is enabled by the engine control unit. Component assembling position A injection relay; b etv relay (throttle valve actuator motor), c radiator fan relay, d engine control unit. Location of right hand fan connecti ...
Separation of the crankcase halves
Use two screwdrivers to remove the circlip (29) from the timing belt driveshaft shaft (30) on the clutch-side crankcase half. Note Take care to avoid scoring the surface of the shaft while removing the circlip. Unscrew the crankcase half screws on the chain side. Unscrew ...