Ducati Diavel Service Manual: Refitting the intake manifold and coolant union
Apply prescribed threadlocker to the fitting (12), start it with seal (24) and tighten it to a torque of 2.5 Nm (min. 2 Nm - max. 3 Nm) (sect. 3 - 3, Frame torque settings).
Install the pipe (b) and tighten the clamp (a) to the torque of 1 nm +/- 10% (sect. 3 - 3, Engine torque settings).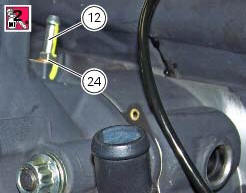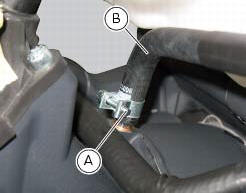 Check that the mating surfaces of the cylinder head and manifold are perfectly flat and clean and install the intake manifold (25) on the cylinder head.
Lock the fixing screws (21) to the torque of 10 nm (min. 9 Nm - max. 11 Nm) (sect. 3 - 3, Engine torque settings) in a cross-pattern sequence (1-2-3-4).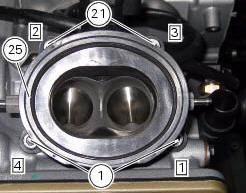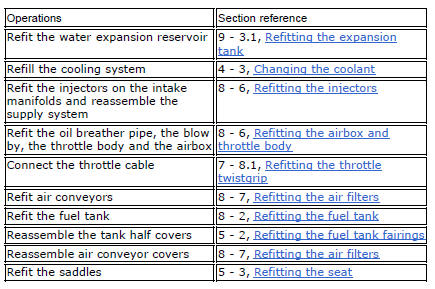 Loosen the clips (f) and remove the hoses (t). Remove the manifolds (25) undoing the screws (21). Loosen the clamp (a) and remove the hose (b). Remove the union (12) and recove ...
Closing rocker arm shaft Opening rocker arm shaft Opening rocker arm Closing rocker arm (left) Valve opening shim Half rings Valve closing shim Sealing ring Valve guide Exhaus ...
Other materials:
Headlight aim
The motorcycle must be perfectly upright with the tires inflated to the correct pressure and with a rider seated, perfectly perpendicular to the longitudinal axis. Position the motorcycle 10 metres from a wall or a screen. On the wall or surface, draw a horizontal line at the same height fr ...
Removal of the expansion tank
Loosen the clamp (6), open the hose guide (a) and slide the hose (7) out of the radiator. Open clamps (14) and release the hoses that pass through them. Loosen the screws (16). Remove the tank (12) with its hoses (7) and (20) and the support (15). Loosen the clamp (19) to r ...
Units of measurement modification function
This function allows you to change the units of measurement of the displayed values. To access the function it is necessary to view the "setting" menu page 48, using button (1, fig. 14) ?"" or (2, fig. 14) ?" " select the "set units" function and pre ...