Ducati Diavel Service Manual: Removal of the throttle twistgrip
Peel back the rubber sleeve (a) protecting the throttle control cables.
Undo the screws (b) of the throttle grip (6) and open the command.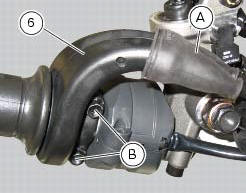 Disconnect the throttle grip cables (10) by unhooking the cable ends (c) from their seats.
Remove the throttle twistgrip (6) from the handlebar.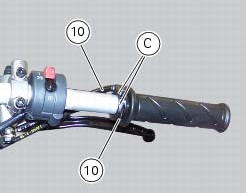 To replace the throttle grip cables, it is necessary to remove it from the throttle body (sect. 8 - 6, Removal the airbox and throttle body).
Replacement throttle cables are supplied complete with adjusters.
Position the handlebar (4) so that the external lower corner of the marks (a) on the handlebar matches the upper internal corner of the lower u-bolts (b) as shown. Apply the recommended grease ...
Lubricate the ends of the throttle grip cables (10) and the twistgrip race with the recommended grease. The closing cable (10) features a writing on the yellow tube, whereas the opening one (10 ...
Other materials:
Key-on/key-off using the red key on the handlebar with the active key
A key-on can be performed by pressing the red key (6) on the handlebar in the hands free on/off position and in the presence of the active key (3, fig. 77). Note The active key (3, fig. 77) Has a range of approx. 1.5 M, therefore it must be located within this range. Key-off can be performed ...
Low hands free key (hf) battery level
The activation of this (amber yellow) "warning" indicates that the hands free system has detected that the battery that permits the active key (a) to communicate and turn the vehicle on is almost discharged. Note In this case replace as soon as possible the battery as indicated in sect. 6 - ...
The hands free module
Introduction The hands free module incorporates the control unit communicating with the other nodes on the motorcycle, the on/off button, the microswitches detecting full lock steering angle (for enabling steering lock engagement) and the steering lock. The module is sealed and its individu ...