Ducati Diavel Service Manual: Removal of the throttle twistgrip
Peel back the rubber sleeve (a) protecting the throttle control cables.
Undo the screws (b) of the throttle grip (6) and open the command.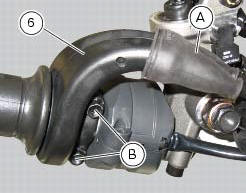 Disconnect the throttle grip cables (10) by unhooking the cable ends (c) from their seats.
Remove the throttle twistgrip (6) from the handlebar.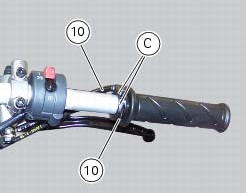 To replace the throttle grip cables, it is necessary to remove it from the throttle body (sect. 8 - 6, Removal the airbox and throttle body).
Replacement throttle cables are supplied complete with adjusters.
Position the handlebar (4) so that the external lower corner of the marks (a) on the handlebar matches the upper internal corner of the lower u-bolts (b) as shown. Apply the recommended grease ...
Lubricate the ends of the throttle grip cables (10) and the twistgrip race with the recommended grease. The closing cable (10) features a writing on the yellow tube, whereas the opening one (10 ...
Other materials:
Removal of the engine
In order to remove engine you must first remove a series of other components from the motorcycle. Most of these removal procedures are described in the relative sections of this manual. The following flow chart illustrates the logical sequence in which the parts are to be removed from th ...
Removal of the clutch master cylinder assembly
Warning The clutch master cylinder manufacturer advises against servicing of the clutch master cylinder (1) due to the safetycritical nature of this component. Incorrect overhaul of this component could endanger rider safety. Maintenance operations of the master cylinder are limited to replac ...
Inspection of the gear selector forks
Visually inspect the gear selector forks. Bent forks must be renewed as they may lead to difficulties in gear changing or may suddenly disengage when under load. Use a feeler gauge to check the clearance of each fork in its gear groove. If the service limit has been exceeded, check whether ...