Ducati Diavel Service Manual: Removal of the throttle twistgrip
Peel back the rubber sleeve (a) protecting the throttle control cables.
Undo the screws (b) of the throttle grip (6) and open the command.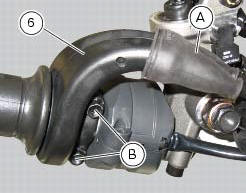 Disconnect the throttle grip cables (10) by unhooking the cable ends (c) from their seats.
Remove the throttle twistgrip (6) from the handlebar.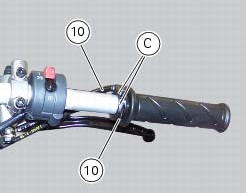 To replace the throttle grip cables, it is necessary to remove it from the throttle body (sect. 8 - 6, Removal the airbox and throttle body).
Replacement throttle cables are supplied complete with adjusters.
Position the handlebar (4) so that the external lower corner of the marks (a) on the handlebar matches the upper internal corner of the lower u-bolts (b) as shown. Apply the recommended grease ...
Lubricate the ends of the throttle grip cables (10) and the twistgrip race with the recommended grease. The closing cable (10) features a writing on the yellow tube, whereas the opening one (10 ...
Other materials:
Testing the battery charging system
Note The on-screen icons used during this procedure are explained in a table at the end of this section. You can determine the engine rpm required for generator to produce just enough current to charge battery, feed the injection ignition system and all electric items fitted to motorcycle. Wh ...
Refitting the cylinder heads pulleys/fixed tensioners
Check that the keyway on the end of the camshaft is in good condition and without burrs. Fit a woodruff key (b) in the keyway of each camshaft. Fit the pulley (11) on the camshaft, inserting the woodruff key in the in the slot (c) in the pulley. Apply the recommended grease to the t ...
Bleeding of the abs hydraulic system
If some "sponginess" is detected on the brake control, due to air bubbles in the system, bleed the system, as indicated in sect. 4 - 3, Changing the brake fluid. Before bleeding a brake pump, move back the calliper pistons, as indicated in (sect. 4 - 3, Changing the brake fluid) to Drain in ...