Ducati Diavel Service Manual: Checks and adjustments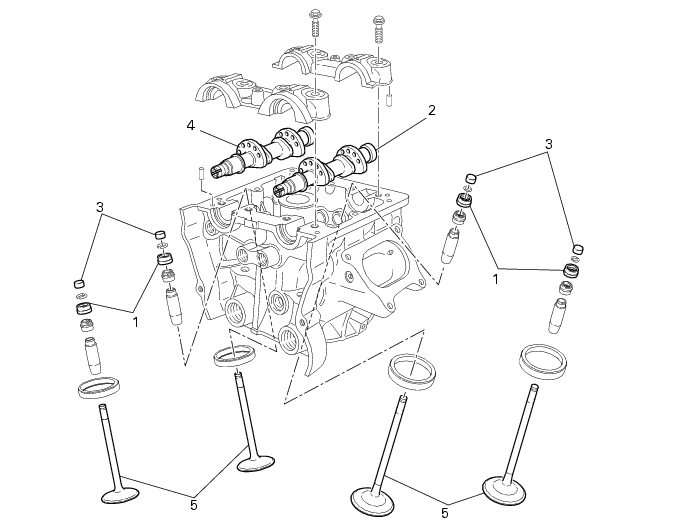 Closing shim
Intake side camshaft
Opening shim
Exhaust side camshaft
Valve
Spare parts catalogue
Diavel abs cylinder head: timing system
Diavel abs vertical cylinder head
Diavel abs horizontal cylinder head
Diavel carbon abs cylinder head: timing system
Diavel carbon abs vertical cylinder head
Diavel carbon abs horizontal cylinder head
Important
Bold reference numbers in this section identify parts not shown in the figures alongside the text, but which can be found in the exploded view diagram.
Note For clarity, the figures show the engine removed from the frame. Move the piston of the cylinder being checked to tdc of the power stroke: in this condition, all the valves are closed and ...
Other materials:
General safety rules
Carbon monoxide When a maintenance operation must be performed with the engine running, maker sure that the working area is wellventilated. Never run the engine in an enclosed space. Warning Exhaust fumes contain carbon monoxide, which is a poisonous gas that can cause unconsciousness or e ...
Removal of the licence plate holder
Disconnect connector (5) of the number plate holder wiring from the main one. Release the number plate holder light cable from the ties and the cable grommets as indicated in sect- 7 - 6, flexible wiring/hoses positioning, since the cable is together with the rear abs sensor cable. ...
Resetting turn indicators not possible - accessing dashboard menu not possible
Fault codes Dds: no fault code displayed Dashboard: no fault code displayed Location of connections and components Location of left hand handlebar switchgear set connection. Pin numbering for wiring harness side dashboard connector. Checks Test turn indicator reset button function. Wh ...