Ducati Diavel Service Manual: Removal of the water pump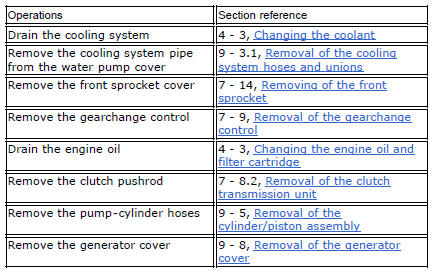 Note
For clarity, the figures show the engine removed from the frame.
Loosen and remove the water pump cover (12) fixing screws (13) to the generator cover (16).
Remove the water pump cover (12).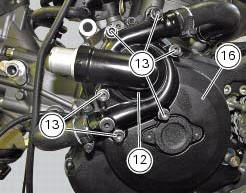 Clean the pump housing of any scale. Check the bearings wear by turning the impeller shaft (10); in case of excessive clearance, it is necessary to replace them by operating as follows.
Remove the circlip (3) on the impeller shaft.
Slide off the rotor (10) with the sealing ring (9) from the outside.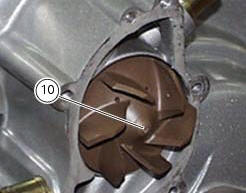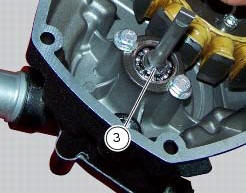 Recover the ceramic washer - seal unit (8) placed on the internal side.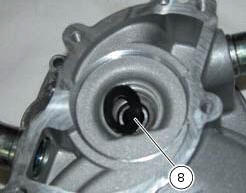 Undo and remove the screws (1) with the washer (2).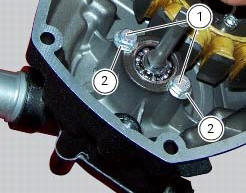 Working from the generator cover (16) internal side, use a suitable punch to press on the inner race of end bearing (5) until it can be extracted from the cover.
Use the same technique to remove the other bearing (6).
Remove the inner spacer (7).
Check the condition of the components of the mechanical seal: there should be no signs of deformation, cracking, or excessive wear. In the case of damage, both components must be renewed.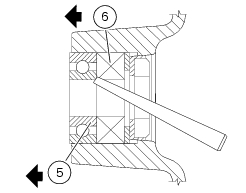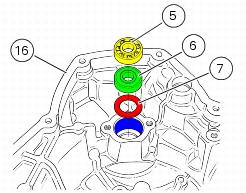 Screw Washer Circlip Water pump outlet union Bearing bearing Spacer Aluminium gasket Mechanical seal Water pump impeller Bush Water pump cover assembly Screw Plug Se ...
Clean the seat on the cover, any parts you intend to reuse, and the impeller shaft. Then refit as follows. Fit on the impeller (10) shaft the mechanical seal (9) as indicated in the figure. ...
Other materials:
Disassembly of the gearchange mechanism
Refer to the exploded view at the beginning of this section for indications on disassembly and renewal of gearchange components. If the bushing (2) inside the pedal (1) needs replacing, grease the external surface and drive the new bushing into place using a press. The bushing must be seate ...
Replacing the front phonic wheel sensor
Disconnect the front abs sensor (2) connector (a) from the main electric wiring. Open all the retainer clamps of the front abs sensor cable (2): refer to table of sect. 7 - 6, Flexible wiring/hoses positioning. Loosen retaining screw (1) and remove the front abs sensor (2) with ca ...
Resetting turn indicators not possible - accessing dashboard menu not possible
Fault codes Dds: no fault code displayed Dashboard: no fault code displayed Location of connections and components Location of left hand handlebar switchgear set connection. Pin numbering for wiring harness side dashboard connector. Checks Test turn indicator reset button function. Wh ...