Ducati Diavel Service Manual: Removal of the water pump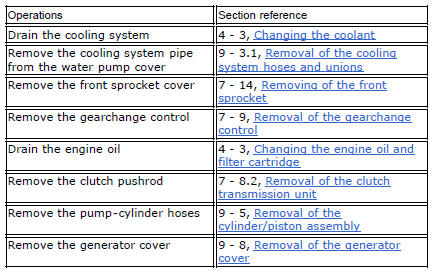 Note
For clarity, the figures show the engine removed from the frame.
Loosen and remove the water pump cover (12) fixing screws (13) to the generator cover (16).
Remove the water pump cover (12).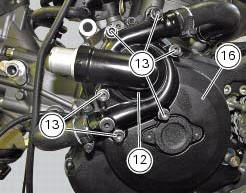 Clean the pump housing of any scale. Check the bearings wear by turning the impeller shaft (10); in case of excessive clearance, it is necessary to replace them by operating as follows.
Remove the circlip (3) on the impeller shaft.
Slide off the rotor (10) with the sealing ring (9) from the outside.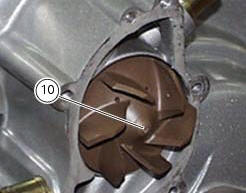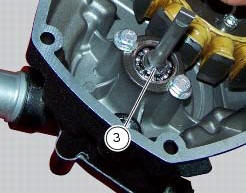 Recover the ceramic washer - seal unit (8) placed on the internal side.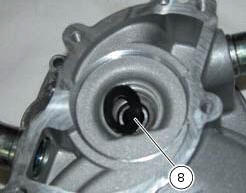 Undo and remove the screws (1) with the washer (2).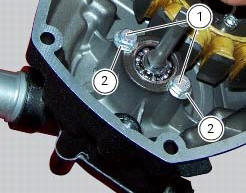 Working from the generator cover (16) internal side, use a suitable punch to press on the inner race of end bearing (5) until it can be extracted from the cover.
Use the same technique to remove the other bearing (6).
Remove the inner spacer (7).
Check the condition of the components of the mechanical seal: there should be no signs of deformation, cracking, or excessive wear. In the case of damage, both components must be renewed.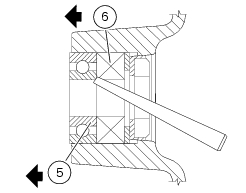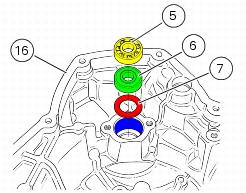 Screw Washer Circlip Water pump outlet union Bearing bearing Spacer Aluminium gasket Mechanical seal Water pump impeller Bush Water pump cover assembly Screw Plug Se ...
Clean the seat on the cover, any parts you intend to reuse, and the impeller shaft. Then refit as follows. Fit on the impeller (10) shaft the mechanical seal (9) as indicated in the figure. ...
Other materials:
Reassembly of structural components and the frame
Check for the nuts with clips (8). Apply recommended grease on the threads of the adjusters (4) and the ring nuts (5) having care not to have grease on the surface (c) of the adjusters. Tighten the adjusters on the ring nut side opposite to that featuring flats until bringing the surfac ...
Refuelling
Never overfill the tank when refuelling. The fuel level should always be below the rim of the filler recess. Warning Use low-lead fuel with 95 octane rating at origin minimum (see "top-ups" table, page 173). Check that no fuel is trapped in the filler cap recess. ...
Removal of the evaporative emissions canister
Loosen the screws (9) securing the plate (8) to the tank. Slightly pull the plate (8) with the canister (13), remove the clamps (3) and (12) and connect hoses (7) and (14). Release the retainers (b) of the plate (8) to remove it from the canister (13). Disconnect the hose ...