Ducati Diavel Owners Manual: Replacing the high and low beam bulbs
Before replacing a burnt-out bulb, make sure that the new bulb complies with the voltage and wattage specified in the "wiring diagram", page 179. Always test the new bulb before refitting any parts you have removed.
Fig. 150 Shows the locations of the low beam bulbs (lo), high beam bulbs (hi) and the parking light bulb (1).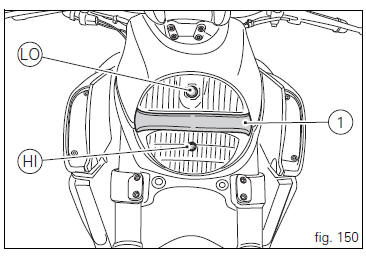 Headlight

Important
Have the high and low beam bulbs replaced by a ducati dealer or an authorised service centre.

Warning
The headlight might fog up if the vehicle is used under the rain or after washing.
Switch headlight on for a short time to dry up any condensate.
The chain fitted on your motorcycle has o-rings that keep dirt out of and lubricant inside the sliding parts. So as not to damage these seals when cleaning the chain, use special solvents and avo ...
When checking beam setting, put the motorcycle upright. Tyres should be inflated at the correct pressure and one person should be sitting astride the motorcycle, keeping it at right angles to its ...
Other materials:
Rectifier-regulator
The rectifier (1) is placed in the electrical components compartment. The rectifier/regulator consists of an aluminium casing containing the diodes that rectify the current produced by the alternator. It also contains an electronic device that regulates the current supplied by the alternator ...
Riding mode set indication
This function indicates the "riding style" set for the vehicle. Three "riding modes" are available: sport, touring and urban. Each riding mode can be changed using the "riding mode" function. Note The background of the riding mode (sport, touring or urban) is blue (1) if currently set ridi ...
Protective apparel
Always wear a helmet. Most motorcycle accident fatalities are due to head injuries. For safety eye protection, gloves, and high top, sturdy boots should also be worn. The exhaust system becomes very hot during operation, never touch the exhaust system. Wear clothing that fully covers your ...