Ducati Diavel Owners Manual: Beam setting
When checking beam setting, put the motorcycle upright.
Tyres should be inflated at the correct pressure and one person should be sitting astride the motorcycle, keeping it at right angles to its longitudinal axis. Place the motorcycle opposite a wall or a screen, 10 meters apart from it, draw a horizontal line on the wall at the height of the centre of the headlight and a vertical one in line with the longitudinal axis of the motorcycle.
If possible, perform this check in dim light.
Switch on the low beam headlight.
The height of the upper limit between the dark area and the lit area must not be more than nine tenths of the height of the centre of the headlamp from the ground.

Note
The procedure described here is in compliance with the italian standard establishing the maximum height of the light beam.
Owners in other countries should adapt this procedure to the regulations in force in the country where the motorcycle is used.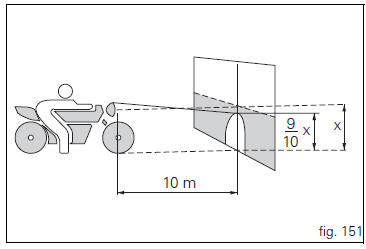 To adjust the headlight beam vertically, turn the screws (1), for horizontal adjustment, turn the screw (2).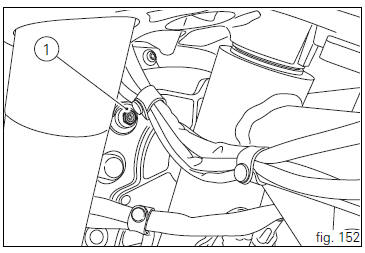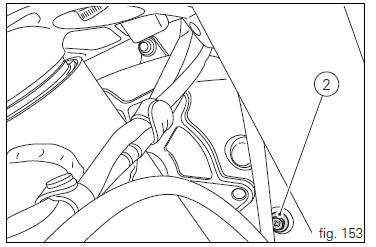 Before replacing a burnt-out bulb, make sure that the new bulb complies with the voltage and wattage specified in the "wiring diagram", page 179. Always test the new bulb before refitting ...
The rear-view mirror can be adjusted manually by pressing points (a). ...
Other materials:
Alternator
It is equipped with a 12 v, 430 w generator, consisting of a fixed element (stator, a) located on the generator cover and of a movable element (rotor, b) fixed to the crankshaft. Note To check the battery charging system for faults, use the dds diagnosis instrument and follow the instruct ...
Refitting the cylinder heads pulleys/fixed tensioners
Check that the keyway on the end of the camshaft is in good condition and without burrs. Fit a woodruff key (b) in the keyway of each camshaft. Fit the pulley (11) on the camshaft, inserting the woodruff key in the in the slot (c) in the pulley. Apply the recommended grease to the t ...
Total distance covered indicator: "odometer"
This function shows the total distance covered by the vehicle (in km or miles depending on the specific application). At key-on the system automatically enters this function. The odometer reading is stored permanently and cannot be reset. If the distance travelled exceeds 199999 km (or 19 ...