Ducati Diavel Owners Manual: Riding style function (riding style change)
This function changes the motorcycle riding style.
Each riding style is associated with a different intervention level of the traction control (dtc - ducati traction control) and different engine power and output.
To change the motorcycle riding mode, press the reset button once (12, fig. 12) And the "riding mode" menu will appear on the display.
The desired riding style can be selected by pressing the same reset button multiple times (12, fig. 12). Press the same button for 3 seconds to confirm the riding style.
If the twistgrip is closed (vehicle stopped) the riding style change will occur immediately; if the twistgrip grip is open (vehicle moving) the message "close throttle to activate" will appear on the display, which means that the throttle must be closed; this message will appear for 5 seconds, during which the gas must be closed in order to activate the new riding style.
If the twistgrip is not closed after 5 seconds, the procedure is aborted (no change is made).
If the "riding mode" menu is activated and the reset button is not pressed (12, fig. 12) For 10 consecutive seconds, the instrument panel will automatically exit the display mode without making any change.

Warning
Ducati recommends changing the riding style when the vehicle is stopped. If the riding style is changed while riding, be very careful (it is recommended to change the riding style at a low speed).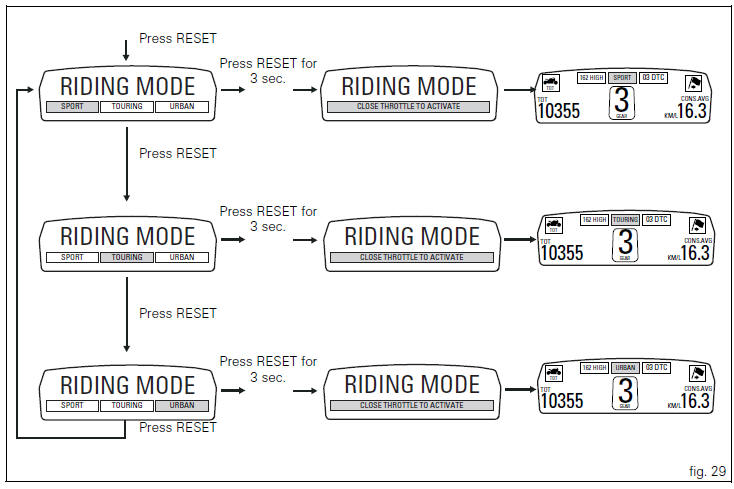 This function indicates if "lap" function (lap number) is active. When "lap" is not lit up, this means that the function has been switched off. The "lap" function ...
This function indicates that the vehicle is about to or has travelled a distance for which an authorised ducati service centre should be contacted to have the general maintenance or oil change perf ...
Other materials:
Removal of the expansion tank
Loosen the clamp (6), open the hose guide (a) and slide the hose (7) out of the radiator. Open clamps (14) and release the hoses that pass through them. Loosen the screws (16). Remove the tank (12) with its hoses (7) and (20) and the support (15). Loosen the clamp (19) to r ...
Gear change pedal
When released, the gear change pedal (1, fig. 96) Automatically returns to rest position n in the centre. This is indicated by the instrument panel light n (2, fig. 4) Coming on. The pedal can be moved: down = press down the pedal to engage the 1st gear and to shift down. At this point the n ...
Removal of the throttle twistgrip
Peel back the rubber sleeve (a) protecting the throttle control cables. Undo the screws (b) of the throttle grip (6) and open the command. Disconnect the throttle grip cables (10) by unhooking the cable ends (c) from their seats. Remove the throttle twistgrip (6) from the handlebar. ...