Ducati Diavel Service Manual: Swingarm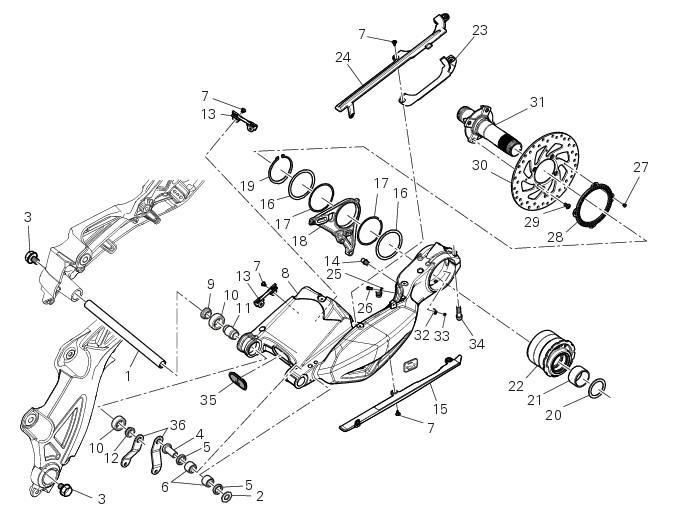 Swingarm pivot
Washer
Special screw
Bush
Sealing ring
Roller bearing
Special screw
Rear swingarm
Spacer
Bearing
Spacer
Spacer
Hose clip
Pin
Chain slider (lower)
Washer
O-ring
Calliper mounting bracket
Circlip
Spacer
Inner ring
Hub
Cable grommet
Chain slider (upper)
Cable grommet
Screw
Screw
Phonic wheel (rear)
Screw
Brake disc (rear)
Wheel axle (rear)
Base
Screw
Screw
Plug
Bracket
Spare parts catalogue
Diavel abs rear wheel axle
Diavel abs swingarm
Diavel carbon abs rear wheel axle
Diavel carbon abs swingarm
Important
Bold reference numbers in this section identify parts not shown in the figures alongside the text, but which can be found in the exploded view diagram.
If you had removed them, apply recommended grease on the threads of the adjusters (4) and the ring nuts (3) having care not to have grease on the surface (c) of the adjusters. Tighten the adjust ...
Before removing the eccentric hub, you must first remove the parts listed below. Slacken off the screws (34). Remove the spacer (20) and the inner ring (21) on the chain side and remove the ...
Other materials:
Backlighting setting function for the dashboard on handlebar - dashboard 2
This function allows backlighting setting of the dashboard on handlebar. To access the function it is necessary to view the ""setting" menu", using buttons (1) "s" or (2) "t" select the "back light" function and press the reset button (3) to enter the following page. Use button (1) "s" or ( ...
Vehicle speed indicator
This function displays vehicle speed (km/h or mph depending on the set measurement system). The dashboard receives information about the actual speed and displays the number increased by 5%. Maximum speed displayed is 299 km/h (186 mph). Over 299 km/h (186 mph) the display will show a s ...
Anti-pollution system and auto-adaptive strategy
Efficacy of the catalytic converter and oxygen sensors To comply with current emissions legislation, the diavel is equipped with a trivalent catalytic converter, which oxidises co (carbon monoxide) and hc (unburnt hydrocarbons) and reduces nox (nitrogen oxides). The image shows the exhaus ...