Ducati Diavel Service Manual: The hands free relay
Introduction
This relay provides key on +15 power to all the devices on the motorcycle. Functionally, it replaces the conventional ignition switch.
Wiring diagram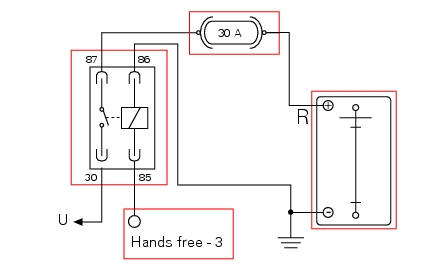 The hands free relay receives +12 volt power directly from the battery via the main 30 a fuse. Hands free - 3: pin 3 on hands free system connection. "U": current consumers requiring +12 volt in key on state (key on +15). Pin 30 red/white wire (r/w), pin 86 black wire (bk), pin 87 red wire (r), pin 85 red/yellow wire (r/y)
Error codes
The hands free system generates no fault code in the event of a hands free relay fault.
Electrical characteristics and checking component
The relay contact must close (continuity between pin 87 and pin 30) when the internal electric winding is powered with 12 volts (pin 86 and pin 85).
In the event of fault
In the event of a hands free relay fault, the engine stops (if running) or will not start. The relay is not commanded by the hands free system.
Installation location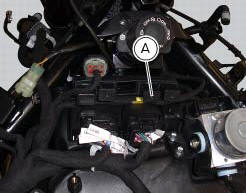 This image shows the location of the hands free relay (a). It is located on the relay supporting bracket.
Component replacement methods
No special measures are necessary in order to replace the hands free relay.
Introduction The on/off switch on the handlebar is used to switch the dashboard on and off, if a key has been detected, and start the engine. With the switch turned to "run off" (centre positio ...
Introduction The active key (1) communicates with the hands free system by radio. In order to function, the key must be within a 1.5 Metre radius from the antenna (located in the document compartm ...
Other materials:
Changing the engine oil and filter cartridge
Note This operation has to be carried out with hot engine (but turned off) because the oil in these conditions is more fluid and its evacuation is faster and complete. Remove the drain plug (3) with seal (a) from the oil sump and allow the oil to drain off. Warning Dispose of oil and/or fil ...
Checking and adjusting timing belt tension
Note The on-screen icons used during this procedure are explained in a table at the end of this section. Note This operation, which is performed using the dds diagnosis instrument, has the advantage that it can be carried out on both timing belts with the engine still installed on the frame. ...
Removal of the timing belt covers
Loosen the screws (4) securing the central external cover (1) and remove it from the central side. Undo the fixing screws (4) of the external cover (25) and remove it from the vertical thermal unit. Undo the fixing screws (4) of the external cover (3) and remove it from the horizonta ...