Ducati Diavel Service Manual: The hands free relay
Introduction
This relay provides key on +15 power to all the devices on the motorcycle. Functionally, it replaces the conventional ignition switch.
Wiring diagram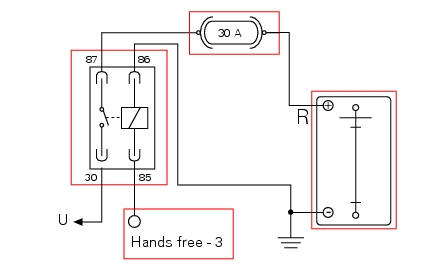 The hands free relay receives +12 volt power directly from the battery via the main 30 a fuse. Hands free - 3: pin 3 on hands free system connection. "U": current consumers requiring +12 volt in key on state (key on +15). Pin 30 red/white wire (r/w), pin 86 black wire (bk), pin 87 red wire (r), pin 85 red/yellow wire (r/y)
Error codes
The hands free system generates no fault code in the event of a hands free relay fault.
Electrical characteristics and checking component
The relay contact must close (continuity between pin 87 and pin 30) when the internal electric winding is powered with 12 volts (pin 86 and pin 85).
In the event of fault
In the event of a hands free relay fault, the engine stops (if running) or will not start. The relay is not commanded by the hands free system.
Installation location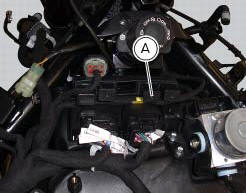 This image shows the location of the hands free relay (a). It is located on the relay supporting bracket.
Component replacement methods
No special measures are necessary in order to replace the hands free relay.
Introduction The on/off switch on the handlebar is used to switch the dashboard on and off, if a key has been detected, and start the engine. With the switch turned to "run off" (centre positio ...
Introduction The active key (1) communicates with the hands free system by radio. In order to function, the key must be within a 1.5 Metre radius from the antenna (located in the document compartm ...
Other materials:
Fairings
Rh front half-fairing Clip Screw Right-hand support Screw Screw Rh air inlet Lh air inlet Screw Clip Left-hand support Lh front half-fairing Lh tank fairing Screw Nylon washer Special screw Washer Spacer Spring Rubber pad Rh tank fairing Tank fairing ...
Air intake
Air filter Right air duct Screw Air temperature sensor Screw Left air duct Sealing washer Threaded insert Spacer Clamp Breather hose Spare parts catalogue Diavel abs air intake - oil breather Diavel carbon abs air intake - oil breather Important Bold reference num ...
Refitting the radiator
The reassembly procedure is the same for both radiators. Check for the nuts with clips (8). Refit the rh radiator (13) on the frame and tighten the screws (4) and (5) with the spacers (6) to a torque of 10 nm +/-10% (sect. 3 - 3, Frame torque settings). Connect the connections of ...