Ducati Diavel Service Manual: Adjusting the chain tension
Make the rear wheel turn until you find the position where chain is tightest. Set the vehicle on the side stand. Push down the chain at the point of measurement and release. Measure the distance between the "aperture" upper profile and pin centre.
The read distance must be: 9 to 11 mm.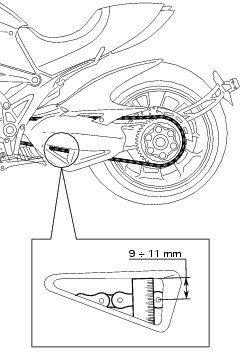 Important
If the drive chain is too tight or too slack, adjust it so that tension reading will fall within specified range.
To adjust the tension remove the rear splash guard (sect. 7 - 13, Removal of the swingarm).
Slacken off the two clamp screws (1) that secure the rear wheel hub to the swingarm.
Fit the hook spanner code 88713.1038 Inserting its tooth in the eccentric hub (2).
Rotate the eccentric hub (2) to obtain the correct chain tension.
Turn counter clockwise to tighten the chain; clockwise to loosen (from chain side).
Important
An incorrectly tensioned chain will lead to accelerated wear of the transmission components.
If the screws (1) are removed, lubricate with specified grease underhead and thread, then tighten the screws (1) to the torque of 35 nm +/- 5% (sect. 3 - 3, Frame torque settings) proceeding with sequence 1-2-1.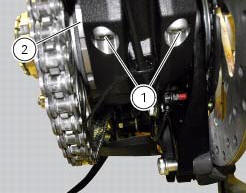 Warning
The correct tightening of the fixing screws of the eccentric hub is essential for the safety of the rider and the passenger (sect. 3 - 3, Frame torque settings).
Refit the rear splash guard (sect. 7 - 13, Refitting the swingarm).
Excessive handlebar play or shaking forks in the steering head indicate that the play in the steering head bearings requires adjustment. Proceed as follows: loosen the clamp screw (1) that holds t ...
Warning Brake fluid is corrosive and will damage paintwork. Avoid contact with eyes and skin. In the case of accidental contact, wash the affected area thoroughly with plenty of running water. Im ...
Other materials:
Traction control (dtc) deactivated
The activation of this (amber yellow) "warning" indicates that dtc (ducati traction control) has been turned off. Note In this case, ducati recommends being very careful when riding as the vehicle behaviour will be different in comparison to when operating with the traction control ...
Removing the timing belt driveshaft pulleys
Use the tool code 88713.1805 To hold the driving pulley on the engine crankcase against rotation. Important If this operation is carried out with the engine installed in the frame, hold the driveshaft pulleys against rotation using the tool code 88713.2011 Mounted on the alternator cover. Lo ...
Engine speed-timing sensor
Introduction The engine control system of the diavel is equipped with an inductive sensor that allows the ecu to determine the speed and timing phase of the engine. The sensor faces a phonic wheel with 48 teeth minus 2. The engine speed-timing sensor is an inductive sensor and faces a 48 ...