Ducati Diavel Service Manual: Removal of the lubrication system

Disconnect the sensor (12) of the main wiring.
Open the pipe grommet (11).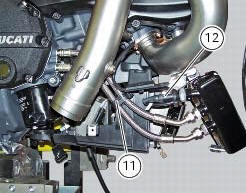 Undo the screw (8) and slide out the plate (9).
Slide the tubes (7) out of the half-casing having care not to damage the tubes o-rings (a) that guarantee the coupling sealing.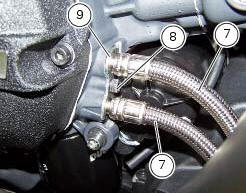 Undo and remove the screw (4) with the spacer (3). Remove the radiator by sliding it out of pins (c) and (d).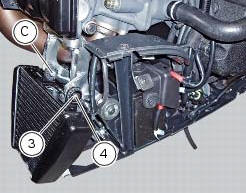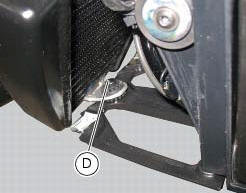 Loosen the nuts (g) of the pipes (7) from the nipples (5) and disconnect it from the radiator.
Loosen the nipples (5) on the radiator and collect the gaskets (6).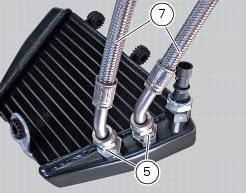 Oil cooler inspection
Visually inspect the oil cooler. Renew the cooler at any sign of damage or leaks.
Oil cooler Vibration damper mount Spacer Screw Nipple Aluminium gasket Oil delivery hose Screw Plate Bracket Screw Engine oil pressure sensor Sealing washer Heat guard ...
Note Before fitting the pipes (7), it is recommended to check the presence of the o-rings (e). Lubricate them by using engine oil. If the nipples (5) have been removed from the radiator inser ...
Other materials:
Operating principle and characteristics of the ride-by-wire system
The engine control system of the diavel uses a ride-by-wire system with motorised throttle valves. This eliminates all direct connection with metal cables between the throttle grip and the throttle valves themselves. Cables are used to rotate the aps potentiometer, which generates an electric ...
Inspection of the gear selector drum
Use a gauge to measure the clearance between fork pin and the slot on the selector drum. If the service limit is exceeded, determine which part must be replaced by comparing these dimensions with those of new components (sect. 3 - 1.1, Gearbox). Also check the wear on the drum support pin ...
Disassembly of structural components and the frame
Before carrying out dimensional checks on the frame, you must remove all the superstructures fitted, referring to the removal procedures outlined in the sections of this manual. The rear subframes (2) and (3) are structural components of the frame (1). Both serve to support motorcycle super ...