Ducati Diavel Service Manual: Checking the idle speed
Check that the bike is provided with electronic control unit, oem intake and exhaust systems, otherwise fit original components.
Connect the inserts of the exhaust gas analyser code 88713.1010 To the outlets on the exhaust pipes, using the fittings (1).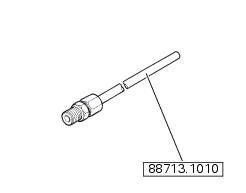 Warning
Make sure that the throttle body pulley is completely against the anti-stitching screw.
Make sure that the throttle cable free play is correctly adjusted
Note The on-screen icons used during this procedure are explained in a table at the end of this section. Note This operation, which is performed using the dds diagnosis instrument, has the adva ...
Start the engine; Switch on the dds and check that it does not signal any error (otherwise consult the relevant paragraph of this manual to reset the error and proceed with the idle check); ...
Other materials:
Inspection of the gear selector forks
Visually inspect the gear selector forks. Bent forks must be renewed as they may lead to difficulties in gear changing or may suddenly disengage when under load. Use a feeler gauge to check the clearance of each fork in its gear groove. If the service limit has been exceeded, check whether ...
Removal of the fuel tank filler cap
Remove tank covers (sect. 5 - 2, Removal of the fuel tank fairings). Remove hoses (8) and (15) from the filler cap assembly (10). Open the filler cap. Unscrew the outer screws (17) securing the ring nut to the filler cap recess. Remove the filler cap assembly (10). ...
General cleaning
To preserve the finish of metal parts and paintwork, wash and clean your motorcycle at regular intervals, anyway according to the road conditions you ride in. Use specific products, where possible biodegradable. Avoid aggressive detergents or solvents. Use only water and neutral soap to clean ...