Ducati Diavel Service Manual: Disassembly of rear shock absorber - rocker arm - linkage assembly
Undo the screw (15) and remove the rear shock absorber (11) from the rocker arm (18).
Undo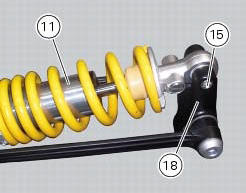 Undo the screw (14) and the nut (21) and remove the linkages (10) and (12) from the rocker arm (18).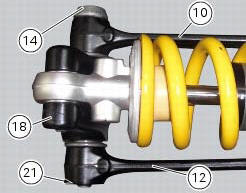 The rocker arm movement is obtained by needle roller bearings (9) rotating on a spacer (13); two seals (8) are placed at the outer ends and keep the lubricant inside the roller cages.
Remove the inner spacer (13), the seals (8) and the needle roller bearings (9) using a suitable punch.
Important
Take care not to damage the bearing housings on the rocker arm while driving out the bearings. Once removed, the seals (8) and needle roller bearings (9) may not be refitted.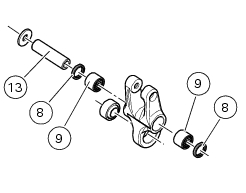 Loosen the screws (22) and remove the assembly (34) from the frame. Loosen the screws (27) and remove the tank unit (s) of the shock absorber from the support (19). Hold the lh bush (6 ...
Once the needle roller bearings (9) have been removed from the rocker arm (18), upon reassembly fit a new needle roller bearing (9) on drift part no. 88713.1071 And lubricate with recommended greas ...
Other materials:
General safety rules
Carbon monoxide When a maintenance operation must be performed with the engine running, maker sure that the working area is wellventilated. Never run the engine in an enclosed space. Warning Exhaust fumes contain carbon monoxide, which is a poisonous gas that can cause unconsciousness or e ...
Refitting the evaporative emissions canister
To refit, carry out the removal operations in reverse order, making sure to locate the hoses as shown in the figures at the end of the chapter. Positioning the hoses / clamps and canister filter ...
Headlight aim
The motorcycle must be perfectly upright with the tires inflated to the correct pressure and with a rider seated, perfectly perpendicular to the longitudinal axis. Position the motorcycle 10 metres from a wall or a screen. On the wall or surface, draw a horizontal line at the same height fr ...