Ducati Diavel Owners Manual: Clutch lever
Lever (1) disengages the clutch. It features a dial adjuster (2) for lever distance from the twistgrip on handlebar.
The lever distance can be adjusted through 10 clicks of the dial (2). Turn clockwise to increase lever distance from the twistgrip. Turn the adjuster counter clockwise to decrease lever distance.
When the clutch lever (1) is operated, drive from the engine to the gearbox and the drive wheel is disengaged. Correct use of the clutch lever is very important in all riding situations, especially when moving off.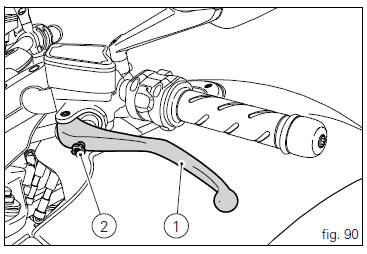 Warning
Any adjustment of clutch lever must be carried out when motorcycle is stationary.

Important
Using the clutch properly will avoid damage to transmission parts and spare the engine.

Note
It is possible to start the engine with the side stand down and the gearbox in neutral. When starting the bike with a gear engaged, pull the clutch lever (in this case the side stand must be up).
Dip switch, light dip switch, two positions (fig. 89): (A) every time pressed down light switches from low beam on to low beam and high beam on . (B) pushed to the side = high beam ...
Red on/off switch. Black engine start button. The switch (1) has three positions: Centre: run off. In this position, the engine cannot be started and all electronic devices are off. Pu ...
Other materials:
Low hands free key (hf) battery level
The activation of this (amber yellow) "warning" indicates that the hands free system has detected that the battery that permits the active key (1, fig. 62) To communicate and turn the vehicle on is almost discharged. Note In this case, ducati recommends replacing the battery as soon ...
Checking and adjusting the valve clearances
Note For clarity, the figures show the engine removed from the frame. Move the piston of the cylinder being checked to tdc of the power stroke: in this condition, all the valves are closed and the timing shafts come in neutral position and, therefore, free to rotate; check to the valve cl ...
Absolute pressure sensors
Introduction The engine control system of the diavel is equipped with two absolute pressure sensors, with one connected to the intake duct of each cylinder (map 1 cylinder 1 - horizontal - map 2 cylinder 2 - vertical). They are used by the control unit to determine the quantity of fuel to be ...