Ducati Diavel Service Manual: Dashboard on tank
Menu 1 (tot, trip1, trip2, trip fuel).
Menu 2 (cons.Avg., Cons., Speed avg, air and trip time) if active.
Gear / neutral indication.
Icon referred to the function below from menu 1.
Indication of engine setting for the currently set riding style.
Currently set riding style (riding mode).
Indication of the intervention level of the dtc (traction control) for the currently set riding style.
Icon referred to the function below from menu 2.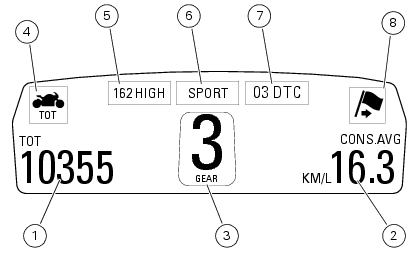 This function indicates coolant indication state. The temperature unit of measure can be selected (C or f). The reading is indicated as follows: if the reading is between - 39C and +39C "lo" is s ...
Warning Any adjustments to the dashboard must only be carried out when the motorcycle is stationary. Never operate the dashboard controls while riding the motorcycle. At the end of the check, the ...
Other materials:
How to turn the motorcycle off
To turn the motorcycle off, turn the switch from "run on" to "run off". The engine stops. To switch the dashboard off, push the on/off switch downwards. When released, the switch automatically returns to the "run off" position. Push the switch downwards to switch the engine off and enter " ...
Oxygen sensors
Introduction An on-off type oxygen sensor (in normal operating conditions, the voltage generated by the sensors switches between a value close to 1v and a value close to 0v) is mounted on each of the exhaust manifold of the diavel. Each oxygen sensor has its own internal heater, which recei ...
Refitting the cylinder/piston assembly
If new units are used, it is necessary to couple the cylinders and pistons of the same selection (see paragraph "overhaul Of the cylinder barrel/piston components" of this section). If the pistons have been separated from their cylinders, before reassembling these components, position the p ...