Ducati Diavel Service Manual: Dashboard on tank
Menu 1 (tot, trip1, trip2, trip fuel).
Menu 2 (cons.Avg., Cons., Speed avg, air and trip time) if active.
Gear / neutral indication.
Icon referred to the function below from menu 1.
Indication of engine setting for the currently set riding style.
Currently set riding style (riding mode).
Indication of the intervention level of the dtc (traction control) for the currently set riding style.
Icon referred to the function below from menu 2.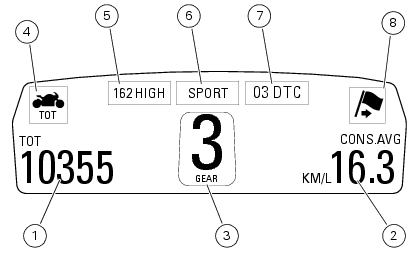 This function indicates coolant indication state. The temperature unit of measure can be selected (C or f). The reading is indicated as follows: if the reading is between - 39C and +39C "lo" is s ...
Warning Any adjustments to the dashboard must only be carried out when the motorcycle is stationary. Never operate the dashboard controls while riding the motorcycle. At the end of the check, the ...
Other materials:
Resetting turn indicators not possible - accessing dashboard menu not possible
Fault codes Dds: no fault code displayed Dashboard: no fault code displayed Location of connections and components Location of left hand handlebar switchgear set connection. Pin numbering for wiring harness side dashboard connector. Checks Test turn indicator reset button function. Wh ...
Removing of the rear footrests
The removal of the rear footrests is described for the right side but it is the same for both. Undo the pin (13) and remove the rh rear footrest (12) from the frame. Recover washer (8) and the o-rings (9). If necessary remove the rubber footrest (11) of the footrest (12). ...
Water radiators
Clip nut Spacer Vibration damper mount Screw Screw Spacer Vibration damper mount Clip nut Bush Spacer Rear sprocket Screw Water radiator (right) Screw Screw Air deflector (right) Special screw Electro-fan Screw Vibration damper mount Screw Plug Half ...