Ducati Diavel Owners Manual: Coolant temperature
This function indicates coolant indication state.
The temperature unit of measure can be selected (C or f).
The reading is indicated as follows:
If the reading is between - 39C and +39C "lo" is shown flashing on the instrument panel (steady);
If the reading is between +40C and +120C it appears on the instrument panel (steady);
If reading is +121 C or higher, "hi" is shown flashing on the information panel.

Note
In the event of a sensor "error", a string of flashing dashes ("- - -") is shown and the "engine/vehicle diagnosis - eobd" light (7, fig. 4) Comes on.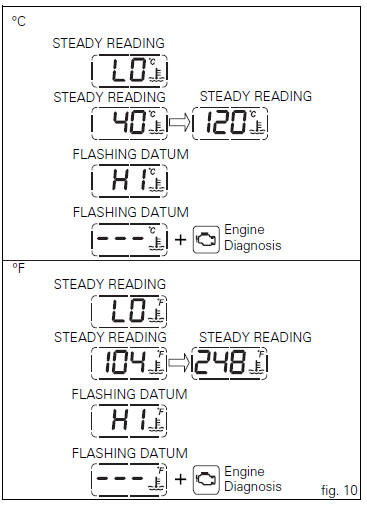 This function shows the time. Time is always displayed as follows: Am from 0:00 to 11:59 Pm from 12:00 to 11:59 If battery power is suddenly cut off (battery off), when battery power is restore ...
Instrument panel background colour is set automatically according to exterior lighting conditions. When sensor detects "poor lighting" (night), it switches to black background mode; vic ...
Other materials:
Explanation of the function of the ride-by-wire system
Mechanism Via metal cables, the throttle grip operates a roller mounted on one end of a spindle located near the horizontal cylinder throttle valve spindle. The aps sensor, which measures the position of the throttle grip itself, is mounted on the opposite end of this spindle. A mechanic ...
The immobilizer system
For additional antitheft protection, the motorcycle is equipped with an immobilizer, an electronic system that locks the engine automatically whenever the ignition switch is turned off. The grip of each ignition key contains an electronic device that modulates the output signal from a special ...
Traction control (dtc) deactivated
The activation of this (amber yellow) "warning" indicates that dtc (ducati traction control) has been turned off. Note In this case, ducati recommends being very careful when riding as the vehicle behaviour will be different in comparison to when operating with the traction control ...