Ducati Diavel Owners Manual: Coolant temperature
This function indicates coolant indication state.
The temperature unit of measure can be selected (C or f).
The reading is indicated as follows:
If the reading is between - 39C and +39C "lo" is shown flashing on the instrument panel (steady);
If the reading is between +40C and +120C it appears on the instrument panel (steady);
If reading is +121 C or higher, "hi" is shown flashing on the information panel.

Note
In the event of a sensor "error", a string of flashing dashes ("- - -") is shown and the "engine/vehicle diagnosis - eobd" light (7, fig. 4) Comes on.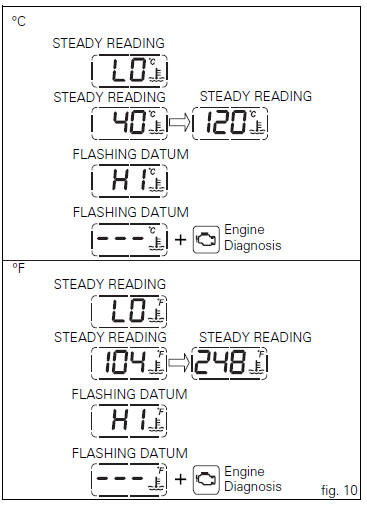 This function shows the time. Time is always displayed as follows: Am from 0:00 to 11:59 Pm from 12:00 to 11:59 If battery power is suddenly cut off (battery off), when battery power is restore ...
Instrument panel background colour is set automatically according to exterior lighting conditions. When sensor detects "poor lighting" (night), it switches to black background mode; vic ...
Other materials:
Removing the valves
Raise the rocker arm (3) and remove the opening shim (5) from the valves with a pair of pliers. Push down the closing rocker arms (16) and (4) and the closing shim (7). Remove the half rings (6) from the valves with a magnetic screwdriver. Extract the closing shims (7) from the valve ...
On-board computers and the can line
The following on-board computers make up the electrical system of the diavel and are connected with each other via the can line (or network): Master dashboard Slave dashboard Hands free (facilitated keyless start system) Ecu (engine control unit) Bbs (black box system or central elect ...
Removal of the clutch transmission unit
Warning The manufacturer of the clutch transmission unit (15) advises against servicing of its internal parts due to the safetycritical nature of this component. Incorrect overhaul of these critical safety components can endanger rider and passenger safety. The only components that shoul ...