Ducati Diavel Service Manual: Reassembly of the gearbox shafts
Figure 1 shows all the parts to be reassembled on the gearbox primary shaft (2), with the calculated end shims (1) and (11) (sec. 9 - 9.2, Reassembly of the crankcase halves).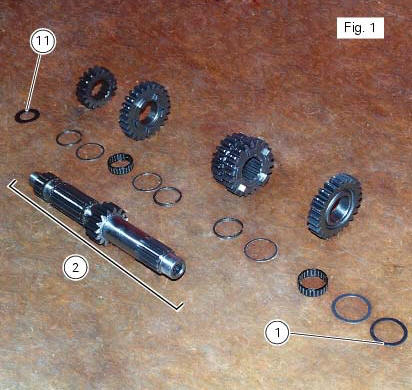 Figure 2 shows all the parts to be installed on the gearbox secondary shaft (25), with calculated end shims (15) and (26) (sec. 9 - 9.2, Reassembly of the crankcase halves).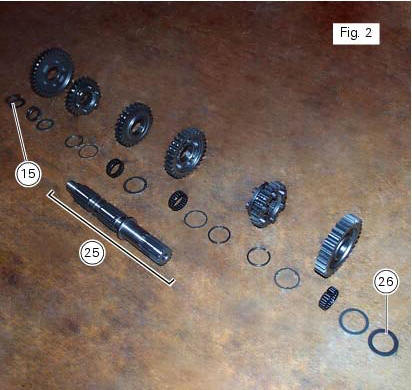 Reassemble the gears on the gearbox shafts by reversing the disassembly procedure.
Take particular care when installing the idler gears. The assembly of the 3rd and 4th speed gears and the relative fixing components on the secondary shaft is given as an example.
Fit the circlip (7), checking that it is fully inserted into its groove on the shaft. Push the circlip into position with a suitable size tubular drift.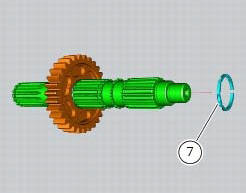 Slide the washer with three internal points (6) over the shaft until it locates against the circlip you have just fitted.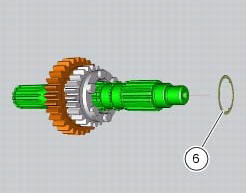 To fit the needle roller cage (4) onto the shaft, first lubricate it with plenty of grease (of recommended type) and then open it slightly to make it easier to slide on to the shaft.
Fit the 3rd speed gear (22).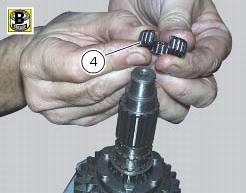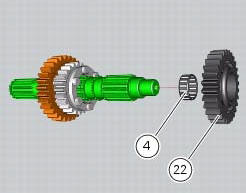 Fit on the gear the three-pointed washer (12), which can be distinguished from its counterpart (6) by its bigger outside diameter.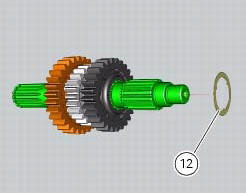 Fit another needle roller cage (4) using the method already described.
Fit the 4th speed gear (21).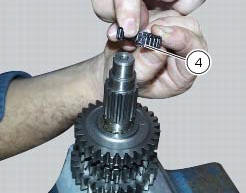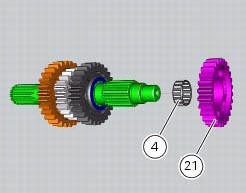 Fit another safety washer (6) and another circlip (7) into the shaft. Push it inside its seat using the previously used pad.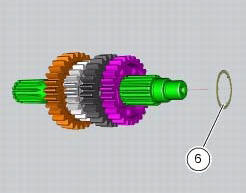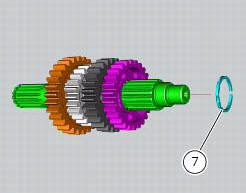 Use a gauge to measure the clearance between fork pin and the slot on the selector drum. If the service limit is exceeded, determine which part must be replaced by comparing these dimensions wi ...
To refit the gearbox components follow the procedure under sect. 9 - 9.2, Reassembly of the crankcase halves, relating to reassembly of the engine crankcase. As a final practical test, ensure th ...
Other materials:
Air temperature sensor
Introduction The engine control system on the diavel uses a sensor that measures air temperature. This sensor has a resistance of ntc type (negative temperature coefficient), that reduces its own value when the temperature increases. The air temperature sensor allows the engine control unit t ...
Air intake
Air filter Right air duct Screw Air temperature sensor Screw Left air duct Sealing washer Threaded insert Spacer Clamp Breather hose Spare parts catalogue Diavel abs air intake - oil breather Diavel carbon abs air intake - oil breather Important Bold reference num ...
Belly fairing
Rh belly fairing Lh belly fairing Special screw Nylon washer Screw Central belly fairing Oil cooler shield Special screw Clip Washer Clip Screw Bracket Screw Spare parts catalogue Diavel abs belly fairing Diavel carbon abs belly fairing Important Bold refere ...