Ducati Diavel Service Manual: Headlight aim
The motorcycle must be perfectly upright with the tires inflated to the correct pressure and with a rider seated, perfectly perpendicular to the longitudinal axis.
Position the motorcycle 10 metres from a wall or a screen.
On the wall or surface, draw a horizontal line at the same height from the ground as the centre of the headlight and a vertical line aligned with the longitudinal axis of the motorcycle.
Note
If possible, perform this check in conditions of low ambient light.
Switch on the low beam. The height of the upper limit between the dark area and the lit area must not be more than nine tenths of the height of the centre of the headlight from the ground.
Note
This is the procedure specified by italian regulations for checking the maximum height of the light beam.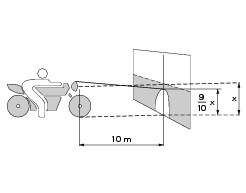 The vertical alignment of the headlamp can be adjusted manually by turning screw (1).
Turn the screw (2) to set beam height.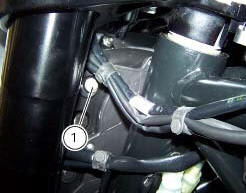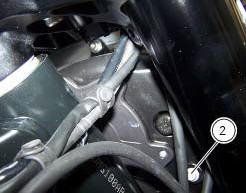 Changing the headlight bulbs Before replacing a burnt out light bulb, ensure that the replacement bulb has the same voltage and power rating as specified for the lighting device in question (sect. ...
Checking the indicating devices In the event of a fault, the internal connections of the device must be checked in all operating conditions. To do this, it is necessary to disconnect the switch co ...
Other materials:
The hands free relay
Introduction This relay provides key on +15 power to all the devices on the motorcycle. Functionally, it replaces the conventional ignition switch. Wiring diagram The hands free relay receives +12 volt power directly from the battery via the main 30 a fuse. Hands free - 3: pin 3 on hand ...
Headlight control
This function allows you to reduce current consumption from the battery, by automatically managing headlight switchingoff. At key-on, the high beam and low beam lights are off. When the engine is started, the low beam lights turn on automatically; from this moment, "normal" operati ...
Specific operating strategies
Idle speed No electric motor is used for idle speed regulation (bypass is modulated instead with the throttle valve), as idle speed control is effected by the ride-by-wire system. Idle speed is maintained by the control unit when the speed drops below a specific threshold and when the clutch ...