Ducati Diavel Service Manual: How to start the engine
With the motorcycle off and the dashboard on, the on/off switch is turned to "run off"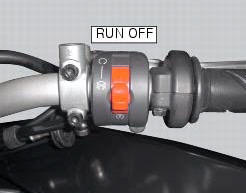 With the motorcycle and dashboard on, the on/off switch is turned to "run off".
To start the engine, simply push the on/off switch up to "run on" and press the black start button.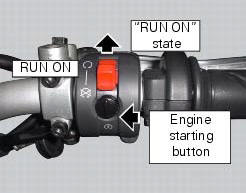 The dashboard may switched on either from the on/off switch on the handlebar or from the button on the hands free system. With the engine off, the on/off switch is turned to "run off". With ...
If no keyboard is detected, the dashboard does not switch on. Ensure that the active key is within the operating range of 1.5 Metres and that the key battery is charged. If the state of charge of t ...
Other materials:
Adjusting the rear shock absorber
The adjuster (1) located on the lower connection holding the shock absorber to the swingarm adjusts the damping during the rebound phase (return). The knob (2), located on the left side of the motorcycle, adjusts the preload of the shock absorber external spring. Turn the adjuster (1) clock ...
Alternator
It is equipped with a 12 v, 430 w generator, consisting of a fixed element (stator, a) located on the generator cover and of a movable element (rotor, b) fixed to the crankshaft. Note To check the battery charging system for faults, use the dds diagnosis instrument and follow the instruct ...
Check engine oil level
Check the engine oil level through the sight glass (1) on the right-hand side of the oil sump. Stop the engine and allow a few minutes for the oil to settle to a steady level. Oil level must be checked with the vehicle perfectly upright and the engine cold. The oil must be between the m ...