Ducati Diavel Owners Manual: Keys (fig. 62)
The owner receives a set of keys comprising:
1 Active key (1, fig. 62)
1 Passive key (2, fig. 62)
It contains the code used by the "hands free" system for the key-on, in different modes.
The active key (1, fig. 63) Is the one that is normally used: press button (a, fig. 63) To fully open the metal part, i.E.
Position (b, fig. 63). Holding depressed button (a, fig. 63) You can move the metal part and set it to the middle position (c, fig. 63); Once in place, release button to lock.
The metal part returns inside the grip by pushing it in.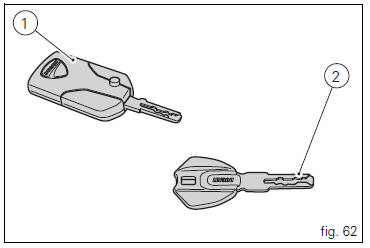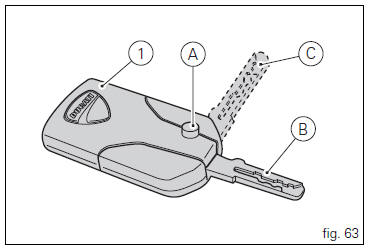 The key contains a battery that must be replaced when the low key battery "warning" is displayed as soon as the instrument panel is turned on (fig. 64).

Note
In this case, replace the battery as soon as possible (page 88).
When the charge level goes below a certain limit, the key can only work in passive mode, like the passive key: in this case, the instrument panel will not display any message.

Warning
Do not ride with the key (1 or 2, fig. 62) Inserted in the lock of the tank cap or in the seat lock as it could come out and represent a potential danger. Furthermore, if bumped, the key mechanism and the integrated circuit could be damaged.
Also riding in poor weather conditions with the key inserted could cause damage to its integrated circuit.
Do not leave the key on the motorcycle when washing it as it could be damaged, not being watertight.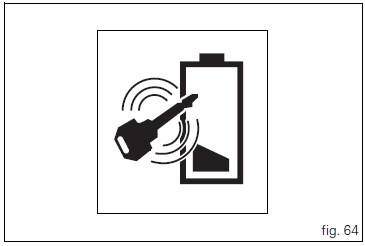 For additional antitheft protection, the motorcycle is equipped with an immobilizer, an electronic system that locks the engine automatically whenever the ignition switch is turned off. The grip ...
Only use 3 volt cr 2032 lithium ion batteries. Note The keys do not need to be reprogrammed after replacing the battery. Remove the metal part of the battery. Use a large sized coin to pry ope ...
Other materials:
Checking the fuses
The main fuse box (1) and the secondary one (2) are located in the tool tray; to reach the fuse box remove the seat as specified under sect. 5 - 3 "Removal of the seat". The fuses are accessed by removing the cover, which shows the ampere ratings and mounting locations. For ampere ratings ...
Disassembly of gear interlock plunger and pawl assembly
Unscrew the interlock plunger screw (5) and remove the seal (6), spring (7) and the detent ball (8). Unscrew the clutch-side crankcase half screw (3) and remove the pawl (4), washer (2) and spring (1). ...
System components
Screw Abs front speed sensor Sealing washer Hose grommet Abs rear speed sensor Abs control unit Front pump - control unit pipe Control unit - front callipers pipe Rear pump - control unit pipe Control unit - rear calliper pipe Sealing washer Support Spacer Rubber mou ...