Ducati Diavel Service Manual: Low beam lights not working
Location of connections and components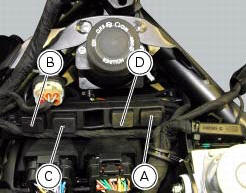 (A) injection relay; (b) etv relay (throttle valve operating engine); (c) radiator fan relay; (d) hands free relay.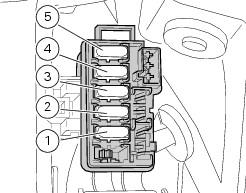 Fuses located at the rear left of the vehicle.
(1) 10A dashboard; (2) 5a engine control unit; (3) 15a key-sense; (4) 20a injection relay; (5) 10a throttle opening relay (etv).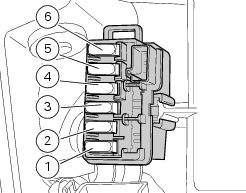 Fuses located at the rear right of the vehicle.
(1) 7.5A black box system (bbs); (2) 7.5A navigator/alarm; (3) 25a abs 2; (4) 30a abs 1; (5) 10a fans; (6) 7.5A diagnosis/recharge.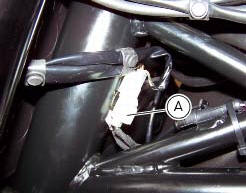 (A) low / high beam and parking light connections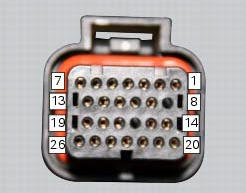 Fault codes The hi beam light on the (slave) dashboard flashes at 1hz frequency. Wiring diagram Location of elements on motorcycle (A) injection relay; (b) etv relay (throttle valve operating ...
Fault codes Dds: horn diagnosis -> short circuit to ground (s.C. Gnd). Dashboard: the error "claxon" (horn) is shown on the service display. The eobd warning light activates. Wiring diagram ...
Other materials:
Instrument panel on handlebar
Lcd. Neutral light n (green). Illuminates when the gearbox is in neutral. High beam light (blue). It turns on to indicate that the high beam lights are on. Engine oil pressure light (red). Illuminates when engine oil pressure is too low. It must turn on at key-on, but ...
Inspection of the gear selector drum
Use a gauge to measure the clearance between fork pin and the slot on the selector drum. If the service limit is exceeded, determine which part must be replaced by comparing these dimensions with those of new components (sect. 3 - 1.1, Gearbox). Also check the wear on the drum support pin ...
Charging the battery
Before charging the battery, it is recommended to remove it from the motorcycle. Important The battery is housed in the cowling, always contact a ducati dealer or an authorised service centre for its removal. Remove the left cowling (1, fig. 137) Loosening: side screw (2, fig. 137) Retaining ...