Ducati Diavel Service Manual: Recharging the battery
Examine the label on the battery showing the check intervals in order to determine when to test the voltage.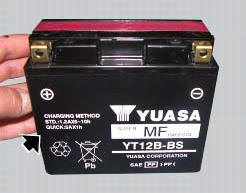 Charge the battery if the open circuit voltage is lower than 12.8 V. Leaving the battery discharged for more than one month could damage it. Check the battery charge with a voltmeter.
Always check the condition of the battery before recharging and 1 to 2 hours afterwards.
Important
Pay careful attention to recharging times. Stop charging immediately if the battery becomes too hot to the touch. Leave to cool before resuming charging.
Use only constant-voltage battery chargers.
Check that battery terminals are properly connected to the battery charger.
To charge the battery, proceed as follows.

Use fast charging in emergencies only.
Storing the battery
If the battery voltage is less than or equal to 11.5 V, it must be recharged.
Connect the battery charger to the battery.
Use a voltage of 16-17 v.
If the ammeter shows no change, increase the voltage to the maximum of 25 v.
Charge for 5 minutes.
If the ammeter shows a change, return the voltage to 16-17 v; otherwise replace the battery.
To check the current flow of the recharging circuit, use the "dds" diagnosis instrument, which is equipped with an inductive clamp-type amperemeter: refer to chapter "testing the battery charging ...
Warning Before carrying out any operations on the battery, keep in mind the safety standards (sect.1 - 3, General safety rules). The electrolyte in the battery is toxic and can cause burns if it ...
Other materials:
Removal of the exhaust system
Remove the silencer, as described in the paragraph "removing the silencer" of this section. Loosen the screws (28) and remove the exhaust by-pass valve cover (27). Turn the exhaust valve pulley (a) to facilitate the throttle cable (25) output. Release the end fitting (b) of the cable ...
Alternator
It is equipped with a 12 v, 430 w generator, consisting of a fixed element (stator, a) located on the generator cover and of a movable element (rotor, b) fixed to the crankshaft. Note To check the battery charging system for faults, use the dds diagnosis instrument and follow the instruct ...
Setting menu
This menu is used to enable/disable and set some motorcycle functions. To access the "setting menu" press the button (2, fig. 14) ? for 3 seconds. Note When within this menu no other function can be displayed. Important For safety reasons, the setting menu can only be ac ...