Ducati Diavel Service Manual: Refitting the silencer
Position the silencer guard (41) and fix it by starting the screws (40).
Tighten the screws (40) to a torque of 8 nm +/- 10% (sect. 3 - 3, Frame torque settings).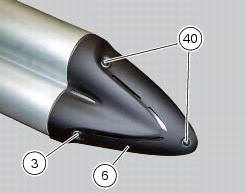 Insert the silencer (4) into the central exhaust pipe (26), and fix it to the vehicle by starting the screw (1).
Hold the nut (8) and tighten the screw (1) to a torque of 25 nm +/- 10% (sect. 3 - 3, Frame torque settings).
Orient and tighten the clamp (38) to a torque of 16 nm +/- 10% (sect. 3 - 3, Frame torque settings).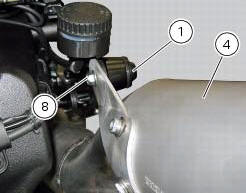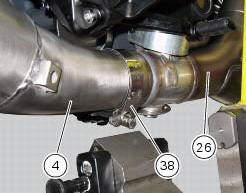 Refit the heat guard on the manifold (10) by tightening the nuts (9) to a torque of 10 nm +/- 10% (sect. 3 - 3, Frame torque settings). Position the vertical exhaust manifold (22) on the verti ...
Sealing washer Union Hose clip Hose Clamp "T" fitting Hose Support Special screw Rubber mounting Hose Hose clip Evaporative emissions canister Hose Spring Spare p ...
Other materials:
Alternator
It is equipped with a 12 v, 430 w generator, consisting of a fixed element (stator, a) located on the generator cover and of a movable element (rotor, b) fixed to the crankshaft. Note To check the battery charging system for faults, use the dds diagnosis instrument and follow the instruct ...
Tips for use on the track
We recommend level 8 be used for a couple of full laps (to allow the tyres to warm up) in order to get used to the system. Then try levels 7, 6, etc., In succession until you identify the dtc intervention level that suits you best (always try each level for at least two laps to allow the tyres t ...
Overhaul of cylinder head components
Cylinder heads Remove any carbon deposits from the combustion chamber and its ducts. Remove any scale from the coolant ducts. Check for cracking and inspect the sealing surfaces for scoring, ridges or other damage. Check that the cylinder barrel mating surfaces of the cylinder head are ...