Ducati Diavel Service Manual: Removing of the front sprocket
Undo the screws (11) and remove the chain cover (10).
Loosen the chain (sect. 4 - 3, Adjusting the chain tension).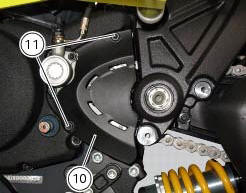 Remove the chain with the tool code 88713.1344.
The tool is composed of a holder (a), punch (b), body (c) and two wrenches (d) and (e).
Fit the link to be opened into the holder (a).
Fit a punch (b) into the body (c) and manually unscrew the screw until the punch no longer protrudes.
Fit the holder (a) and link into the body (c).
Manually turn the screw (f) on body (c) so that the punch (b) locates against the pin, taking care that they are aligned with each other.
Fit hex wrench (d) into the hexagonal part of the body (c) and wrench (e) onto the bolt.
Turn the bolt (f) clockwise to push out the pin.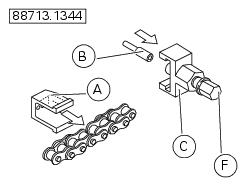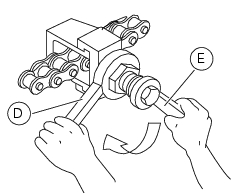 Remove the chain.
Engage a low gear and unscrew the nut (12).
Remove the nut (12) and the safety washer (13) on the pinion.
Remove the engine pinion (14) from the gearbox secondary shaft.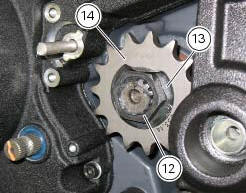 Remove the spacer (15) with o-ring (16) from the gearbox secondary shaft.
Important
The o-ring (16) must be renewed on reassembly.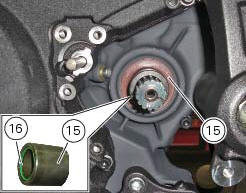 To check the wear of the final drive, visually check the pinion (14) and sprocket (17). If the teeth are found to worn as shown in the figure (dotted line), the sprocket must be renewed. T ...
Grease the o-ring (16) and install it on the front sprocket spacer (15). Fit the spacer, from the o-ring side, on the secondary shaft and drive it fully home against the inner ring of the bearing ...
Other materials:
Rh switch
Red on/off switch. Black engine start button. The switch (1) has three positions: Centre: run off. In this position, the engine cannot be started and all electronic devices are off. Pushed down: on/off. In this position, the system can be turned on (key-on) and off (key-off). Pus ...
Refitting the clutch transmission unit
Position pipe (4) on the clutch slave cylinder (r). Position the two seals (19) and tighten the screw (18) to a torque of 23 nm +/- 10% (sect. 3 - 3, Frame torque settings). Refit the bleed valve (17) and the dust gaiter (16). To position the pipe retaining clamps (4) refer to the table on ...
Dashboard on tank
Menu 1 (tot, trip1, trip2, trip fuel). Menu 2 (cons.Avg., Cons., Speed avg, air and trip time) if active. Gear / neutral indication. Icon referred to the function below from menu 1. Indication of engine setting for the currently set riding style. Currently set riding style (riding mode) ...