Ducati Diavel Service Manual: Removing of the front sprocket
Undo the screws (11) and remove the chain cover (10).
Loosen the chain (sect. 4 - 3, Adjusting the chain tension).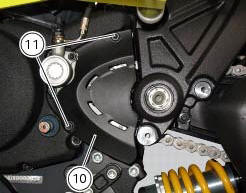 Remove the chain with the tool code 88713.1344.
The tool is composed of a holder (a), punch (b), body (c) and two wrenches (d) and (e).
Fit the link to be opened into the holder (a).
Fit a punch (b) into the body (c) and manually unscrew the screw until the punch no longer protrudes.
Fit the holder (a) and link into the body (c).
Manually turn the screw (f) on body (c) so that the punch (b) locates against the pin, taking care that they are aligned with each other.
Fit hex wrench (d) into the hexagonal part of the body (c) and wrench (e) onto the bolt.
Turn the bolt (f) clockwise to push out the pin.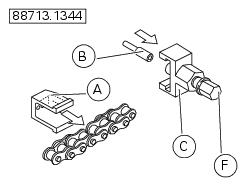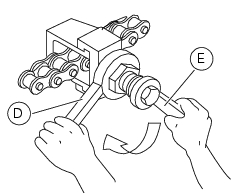 Remove the chain.
Engage a low gear and unscrew the nut (12).
Remove the nut (12) and the safety washer (13) on the pinion.
Remove the engine pinion (14) from the gearbox secondary shaft.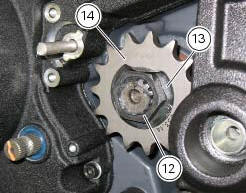 Remove the spacer (15) with o-ring (16) from the gearbox secondary shaft.
Important
The o-ring (16) must be renewed on reassembly.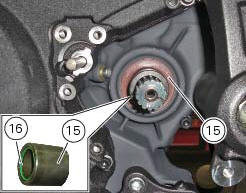 To check the wear of the final drive, visually check the pinion (14) and sprocket (17). If the teeth are found to worn as shown in the figure (dotted line), the sprocket must be renewed. T ...
Grease the o-ring (16) and install it on the front sprocket spacer (15). Fit the spacer, from the o-ring side, on the secondary shaft and drive it fully home against the inner ring of the bearing ...
Other materials:
Indicator speed avg - average speed
This function shows the average speed of the motorcycle. The calculation is made considering the distance and time travelled since the last trip 1 reset. When trip 1 is reset, the value is set to zero and the first available value is shown on the display 10 seconds after the reset. Dashes &quo ...
Instrument panel on handlebar
Lcd. Neutral light n (green). Illuminates when the gearbox is in neutral. High beam light (blue). It turns on to indicate that the high beam lights are on. Engine oil pressure light (red). Illuminates when engine oil pressure is too low. It must turn on at key-on, but ...
Hands free key (hf) not recognised
The activation of this (amber yellow) "warning" indicates that the hands free system does not detect the active key (1, fig. 62) Near the vehicle. Note In this case, ducati recommends checking that the active key (1, fig. 62) Is near the vehicle (and has not been lost) and that it f ...