Ducati Diavel Service Manual: Removal of the rear brake calliper
Important
The brake manufacturer advises against any servicing of the internal components of brake callipers or the master cylinder.
Incorrect overhaul of these critical safety components can endanger rider and passenger safety.
Before removing the parts in question, you must first carry out the following operations:

note
For the abs front braking system, also refer to sect. 7 - 5, Abs system operating information, sect. 7 - 6, System components, sect. 7 - 7, Abs components maintenance.
Unscrew and remove the special screw (22) fixing the pipes (33) to the rear brake calliper and the corresponding couplings (23).
Remove tube (33).
Undo the two fixing screws (12) of the rear brake calliper (15) to the calliper holder bracket and remove the brake calliper (15).
If it is necessary to remove the calliper holder bracket (a) refer to sec. 7 - 13, Removal of the rear wheel eccentric hub and rear wheel shaft.
Note
To replace the brake pads follow instructions in the paragraph "checking brake pad wear and changing brake pads" (sec. 4 - 3).
To remove the speed sensor (1), undo the retaining screw (2), having care not to damage the airgap spacer (8) and the washer (32).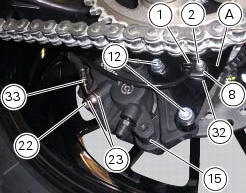 Only the following parts should be renewed:
Brake calliper: pads, fasteners and bleed valve assembly;
Master cylinder: control pedal, bleed valve assembly, reservoir and its components.
Refer to the exploded view at the beginning of this section for indications on renewal of the above components.
If the pushrod (18), clip (30) and fork (31) assembly has been dismantled, reassemble it by screwing the nut (29) onto the rod (18) and then screw the rod into the fork (31) to obtain the measureme ...
Remove the rear eccentric hub (sec. 7 - 13, Removal of the rear wheel eccentric hub and rear wheel shaft). Undo and remove the four fixing screws (13) of the brake disk to the wheel axle and re ...
Other materials:
Removal of the clutch
Note For clarity, the figures show the engine removed from the frame. Undo the fixing screws (1) and remove the ring (2) and the springs (3) from the pressure plate (4). Slide the pressure plate (4) paying attention to the circlips (6). Remove the clutch control pin (14) and the ...
Refitting the shock absorber support
If you had removed them, apply recommended grease on the threads of the adjusters (4) and the ring nuts (3) having care not to have grease on the surface (c) of the adjusters. Tighten the adjusters on the ring nut side opposite to that featuring flats until bringing the surfaces as close as ...
Replacing the high and low beam bulbs
Before replacing a burnt-out bulb, make sure that the new bulb complies with the voltage and wattage specified in the "wiring diagram", page 179. Always test the new bulb before refitting any parts you have removed. Fig. 150 Shows the locations of the low beam bulbs (lo), high beam ...