Ducati Diavel Service Manual: Removal of the rear brake calliper
Important
The brake manufacturer advises against any servicing of the internal components of brake callipers or the master cylinder.
Incorrect overhaul of these critical safety components can endanger rider and passenger safety.
Before removing the parts in question, you must first carry out the following operations:

note
For the abs front braking system, also refer to sect. 7 - 5, Abs system operating information, sect. 7 - 6, System components, sect. 7 - 7, Abs components maintenance.
Unscrew and remove the special screw (22) fixing the pipes (33) to the rear brake calliper and the corresponding couplings (23).
Remove tube (33).
Undo the two fixing screws (12) of the rear brake calliper (15) to the calliper holder bracket and remove the brake calliper (15).
If it is necessary to remove the calliper holder bracket (a) refer to sec. 7 - 13, Removal of the rear wheel eccentric hub and rear wheel shaft.
Note
To replace the brake pads follow instructions in the paragraph "checking brake pad wear and changing brake pads" (sec. 4 - 3).
To remove the speed sensor (1), undo the retaining screw (2), having care not to damage the airgap spacer (8) and the washer (32).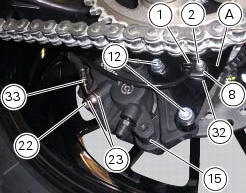 Only the following parts should be renewed:
Brake calliper: pads, fasteners and bleed valve assembly;
Master cylinder: control pedal, bleed valve assembly, reservoir and its components.
Refer to the exploded view at the beginning of this section for indications on renewal of the above components.
If the pushrod (18), clip (30) and fork (31) assembly has been dismantled, reassemble it by screwing the nut (29) onto the rod (18) and then screw the rod into the fork (31) to obtain the measureme ...
Remove the rear eccentric hub (sec. 7 - 13, Removal of the rear wheel eccentric hub and rear wheel shaft). Undo and remove the four fixing screws (13) of the brake disk to the wheel axle and re ...
Other materials:
Indicator cons. - Instantaneous fuel consumption
This function indicates the "instantaneous" fuel consumption. The calculation is made considering the quantity of fuel used and the distance travelled during the last second. The datum is expressed in "l / 100" (litres / 100 km); it is possible to change the units of measurement for "consump ...
Reassembling the front footrest brackets
To reassemble the brackets (6) and (21) carry out the removal procedure in the reverse order; tighten the screws (7) to a torque of 25 nm +/- 10% (sect. 3 - 3, Frame torque settings). ...
Refitting the oil pump
If removed, apply specific threadlocker on the bushing (7) outer thread, and screw it in the crankcase half, observing the height. Position the reference bushings (15) and the oil sealing o-rings (2) and (4) according to the crankcase lubrication channels. Position the oil pump on th ...