Ducati Diavel Service Manual: Inspecting the final drive
To check the wear of the final drive, visually check the pinion (14) and sprocket (17). If the teeth are found to worn as shown in the figure (dotted line), the sprocket must be renewed.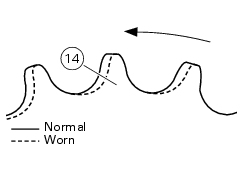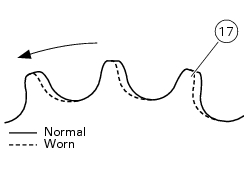 To check the amount of wear on the chain (8), keep the chain taut and measure 16 links.
If the length (l) is greater than 256.5 Mm, the chain should be replaced.
Important
The sprocket (17), engine pinion (14) and chain (8) must all be replaced together as a set.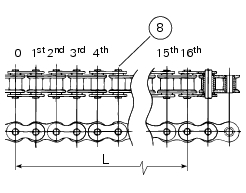 Circlip Nut Washer Nut Rear sprocket flange Cush drive bush Inner ring Chain Spacer Chain cover Screw Nut Lock washer Front sprocket Spacer O-ring Rear sprocket ...
Undo the screws (11) and remove the chain cover (10). Loosen the chain (sect. 4 - 3, Adjusting the chain tension). Remove the chain with the tool code 88713.1344. The tool is composed of a ...
Other materials:
Cylinder/piston assemblies
Piston Gudgeon pin circlip Gudgeon pin Set of piston rings Cylinder-crankcase gasket Water pump outlet union Hose clip Horizontal cylinder coolant inlet hose Vertical cylinder coolant inlet hose Cylinder barrel Cylinder head gasket Bush Spare parts catalogue Diavel a ...
Refuelling
Never overfill the tank when refuelling. The fuel level should always be below the rim of the filler recess. Warning Use low-lead fuel with 95 octane rating at origin minimum (see "top-ups" table, page 173). Check that no fuel is trapped in the filler cap recess. ...
Removing outer components
Note The following removal operations are required in order to renew and/or clean the crankcase halves. If the original crankcase halves are to be reused, then the removal of these components is not essential. Unscrew the screw (17) and remove the oil breather valve (1) with the o-rings ...