Ducati Diavel Service Manual: Riding style function (riding style change)
This function changes the motorcycle riding style.
Each riding style is associated with a different intervention level of the traction control (dtc - ducati traction control) and different engine power and output.
To change the motorcycle riding mode, press the reset button once (3) and the "riding mode" menu will appear on the display.
Select the desired riding mode by pressing the reset button (3) repeatedly. Press the same button for 3 seconds to confirm the riding style.
If the twistgrip is closed (vehicle stopped) the riding style change will occur immediately; if the twistgrip grip is open (vehicle moving) the message "close throttle to activate" will appear on the display, which means that the throttle must be closed; this message will appear for 5 seconds, during which the gas must be closed in order to activate the new riding style.
If the twistgrip is not closed after 5 seconds, the procedure is aborted (no change is made).
If the "riding mode" menu is activated and the reset button (3) is not kept pressed for 10 seconds, the dashboard will automatically exit the display mode without making any change.
Warning
Ducati recommends changing the riding style when the vehicle is stopped. If the riding style is changed while riding, be very careful (it is recommended to change the riding style at a low speed).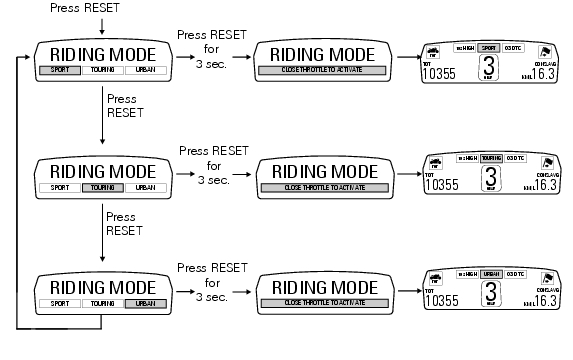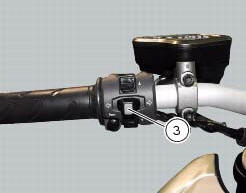 This function indicates if "lap" function (lap number) is active. When "lap" is not lit up, this means that the function has been switched off. The "lap" function can be activated using the "lap ...
This function indicates that the vehicle is about to or has travelled a distance for which an authorised ducati service centre should be contacted to have the general maintenance or oil change pe ...
Other materials:
Low battery level
The activation of this (amber yellow) "warning" indicates that the status of the battery vehicle is low. It is activated when the battery voltage is . 11.0 Volt. Note In this case, ducati recommends charging the battery as soon as possible with the specific device, as it is possibl ...
Bleeding of the abs hydraulic system
If some "sponginess" is detected on the brake control, due to air bubbles in the system, bleed the system, as indicated in sect. 4 - 3, Changing the brake fluid. Before bleeding a brake pump, move back the calliper pistons, as indicated in (sect. 4 - 3, Changing the brake fluid) to Drain in ...
Horn not working
Fault codes Dds: horn diagnosis -> short circuit to ground (s.C. Gnd). Dashboard: the error "claxon" (horn) is shown on the service display. The eobd warning light activates. Wiring diagram Db dashboard connection, s horn button. 5 Blue/white - b/w, 1 red/blue - r/b, db 19 purple/bl ...