Ducati Diavel Owners Manual: Running-in recommendations
Maximum rpm (fig. 114)
Rotation speed for running-in period and during standard use (rpm)
Up to 1000 km;
From 1000 to 2500 km.
Up to 1000 km
During the first 1000 km, keep an eye on the rev counter.
It should never exceed 5500÷6000 rpm.
During the first hours of riding, it is advisable to run the engine at varying load and rpm, though still within recommended limit.
To this end, roads with plenty of bends and even slightly hilly areas are ideal for a most efficient running-in of engine, brakes and suspension.
For the first 100 km use the brakes gently. Avoid sudden or prolonged braking. This will allow the friction material on the brake pads to bed in against the brake discs.
To allow all the mechanical moving parts in the motorcycle to adapt to one another, and to avoid shortening the life of the main engine components, it is advisable to avoid sudden acceleration and running the engine at high rpm for too long, especially uphill.
Furthermore, the drive chain should be inspected frequently.
Lubricate as required.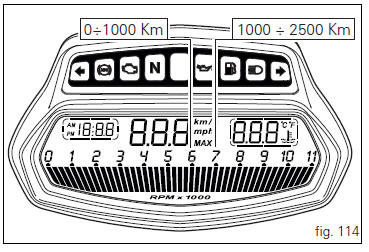 From 1000 to 2500 km
At this point, you can squeeze some more power out of your engine. However never exceed 7000 rpm.

Important
Throughout the running-in period, be careful to stick to the recommended maintenance schedule and periodic service intervals indicated in the warranty booklet. Failure to follow these instructions releases ducati motor holding s.P.A. From any liability whatsoever for any engine damage or shorter engine life
Strict observance of running-in recommendations will ensure longer engine life and reduce the likelihood of overhauls and tune-ups.
Warning failure to carry out these checks before riding, may lead to motorcycle damage and injury to rider and passenger. Before riding, perform a thorough check-up on your bike as follows: Fuel ...
Other materials:
Carrying the maximum load allowed
Your motorcycle is designed for travelling over long distances with a full load in complete safety. Even weight distribution is critical to preserving these safety features and avoiding trouble when performing sudden manoeuvres or riding on bumpy roads. Warning Do not exceed the total permi ...
Refitting the timing covers
Locate vertical cylinder external cover (25), horizontal cylinder external cover (3) and central external cover (1) by starting the screws (4). Apply the recommended threadlocker to the screws (4). Tighten the screws (4) to a torque of 10 nm (min. 9 Nm - max. 11 Nm) (sect. 3 - 3, Engine t ...
Lh switch
Dip switch, light dip switch, two positions (fig. 89): (A) every time pressed down light switches from low beam on to low beam and high beam on . (B) pushed to the side = high beam flasher (flash), "start-stop lap" function. Button = three-position turn indicator ...