Ducati Diavel Owners Manual: Running-in recommendations
Maximum rpm (fig. 114)
Rotation speed for running-in period and during standard use (rpm)
Up to 1000 km;
From 1000 to 2500 km.
Up to 1000 km
During the first 1000 km, keep an eye on the rev counter.
It should never exceed 5500÷6000 rpm.
During the first hours of riding, it is advisable to run the engine at varying load and rpm, though still within recommended limit.
To this end, roads with plenty of bends and even slightly hilly areas are ideal for a most efficient running-in of engine, brakes and suspension.
For the first 100 km use the brakes gently. Avoid sudden or prolonged braking. This will allow the friction material on the brake pads to bed in against the brake discs.
To allow all the mechanical moving parts in the motorcycle to adapt to one another, and to avoid shortening the life of the main engine components, it is advisable to avoid sudden acceleration and running the engine at high rpm for too long, especially uphill.
Furthermore, the drive chain should be inspected frequently.
Lubricate as required.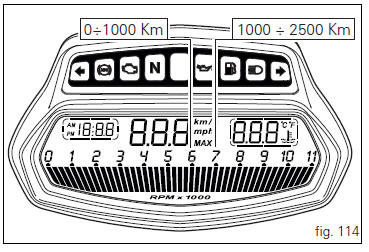 From 1000 to 2500 km
At this point, you can squeeze some more power out of your engine. However never exceed 7000 rpm.

Important
Throughout the running-in period, be careful to stick to the recommended maintenance schedule and periodic service intervals indicated in the warranty booklet. Failure to follow these instructions releases ducati motor holding s.P.A. From any liability whatsoever for any engine damage or shorter engine life
Strict observance of running-in recommendations will ensure longer engine life and reduce the likelihood of overhauls and tune-ups.
Warning failure to carry out these checks before riding, may lead to motorcycle damage and injury to rider and passenger. Before riding, perform a thorough check-up on your bike as follows: Fuel ...
Other materials:
Refitting the rear mudguard
Place the rear mudguard (8) on the swingarm, fitting the screws (9) with recommended threadlocker. The screw (9) in the bottom hole of the rear mudguard (8) must be installed with the washer (r). Tighten the screws (9) to a torque of 5 nm +/- 10% (sect. 3 - 3, Frame torque settings). ...
Inspecting the final drive
To check the wear of the final drive, visually check the pinion (14) and sprocket (17). If the teeth are found to worn as shown in the figure (dotted line), the sprocket must be renewed. To check the amount of wear on the chain (8), keep the chain taut and measure 16 links. If the l ...
Indicator cons. - Instantaneous fuel consumption
This function indicates the "instantaneous" fuel consumption. The calculation is made considering the quantity of fuel used and the distance travelled during the last second. The datum is expressed in "l/100" (litres / 100 km); it is possible to change the units of measurem ...