Ducati Diavel Service Manual: Stop light not working
Fault codes
Dds: stop light diagnosis -> stop light error (generic stop light malfunction indication).
Dashboard: the error "stop light" is shown on the service display. The eobd warning light activates.
Wiring diagram
Db dashboard connection, bbs bbs unit connection, a front brake button, p rear brake button, l stop light. A key on power (+15 from hands free relay 30), db 4 grey/red - gr/r, the switch cable connected to a via the fuse is black - bk, bbs 6 grey/red - gr/r, ground on stop light, black - bk.
Location of connections and components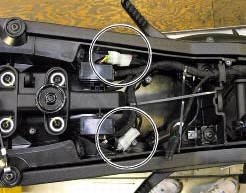 Rear running light and stop light connection.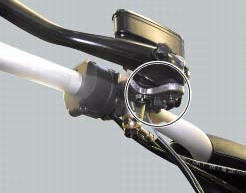 Front brake button mounted near lever operating brake pump.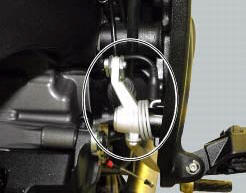 Rear brake button mounted near lever operating brake pump. The button is normally closed (when the brake lever does not press on the button because it has been pressed by enough to cause a braking effect, the contacts close, short circuiting the contacts).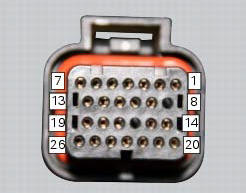 Pin numbering for wiring harness side dashboard connector.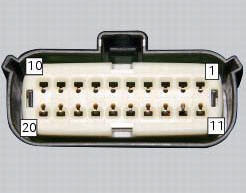 Pin numbering of wiring harness side bbs unit connection.
Fault codes Dds: displays a fault code described in the description of the abs system. Dashboard: no fault code displayed. Wiring diagram Checks The abs fault indicator indicates the occurr ...
Fault codes Dds: exvl diagnosis -> position error, potentiometer, short circuit to ground or open circuit (s.C. Gnd or c.O.), Potentiometer short circuited to vdc (potentiometer s.C vdc). Da ...
Other materials:
Shimming the shafts
Before assembling the crankcase halves, calculate the shims required to obtain the correct end float of the crankshaft and gearbox shafts. To determine the correct shim thickness proceed as follows. Shimming the crankshaft After having installed the new main bearings (with bushing (a) or ...
Refitting the rear sprocket
Check the cush drive bushes (6) condition and, if necessary, replace them by removing them from the flange. Refitting is the reverse of removal. Apply recommended grease on the rear sprocket flange (5) external diameter. Place the rear sprocket flange (5) on sprocket (17) by inserting it ...
Air temperature sensor
Introduction The engine control system on the diavel uses a sensor that measures air temperature. This sensor has a resistance of ntc type (negative temperature coefficient), that reduces its own value when the temperature increases. The air temperature sensor allows the engine control unit t ...