Ducati Diavel Service Manual: Tft - parameter setting/display
Warning
Any adjustments to the dashboard must only be carried out when the motorcycle is stationary. Never operate the dashboard controls while riding the motorcycle.
At the end of the check, the dashboard always displays as the "main" indication the odometer (tot) on the left and the average fuel consumption on the right (unless menu 2 was disabled).
At the end of the initial check, the dashboard will always show the "main" display, indicating the following information: set "riding style" (riding mode); gear indication (gear); menu 1: odometer (tot); menu 2: average fuel consumption (cons. Avg).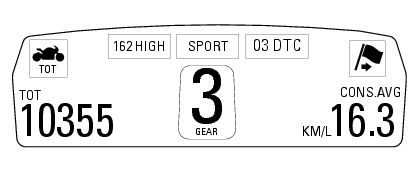 By pressing the button (1) "s" it is possible to switch to the following functions of menu 1: trip1 - trip meter 1; trip2 - trip meter 2; trip fuel - distance travelled on fuel reserve (only if active); by pressing the button (2) "t" it is possible to switch to the following functions of menu 2: cons. - Current fuel consumption; speed avg - average speed; trip time - trip time; air - air temperature; menu 2 viewing can be disabled through the "menu 2" function of the setting menu.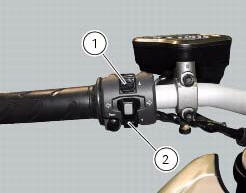 Menu 1 (tot, trip1, trip2, trip fuel). Menu 2 (cons.Avg., Cons., Speed avg, air and trip time) if active. Gear / neutral indication. Icon referred to the function below from menu 1. Indicat ...
This function shows the total distance covered by the vehicle (in km or miles depending on the specific application). At key-on the system automatically enters this function. The odometer read ...
Other materials:
Reassembly of the crankcase halves
If removed, apply threadlocker on the screw (36), insert it with the washer (37) on the crankcase half and tighten it to The torque of 8 nm (min. 7 Nm - max. 9 Nm) (sect. 3 - 3, Engine torque settings). If removed, apply threadlocker on the dowel thread (35), tighten it to a torque of 20 ...
Abs fault indicator not working
Fault codes Dds: displays a fault code described in the description of the abs system. Dashboard: no fault code displayed. Wiring diagram Checks The abs fault indicator indicates the occurrence of one or more faults in the antilock brake system, or if the system itself has been disable ...
Engaged gear indicator
This function displays the gears (1, fig. 25). The instrument panel receives information and indicates the engaged gear or "n" for neutral. Note In the case of a gear sensor "error", a dash "-" (not flashing) will be displayed. ...