Ducati Diavel Service Manual: Tft - parameter setting/display
Warning
Any adjustments to the dashboard must only be carried out when the motorcycle is stationary. Never operate the dashboard controls while riding the motorcycle.
At the end of the check, the dashboard always displays as the "main" indication the odometer (tot) on the left and the average fuel consumption on the right (unless menu 2 was disabled).
At the end of the initial check, the dashboard will always show the "main" display, indicating the following information: set "riding style" (riding mode); gear indication (gear); menu 1: odometer (tot); menu 2: average fuel consumption (cons. Avg).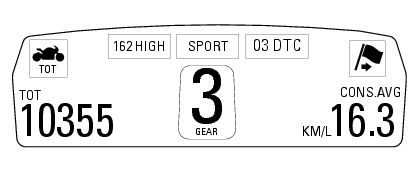 By pressing the button (1) "s" it is possible to switch to the following functions of menu 1: trip1 - trip meter 1; trip2 - trip meter 2; trip fuel - distance travelled on fuel reserve (only if active); by pressing the button (2) "t" it is possible to switch to the following functions of menu 2: cons. - Current fuel consumption; speed avg - average speed; trip time - trip time; air - air temperature; menu 2 viewing can be disabled through the "menu 2" function of the setting menu.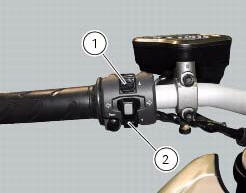 Menu 1 (tot, trip1, trip2, trip fuel). Menu 2 (cons.Avg., Cons., Speed avg, air and trip time) if active. Gear / neutral indication. Icon referred to the function below from menu 1. Indicat ...
This function shows the total distance covered by the vehicle (in km or miles depending on the specific application). At key-on the system automatically enters this function. The odometer read ...
Other materials:
Cleaning and replacing the spark plugs
Spark plugs are essential to smooth engine running and should be checked at regular intervals. The condition of the spark plugs provides a good indication of how well the engine is running. Have the spark plugs inspected or replaced at a ducati dealer or authorised service centre; they will ...
Checking and overhauling the components
Clearance between the clutch drum and friction plates Insert a friction plate (e) in the clutch drum (f) and measure the clearance (s) with a feeler gauge. Clearance "s" must not exceed 0.6 Mm. If it does, renew the plates and, if necessary, the clutch drum. Overhaul of the clutch plat ...
Recovery procedure with no key
When the dashboard is on and the key has been recognised, the hands free attempts to detect the key every 60 seconds. If the engine is off and the on/off switch on the handlebar is turned to "run off", if no key is detected within 10 seconds, the dashboard switches off automatically. If t ...