Ducati Diavel Service Manual: Separation of the crankcase halves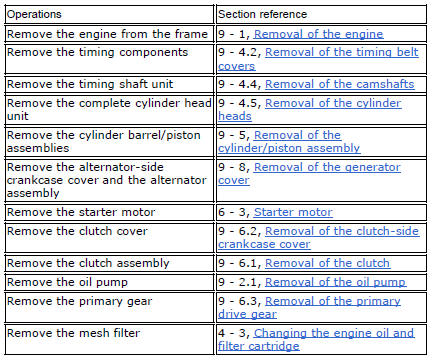 Use two screwdrivers to remove the circlip (29) from the timing belt driveshaft shaft (30) on the clutch-side crankcase half.
Note
Take care to avoid scoring the surface of the shaft while removing the circlip.
Unscrew the crankcase half screws on the chain side.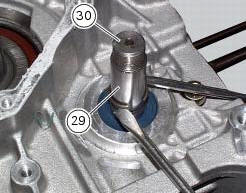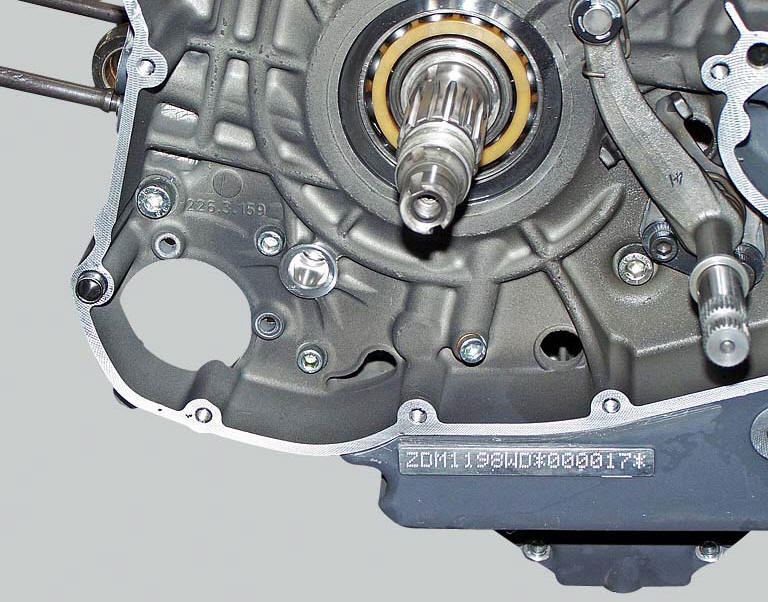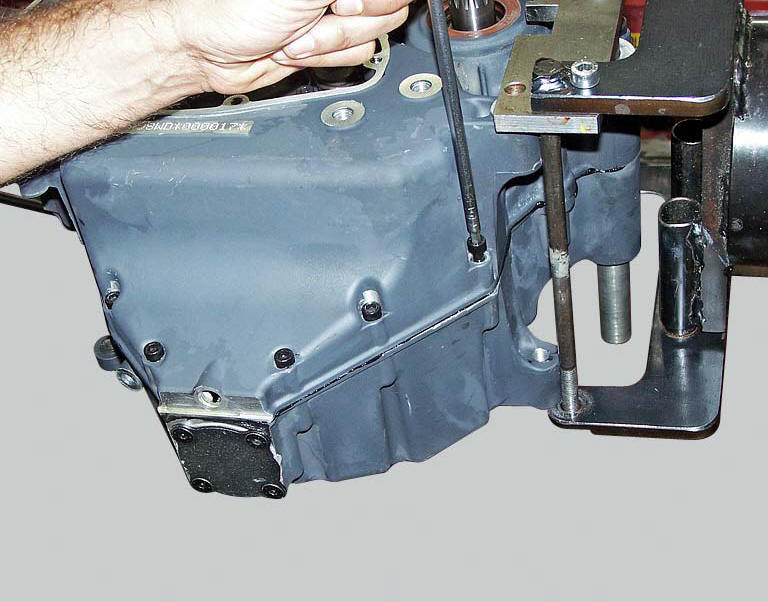 Unscrew the two screws (12) on the clutch side near the vertical cylinder.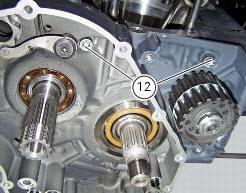 Reuse the alternator cover or a service cover with puller 88713.1749 Fitted. Secure cover to crankcase half with some of the original screws and begin separation by turning the central pin of the tool.
Tap the end of the gearbox secondary shaft with a plastic mallet to separate the crankcase halves.
Note
Take care not to lose the shims on the shafts and on the selector drum.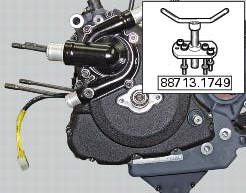 Remove gearbox shafts and gearbox selector drum from the crankcase halves (sect. 9 - 7.2, Removal of the gearbox assembly.
Drive out the crankshaft (l) using a plastic mallet, taking care not to lose the shims.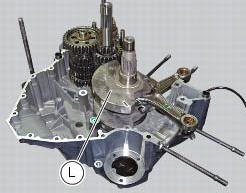 Remove the timing belt driveshaft (30).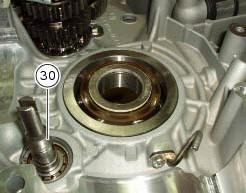 Remove the screws (34), remove the pipes (33) and collect the o-rings (32).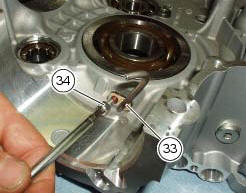 Bearing Bearing holder bushing Alternator-side crankcase half Bearing Circlip Washer Bearing Sealing ring Bearing Retaining plate Screw Screw Clutch-side crankcase half ...
Carefully examine the engine crankcase halves. Check that the surfaces of the crankcase halves are perfectly flat using a reference surface. Check that the bearings (1) and (18), and the bushing ...
Other materials:
Distance travelled on fuel reserve: trip fuel
This function shows the distance travelled on fuel reserve (in km or miles depending on the specific application). When the fuel light comes on, the display automatically switches to the "trip fuel" indicator. Trip fuel reading remains stored even after key-off until the vehicle is refue ...
Removal of the engine
In order to remove engine you must first remove a series of other components from the motorcycle. Most of these removal procedures are described in the relative sections of this manual. The following flow chart illustrates the logical sequence in which the parts are to be removed from th ...
Overhaul of the connecting rods
Make the following dimensional checks on the connecting rods: Clearance with gudgeon pin on assembly. In the event of excessive wear (sect. 3 - 1.1, Crankshaft), replace the connecting rod. The small end bushing must be in good condition and firmly driven into its seat. Check for para ...