Ducati Diavel Service Manual: Separation of the crankcase halves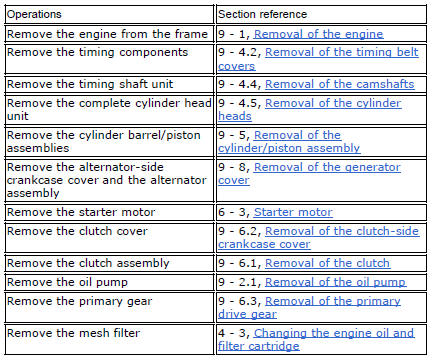 Use two screwdrivers to remove the circlip (29) from the timing belt driveshaft shaft (30) on the clutch-side crankcase half.
Note
Take care to avoid scoring the surface of the shaft while removing the circlip.
Unscrew the crankcase half screws on the chain side.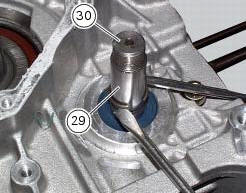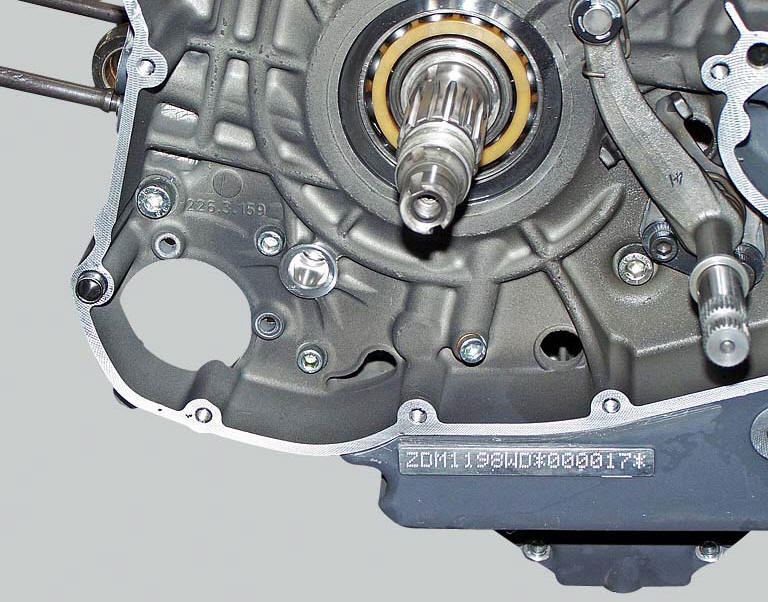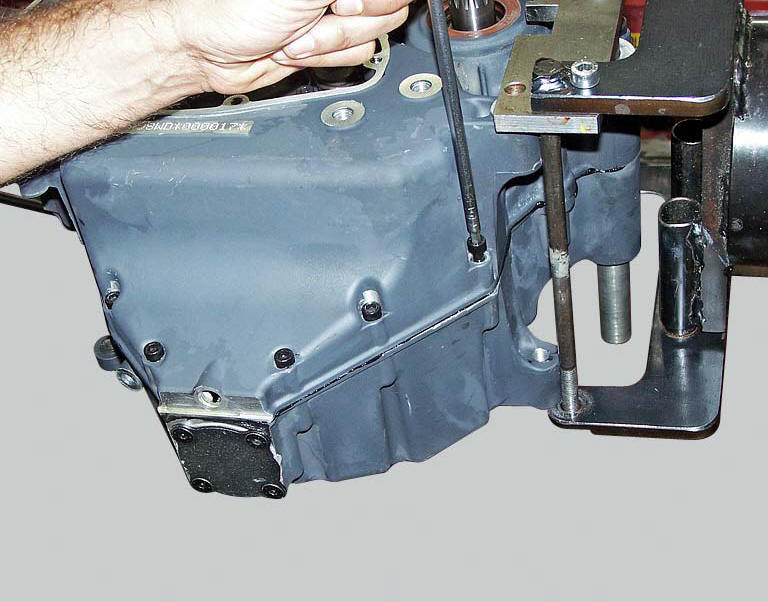 Unscrew the two screws (12) on the clutch side near the vertical cylinder.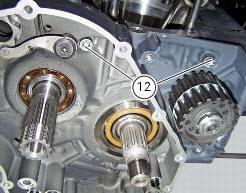 Reuse the alternator cover or a service cover with puller 88713.1749 Fitted. Secure cover to crankcase half with some of the original screws and begin separation by turning the central pin of the tool.
Tap the end of the gearbox secondary shaft with a plastic mallet to separate the crankcase halves.
Note
Take care not to lose the shims on the shafts and on the selector drum.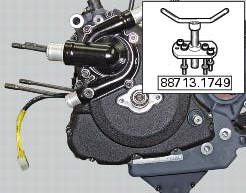 Remove gearbox shafts and gearbox selector drum from the crankcase halves (sect. 9 - 7.2, Removal of the gearbox assembly.
Drive out the crankshaft (l) using a plastic mallet, taking care not to lose the shims.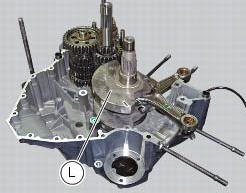 Remove the timing belt driveshaft (30).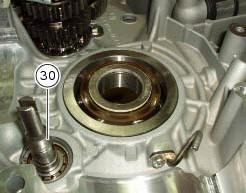 Remove the screws (34), remove the pipes (33) and collect the o-rings (32).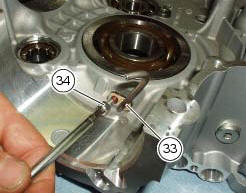 Bearing Bearing holder bushing Alternator-side crankcase half Bearing Circlip Washer Bearing Sealing ring Bearing Retaining plate Screw Screw Clutch-side crankcase half ...
Carefully examine the engine crankcase halves. Check that the surfaces of the crankcase halves are perfectly flat using a reference surface. Check that the bearings (1) and (18), and the bushing ...
Other materials:
Electric system
Basic electric items are: headlight: low beam bulb type: 1xh7 blue vision (12v-55w); high beam bulb type: 1xh1 (12v-55w); parking light: led (12v-2.4W). Electrical controls on handlebars. Turn indicators: front: led (13.5V-2.9W). Horn. Brake light switches. Sealed battery, 12v-10 ...
High beam flash not working - start/stop lap function not working
Fault codes Dds: no fault code displayed. Dashboard: no fault code displayed. Wiring diagram Db dashboard connection, s high beam flash button. 7 Orange - o, 1 red/blue - r/b. Location of connections and components Location of left hand handlebar switchgear set connection. Pin ...
Adjusting the front fork
The front fork used on this motorcycle has rebound, compression and spring preload adjustment. This adjustment is done using the outer adjusters: Rebound damping; Inner spring preload; Compression damping. Park the motorcycle in a stable position on its side stand. Turn the adjust ...