Ducati Diavel Service Manual: The hands free relay
Introduction
This relay provides key on +15 power to all the devices on the motorcycle. Functionally, it replaces the conventional ignition switch.
Wiring diagram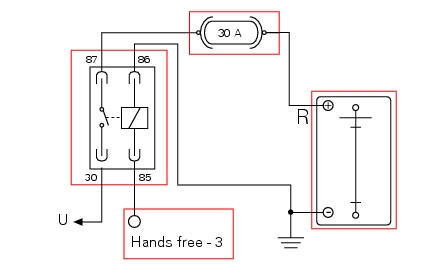 The hands free relay receives +12 volt power directly from the battery via the main 30 a fuse. Hands free - 3: pin 3 on hands free system connection. "U": current consumers requiring +12 volt in key on state (key on +15). Pin 30 red/white wire (r/w), pin 86 black wire (bk), pin 87 red wire (r), pin 85 red/yellow wire (r/y)
Error codes
The hands free system generates no fault code in the event of a hands free relay fault.
Electrical characteristics and checking component
The relay contact must close (continuity between pin 87 and pin 30) when the internal electric winding is powered with 12 volts (pin 86 and pin 85).
In the event of fault
In the event of a hands free relay fault, the engine stops (if running) or will not start. The relay is not commanded by the hands free system.
Installation location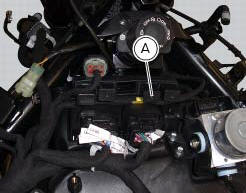 This image shows the location of the hands free relay (a). It is located on the relay supporting bracket.
Component replacement methods
No special measures are necessary in order to replace the hands free relay.
Introduction The on/off switch on the handlebar is used to switch the dashboard on and off, if a key has been detected, and start the engine. With the switch turned to "run off" (centre positio ...
Introduction The active key (1) communicates with the hands free system by radio. In order to function, the key must be within a 1.5 Metre radius from the antenna (located in the document compartm ...
Other materials:
Electric system
Basic electric items are: headlight: low beam bulb type: 1xh7 blue vision (12v-55w); high beam bulb type: 1xh1 (12v-55w); parking light: led (12v-2.4W). Electrical controls on handlebars. Turn indicators: front: led (13.5V-2.9W). Horn. Brake light switches. Sealed battery, 12v-10 ...
Reassembly of the clutch-side crankcase cover
Fit the plug (14) and the gasket (13). Fit the plug (17) and the gasket (15). If the bush has been replaced, fully seat the new bush (7) in the slot in the cover using a suitable drift and a press. If the sealing ring (8) needs to be renewed, fit the new seal into the crankcase cover, po ...
Overhaul of the flywheel-alternator assembly
Examine the inner part of alternator rotor (24) for signs of damage. Check that the starter clutch is working properly and that the needle races do not show signs of wear or damage of any kind. If there is any malfunction, remove the whole assembly. Disassembling the generator flywheel U ...