Ducati Diavel Owners Manual: Timing system
Desmodromic (type) with four valves per cylinder, operated by eight rocker arms (4 opening rockers and 4 closing rockers) and two overhead camshafts. It is operated by the crankshaft through spur gears, belt rollers and toothed belts.
Desmodromic timing system (fig. 159)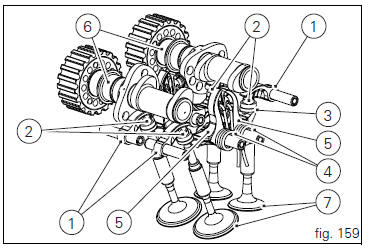 Opening (or upper) rocker.
Opening rocker shim.
Closing (or lower) rocker shim.
Return spring for lower rocker.
Closing (or lower) rocker.
Camshaft.
Valve.
Twin cylinder, four-stroke, 90 "l" type, longitudinal, with deep sump die-cast crankcase. Bore, mm: 106 Stroke, mm: 67.9 Total displacement, cu. Cm: 1198 Compression ratio: 11.5В±0 ...
Maximum speed in any gear should be reached only after the correct running-in period with the motorcycle properly serviced at the recommended intervals. Important Failure to follow these instruct ...
Other materials:
Crankcase halves
Bearing Bearing holder bushing Alternator-side crankcase half Bearing Circlip Washer Bearing Sealing ring Bearing Retaining plate Screw Screw Clutch-side crankcase half Sealing ring Bearing Circlip Bearing holder bushing Bearing Plug Screw Spacer Bush ...
Vehicle pre-delivery
Transport packaging integrity check (if required); Removal from the transport packaging (if required); Motorcycle integrity check; Check of the supplied kit completeness (refer to the parts list supplied together with the bike packaging); Only if the bike is supplied in a crate: handle ...
Flywheel - alternator
Screw Alternator stator Plug Sealing ring O-ring Cover Screw Aluminium gasket Screw Bracket Locating bush Screw generator cover Flange Flanged nut Plane washer Flywheel Washer Inner ring Needle roller bearing Electric starter driven gear Starter clutc ...