Ducati Diavel Owners Manual: Lubricating cables and joints
Check the outer sheath of the throttle control and cold start lever cables for damage at regular intervals. The outer plastic cover should not be flattened or cracked. Operate the controls to make sure the inner cables slide smoothly inside the outer sheath: if you feel any friction or catching, have the cable replaced by a ducati dealer or authorised service centre.
To avoid this kind of problem with the throttle cable, unscrew the two retaining screws (1, fig. 133) To open the case and then the grease cable ends and pulley (2, fig. 134) With shell advance grease or retinax lx2 grease.
Warning
Close the twistgrip housing carefully, inserting the cable in the pulley.
Refit the housing and tighten the screws (1) to 10 nm.
To ensure smooth operation of the side stand pivot, remove dirt and apply shell alvania r3 grease to all friction points.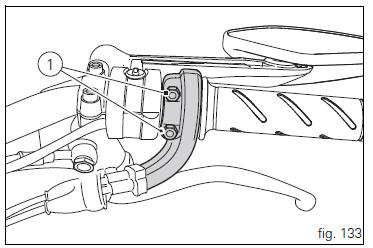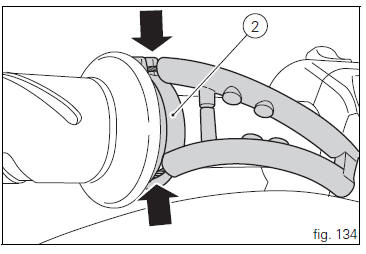 Check brake pads wear through the inspection hole in the callipers. Change both pads if friction material thickness of even just one pad is about 1 mm. Warning Friction material wear beyond th ...
The throttle twistgrip must have free play of 1.5×2.0 Mm in all steering positions, measured on the outer edge of the twistgrip. If necessary, adjust it using the adjusters (1 and 2, fig. 135 ...
Other materials:
Identification data
All ducati motorcycles have two identification numbers, for frame (fig. 1) And engine (fig. 2). Note These numbers indicate the motorcycle model and should be quoted when ordering spare parts. ...
On-board computers and the can line
The following on-board computers make up the electrical system of the diavel and are connected with each other via the can line (or network): Master dashboard Slave dashboard Hands free (facilitated keyless start system) Ecu (engine control unit) Bbs (black box system or central elect ...
Removal of the gearbox assembly
Withdraw the selector fork shafts (30). Move the forks (28) and (29) to disengage them from the slots in the selector drum (14). Withdraw the selector drum (16) taking care not to lose shims (31) and (27) mounted on the shaft. Note that the positions of the shims must not be inverte ...