Ducati Diavel Owners Manual: Lubricating cables and joints
Check the outer sheath of the throttle control and cold start lever cables for damage at regular intervals. The outer plastic cover should not be flattened or cracked. Operate the controls to make sure the inner cables slide smoothly inside the outer sheath: if you feel any friction or catching, have the cable replaced by a ducati dealer or authorised service centre.
To avoid this kind of problem with the throttle cable, unscrew the two retaining screws (1, fig. 133) To open the case and then the grease cable ends and pulley (2, fig. 134) With shell advance grease or retinax lx2 grease.
Warning
Close the twistgrip housing carefully, inserting the cable in the pulley.
Refit the housing and tighten the screws (1) to 10 nm.
To ensure smooth operation of the side stand pivot, remove dirt and apply shell alvania r3 grease to all friction points.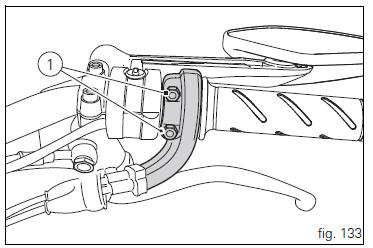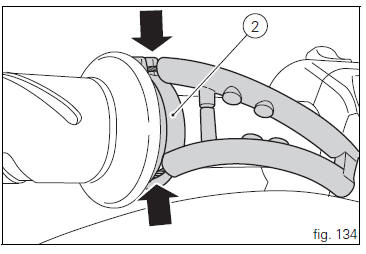 Check brake pads wear through the inspection hole in the callipers. Change both pads if friction material thickness of even just one pad is about 1 mm. Warning Friction material wear beyond th ...
The throttle twistgrip must have free play of 1.5×2.0 Mm in all steering positions, measured on the outer edge of the twistgrip. If necessary, adjust it using the adjusters (1 and 2, fig. 135 ...
Other materials:
Replacing the battery in the active key
Only use 3 volt cr 2032 lithium ion batteries. Note The keys do not need to be reprogrammed after replacing the battery. Remove the metal part of the battery. Use a large sized coin to pry open the shells of the plastic grip (2? coin) as shown in fig. 65. Important Insert the coil on ...
Refitting the gear interlock plunger and pawl assembly
On the special screw (3), fit the gear pawl lever (4), orienting it as shown in the figure, the washer (2) with the square edge side (d) facing the clutch-side crankcase half, and the spring (1), positioning it so that the hook end (a) is facing the gear pawl lever. Locate the hook end (a) of ...
Number plate light not working
Fault codes Dds: no fault code displayed. Dashboard: no fault code displayed. Location of connections and components Location of rear turn indicator and number plate light connection. pin numbering for wiring harness side dashboard connector. Checks The number plate light receives p ...