Ducati Diavel Owners Manual: Rear-view mirror adjustment
The rear-view mirror can be adjusted manually by pressing points (a).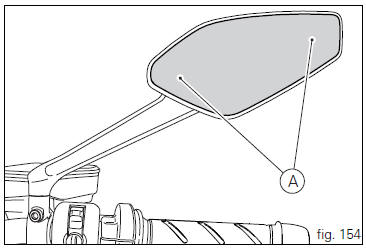 When checking beam setting, put the motorcycle upright. Tyres should be inflated at the correct pressure and one person should be sitting astride the motorcycle, keeping it at right angles to its ...
Front tyre pressure: 2.50 Bar (rider only) - 2.6 Bar (with passenger and/or bags) rear tyre pressure: 2.50 Bar (rider only) - 2.6 Bar (with passenger and/or bags) as tyre pressures are affected by ...
Other materials:
Injectors
Introduction The injectors used on the diavel are top feed units, meaning that fuel is fed into the top of the injector itself. The injectors contain a winding which raises a needle when electrically energised. This opens the atomiser nozzle, through which pressurised fuel is dispensed, gener ...
Removal of the camshafts
Unscrew and remove the screws (7) and the o-rings (8) from the cylinder head covers. Remove the cylinder head cover (6). Remove the gaskets (4) and (9). Repeat the same procedure for the other cylinder head cover. Unscrew the screws (3) securing the camshaft supports. Withdra ...
Operating principle and characteristics of the ride-by-wire system
The engine control system of the diavel uses a ride-by-wire system with motorised throttle valves. This eliminates all direct connection with metal cables between the throttle grip and the throttle valves themselves. Cables are used to rotate the aps potentiometer, which generates an electric ...