Ducati Diavel Owners Manual: Tubeless tyres
Front tyre pressure: 2.50 Bar (rider only) - 2.6 Bar (with passenger and/or bags) rear tyre pressure: 2.50 Bar (rider only) - 2.6 Bar (with passenger and/or bags) as tyre pressures are affected by changes in temperature and altitude; check and adjust them whenever you are riding in areas where there are large variations in temperature or altitude.

Important
Check and adjust the pressures with the tyres cold.
To prevent distortion of the front wheel rim, increase tyre pressure by 0.2×0.3 Bar when riding on bumpy roads.
Tyre repair or change (tubeless tyres)
With minor punctures, tubeless tyres take a long time to deflate, as they tend to hold the air inside. If you find low pressure on one tyre, check the tyre for punctures.

Warning
Punctured tyres must be renewed.
Replace with tyres of the original brand and type.
Be sure to tighten the valve caps securely to avoid leaks when riding. Never fit tyres with inner tubes, as these can cause the tyre to burst suddenly, with possibly serious consequences for the rider and passenger.
After renewing a tyre, the wheel must be balanced.

Important
Do not remove or alter the position of the wheel balancing weights.

Note
Have the tyres replaced at a ducati dealer or authorised service centre. Correct removal and installation of the wheels is essential.
As some parts of the abs (such as sensors and phonic wheels) are mounted to the wheels and require specific adjustment.
Minimum tread depth
Measure tread depth (s, fig. 155) At the point where tread is most worn down.
It should not be less than 2 mm, and in any case not less than the legal limit.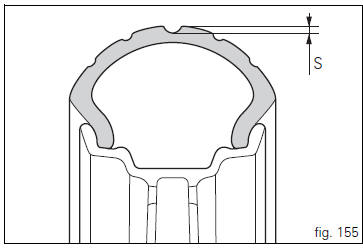 Important
Visually inspect the tyres at regular intervals for cracks and cuts, especially on the side walls, and bulges or large stains that indicate internal damage. Replace them if badly damaged.
Remove any stones or other foreign bodies stuck in the tread.
The rear-view mirror can be adjusted manually by pressing points (a). ...
Check the engine oil level through the sight glass (1) on the clutch cover. When checking oil level, the motorcycle should be perfectly upright and the engine cold. The oil level should be between ...
Other materials:
Limited liability
The liability of ducati under this emission control systems warranty is limited solely to the remedying of defects in material or workmanship by an authorized ducati motorcycle dealer at its place of business during customary business hours. This warranty does not cover inconvenience or l ...
Identification data
All ducati motorcycles have two identification numbers, for frame (fig. 1) And engine (fig. 2). Note These numbers indicate the motorcycle model and should be quoted when ordering spare parts. ...
Lap activation/deactivation function (lap time)
This function activates and deactivates the lap function (lap time). To access the function it is necessary to view the "setting" menu page 48, using button (1, fig. 14) ?" " or (2, fig. 14) ?" " select the "lap" function and press the reset button ...