Ducati Diavel Service Manual: Removing the water radiators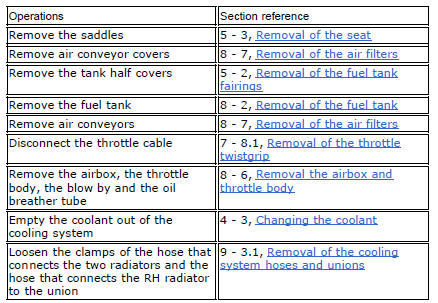 Loosen the screws (p) that retain the supports (s) of the front splashguard to the air ducts (24) and (26).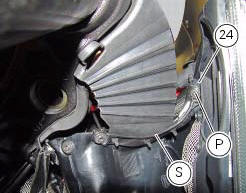 Loosen the screws (30), to separate the two internal air ducts (24) and (26).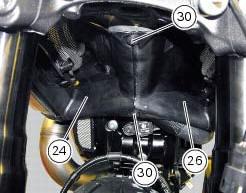 Disconnect the wiring connectors of the main wiring loom (c) from both fans.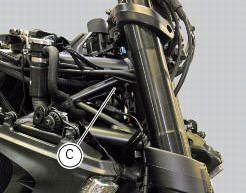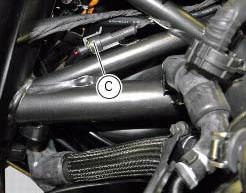 Disconnect the connections of wiring (d) from the front turn indicators.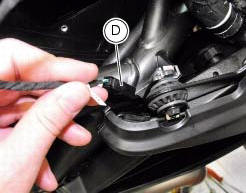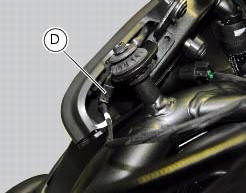 Loosen the screws (4) and (5) with spacer (6) securing the water radiator to the frame.
Remove the rh radiator (13) from the frame.
Follow the same procedure for the left radiator.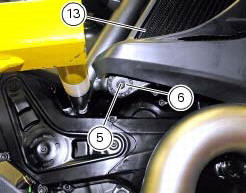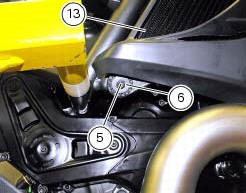 Clip nut Spacer Vibration damper mount Screw Screw Spacer Vibration damper mount Clip nut Bush Spacer Rear sprocket Screw Water radiator (right) Screw Screw Air de ...
The procedure is the same for both radiators. Loosen the screws (15), (21) and (25) to remove the air duct (24) from the right radiator (13). Undo the screws (12) and (14) to remove the ...
Other materials:
Recovery in the event of flat active key battery
If the active key battery is running low or is flat, the hands free system shows the relative icon on the dashboard. The following image shows the icon appearing on the circular area of the dashboard: this indicates that the active key battery is flat. For the replacement procedure of t ...
Electrical components support
Clip Screw Voltage regulator Battery fixing bracket Battery support Vibration damper mount Hose clip Vibration damper mount Clip Washer Screw Cover Cable grommet Battery Battery mat Screw Bracket Solenoid starter Spring washer Spacer Screw Horn Scre ...
Timing system
Central external cover Air filter Horizontal cylinder timing belt cover Screw Filter support Screw Washer Nut Tensioner pulley assembly Circlip Camshaft pulley Tensioner pin Idler pulley assembly Timing belt Nut Key Spacer Camshaft pulley Driveshaft pulley ...