Ducati Diavel Service Manual: Removing the water radiators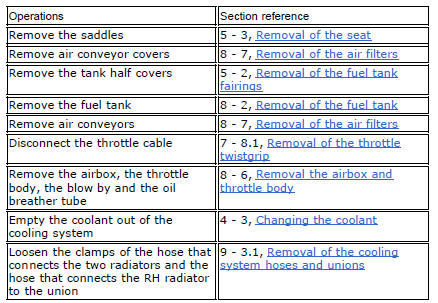 Loosen the screws (p) that retain the supports (s) of the front splashguard to the air ducts (24) and (26).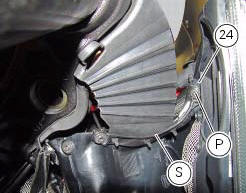 Loosen the screws (30), to separate the two internal air ducts (24) and (26).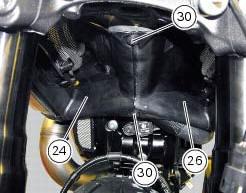 Disconnect the wiring connectors of the main wiring loom (c) from both fans.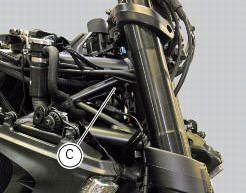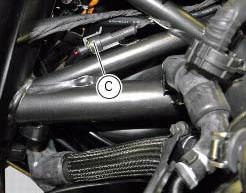 Disconnect the connections of wiring (d) from the front turn indicators.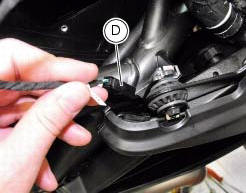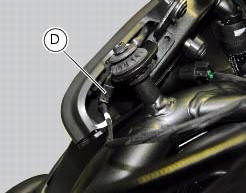 Loosen the screws (4) and (5) with spacer (6) securing the water radiator to the frame.
Remove the rh radiator (13) from the frame.
Follow the same procedure for the left radiator.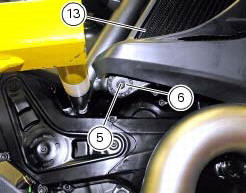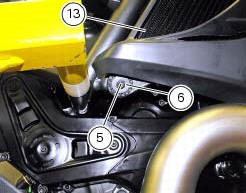 Clip nut Spacer Vibration damper mount Screw Screw Spacer Vibration damper mount Clip nut Bush Spacer Rear sprocket Screw Water radiator (right) Screw Screw Air de ...
The procedure is the same for both radiators. Loosen the screws (15), (21) and (25) to remove the air duct (24) from the right radiator (13). Undo the screws (12) and (14) to remove the ...
Other materials:
General safety rules
Carbon monoxide When a maintenance operation must be performed with the engine running, maker sure that the working area is wellventilated. Never run the engine in an enclosed space. Warning Exhaust fumes contain carbon monoxide, which is a poisonous gas that can cause unconsciousness or e ...
Units of measurement modification function
This function allows you to change the units of measurement of the displayed values. To access the function it is necessary to view the ""setting" menu", using buttons (1) "s" or (2) "t" to select the "set units" function and press the reset button (3) to enter the following page. Use but ...
Refitting the seat
Note Apply recommended grease to the hole (a) of latch (6). Fit the seat (1) as follows: insert the tabs (b) (on the front side) under the rubber pads (c) of the gloves compartment; then push the seat rear side until hearing the lock latch click. ...