Ducati Diavel Service Manual: Disassembling the water radiator unit
The procedure is the same for both radiators.
Loosen the screws (15), (21) and (25) to remove the air duct (24) from the right radiator (13).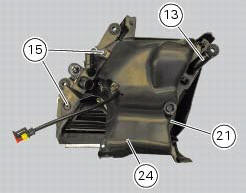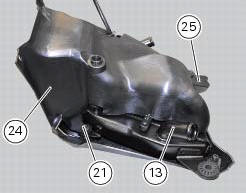 Undo the screws (12) and (14) to remove the half-fairing (23) from the radiator.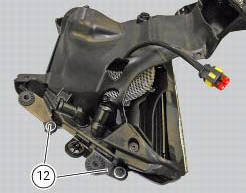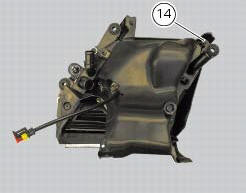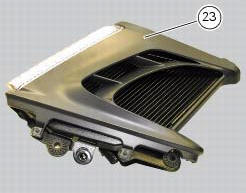 Radiator inspection
Visually inspect the oil cooler. If it shows signs of damage or leaks, the radiator must be renewed.
Check also that the air flow through the radiator core is not obstructed by leaves, insects, mud, etc.
Important
Excessive cooling temperatures can be caused by a partial obstruction of the radiator core. Carefully check the condition of the radiator core.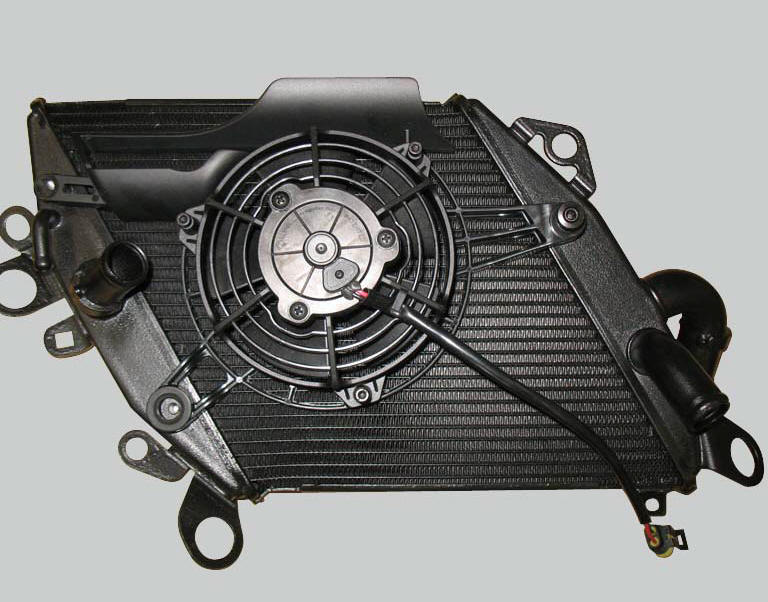 Loosen the screws (p) that retain the supports (s) of the front splashguard to the air ducts (24) and (26). Loosen the screws (30), to separate the two internal air ducts (24) and (26). ...
Loosen the electro-fan retaining screws (15) and (17) and remove the electro-fan (18) from the radiator. Carry out the same procedure for the other radiator's electro-fan. On refitting, positi ...
Other materials:
Specific tools for the engine
88713.2011.Tool to lock crankshaft at top dead centre 88713.2676 .Wrench for tightening cylinder head nuts 88713.2103 Stand for cylinder head assembly 88765.1657 Timing check tool 88713.1821 Wrench for tightening timing belt tensioner pulley shafts 88713.2861 Camshaft oi ...
Limited liability
The liability of ducati under this emission control systems warranty is limited solely to the remedying of defects in material or workmanship by an authorized ducati motorcycle dealer at its place of business during customary business hours. This warranty does not cover inconvenience or l ...
Oxygen sensors
Introduction An on-off type oxygen sensor (in normal operating conditions, the voltage generated by the sensors switches between a value close to 1v and a value close to 0v) is mounted on each of the exhaust manifold of the diavel. Each oxygen sensor has its own internal heater, which recei ...