Ducati Diavel Service Manual: Disassembling the water radiator unit
The procedure is the same for both radiators.
Loosen the screws (15), (21) and (25) to remove the air duct (24) from the right radiator (13).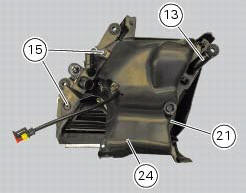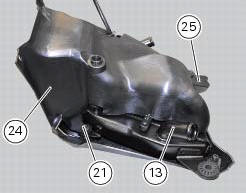 Undo the screws (12) and (14) to remove the half-fairing (23) from the radiator.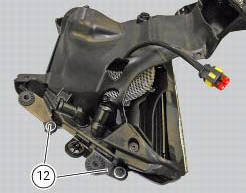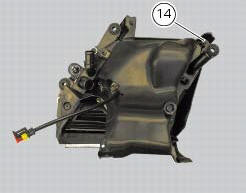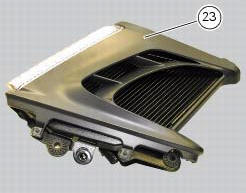 Radiator inspection
Visually inspect the oil cooler. If it shows signs of damage or leaks, the radiator must be renewed.
Check also that the air flow through the radiator core is not obstructed by leaves, insects, mud, etc.
Important
Excessive cooling temperatures can be caused by a partial obstruction of the radiator core. Carefully check the condition of the radiator core.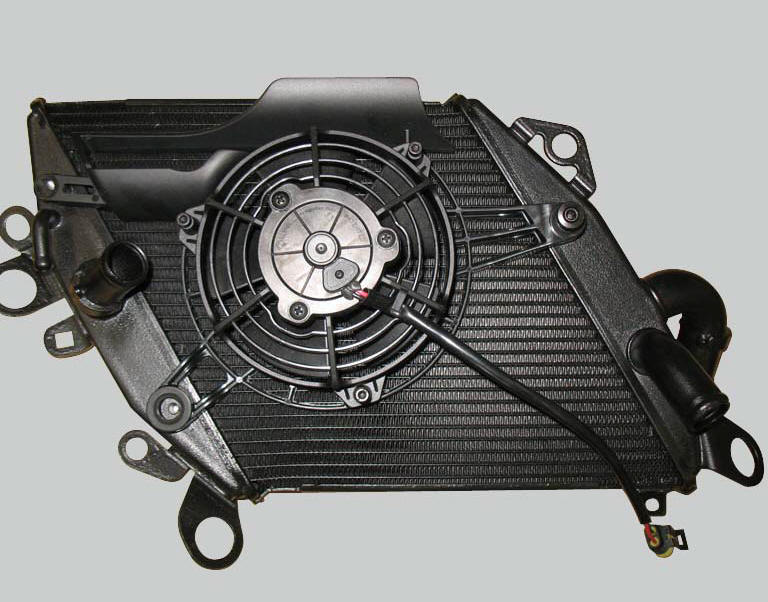 Loosen the screws (p) that retain the supports (s) of the front splashguard to the air ducts (24) and (26). Loosen the screws (30), to separate the two internal air ducts (24) and (26). ...
Loosen the electro-fan retaining screws (15) and (17) and remove the electro-fan (18) from the radiator. Carry out the same procedure for the other radiator's electro-fan. On refitting, positi ...
Other materials:
Refitting the oil pump
If removed, apply specific threadlocker on the bushing (7) outer thread, and screw it in the crankcase half, observing the height. Position the reference bushings (15) and the oil sealing o-rings (2) and (4) according to the crankcase lubrication channels. Position the oil pump on th ...
Inspection of the gear selector forks
Visually inspect the gear selector forks. Bent forks must be renewed as they may lead to difficulties in gear changing or may suddenly disengage when under load. Use a feeler gauge to check the clearance of each fork in its gear groove. If the service limit has been exceeded, check whether ...
Checking the coolant level
To the specified intervals in the "scheduled maintenance chart" (sect. 4 - 2) Check the coolant level contained in the expansion reservoir, on the right side of the vehicle. The coolant level must be between the max. And min marks on the tank. If the level is low, top up with the recommende ...