Ducati Diavel Service Manual: Water radiators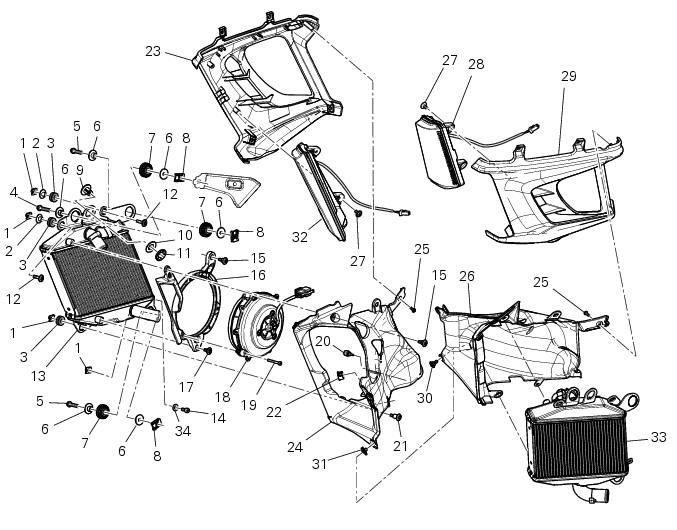 Clip nut
Spacer
Vibration damper mount
Screw
Screw
Spacer
Vibration damper mount
Clip nut
Bush
Spacer
Rear sprocket
Screw
Water radiator (right)
Screw
Screw
Air deflector (right)
Special screw
Electro-fan
Screw
Vibration damper mount
Screw
Plug
Half-fairing (right)
Internal air duct
Screw
Internal air duct
Screw
Front turn indicator
Half-fairing (left)
Special screw
Clip nut
Front turn indicator
Water radiator (left)
Washer
Screw
Spare parts catalogue
Diavel abs radiator (right)
Diavel abs radiator (left)
Diavel abs half fairing
Diavel carbon abs radiator (right)
Diavel carbon abs radiator (left)
Diavel carbon abs half fairing
Important
Bold reference numbers in this section identify parts not shown in the figures alongside the text, but which can be found in the exploded view diagram.
The exploded view shows only the rh water radiator since the left one features the same components except the plug (22).
Position the pump/radiator sleeve (22) and the radiator/radiator sleeve (23). Fit sleeve (23) and sleeve (22) to their corresponding fittings (n) and (o), and bring them fully home on collars (p) ...
Loosen the screws (p) that retain the supports (s) of the front splashguard to the air ducts (24) and (26). Loosen the screws (30), to separate the two internal air ducts (24) and (26). ...
Other materials:
Turn indicators (automatic reset)
The instrument panel controls the automatic reset of the turn indicators. After activating one of the two turn indicators, they can be deactivated using the reset button (12, fig. 12). If the turn indicator is not "reset" manually, the instrument panel will automatically switch it ...
Refitting the timing belt driveshaft pulleys
To fit the circlip (10) in the driveshaft seat, use the tool code 88713.2834. Install the inner spacer (17) on the driveshaft, taking care to align the notch in the spacer with the slot for the woodruff key. Fit the first woodruff key (16) on the timing belt driveshaft. Locate the ...
Steering angle adjustment
Loosen the nuts (17) and adjuster screws (16) on both sides of the bottom yoke. Use a 6 to 6.5 Mm spacer (a) fitted to the fork outer tube, or use a gauge. Turn the front forks to the right until the spacer (a) is seated against the frame top tube. Tighten the adjuster screw (16) to ...