Ducati Diavel Service Manual: Water radiators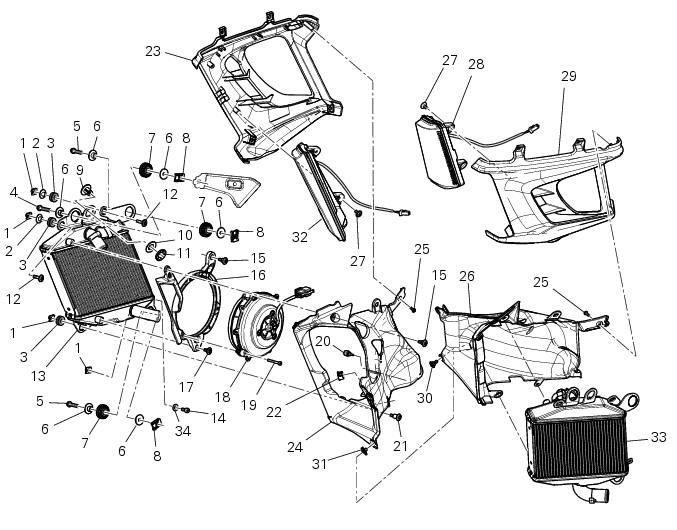 Clip nut
Spacer
Vibration damper mount
Screw
Screw
Spacer
Vibration damper mount
Clip nut
Bush
Spacer
Rear sprocket
Screw
Water radiator (right)
Screw
Screw
Air deflector (right)
Special screw
Electro-fan
Screw
Vibration damper mount
Screw
Plug
Half-fairing (right)
Internal air duct
Screw
Internal air duct
Screw
Front turn indicator
Half-fairing (left)
Special screw
Clip nut
Front turn indicator
Water radiator (left)
Washer
Screw
Spare parts catalogue
Diavel abs radiator (right)
Diavel abs radiator (left)
Diavel abs half fairing
Diavel carbon abs radiator (right)
Diavel carbon abs radiator (left)
Diavel carbon abs half fairing
Important
Bold reference numbers in this section identify parts not shown in the figures alongside the text, but which can be found in the exploded view diagram.
The exploded view shows only the rh water radiator since the left one features the same components except the plug (22).
Position the pump/radiator sleeve (22) and the radiator/radiator sleeve (23). Fit sleeve (23) and sleeve (22) to their corresponding fittings (n) and (o), and bring them fully home on collars (p) ...
Loosen the screws (p) that retain the supports (s) of the front splashguard to the air ducts (24) and (26). Loosen the screws (30), to separate the two internal air ducts (24) and (26). ...
Other materials:
Battery voltage indicator (battery)
This function describes the battery voltage indicator. To access the function it is necessary to view the "setting" menu page 48, using button (1, fig. 14) ?"" or (2, fig. 14) ?" " select the "battery" function and press the reset button (12, fig. 12 ...
Checking brake pads for wear
Check brake pads wear through the inspection hole in the callipers. Change both pads if friction material thickness of even just one pad is about 1 mm. Warning Friction material wear beyond this limit would lead to metal support contact with the brake disc thus compromising braking efficie ...
Refitting the timing belts
Rotate the pulleys on the timing belt driveshaft until the timing mark on the outer roller is aligned with the mark on the clutch-side crankcase cover. In this condition, the horizontal cylinder piston will be at top dead centre. Install in the alternator cover seat the tool code 88713.20 ...