Ducati Diavel Service Manual: Water radiators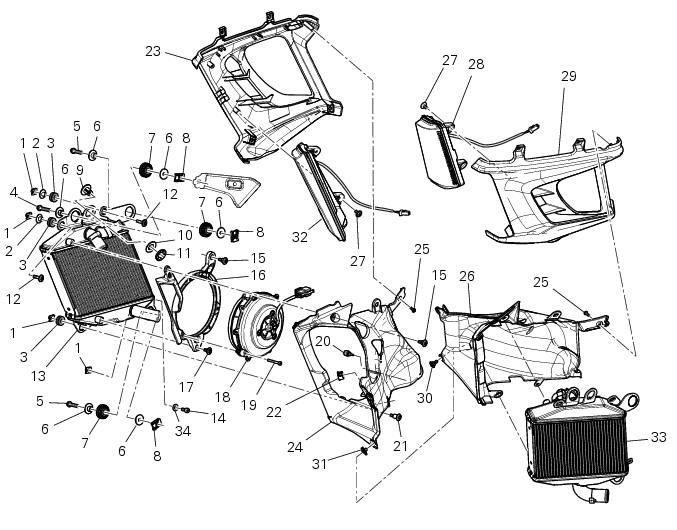 Clip nut
Spacer
Vibration damper mount
Screw
Screw
Spacer
Vibration damper mount
Clip nut
Bush
Spacer
Rear sprocket
Screw
Water radiator (right)
Screw
Screw
Air deflector (right)
Special screw
Electro-fan
Screw
Vibration damper mount
Screw
Plug
Half-fairing (right)
Internal air duct
Screw
Internal air duct
Screw
Front turn indicator
Half-fairing (left)
Special screw
Clip nut
Front turn indicator
Water radiator (left)
Washer
Screw
Spare parts catalogue
Diavel abs radiator (right)
Diavel abs radiator (left)
Diavel abs half fairing
Diavel carbon abs radiator (right)
Diavel carbon abs radiator (left)
Diavel carbon abs half fairing
Important
Bold reference numbers in this section identify parts not shown in the figures alongside the text, but which can be found in the exploded view diagram.
The exploded view shows only the rh water radiator since the left one features the same components except the plug (22).
Position the pump/radiator sleeve (22) and the radiator/radiator sleeve (23). Fit sleeve (23) and sleeve (22) to their corresponding fittings (n) and (o), and bring them fully home on collars (p) ...
Loosen the screws (p) that retain the supports (s) of the front splashguard to the air ducts (24) and (26). Loosen the screws (30), to separate the two internal air ducts (24) and (26). ...
Other materials:
Fairings
Rh front half-fairing Clip Screw Right-hand support Screw Screw Rh air inlet Lh air inlet Screw Clip Left-hand support Lh front half-fairing Lh tank fairing Screw Nylon washer Special screw Washer Spacer Spring Rubber pad Rh tank fairing Tank fairing ...
Throttle valve position sensor
Introduction The throttle valve position sensor (tps) of the diavel is mounted on the throttle body. The sensor is integrated into the throttle valve actuator motor, which turns the spindle of the vertical cylinder throttle valve directly. The sensor sends information to the engine con ...
Cleaning and replacing the spark plugs
Spark plugs are essential to smooth engine running and should be checked at regular intervals. The condition of the spark plugs provides a good indication of how well the engine is running. Have the spark plugs inspected or replaced at a ducati dealer or authorised service centre; they will ...