Ducati Diavel Service Manual: Disassembly of the clutch cover
Remove the plug (14) and its o-ring (13), the plug (17) and its o-ring (15) from the cover.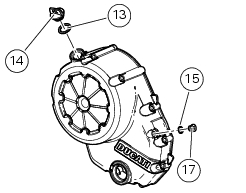 Undo the fixing screw (16) of the inner cover (19).
Remove the inner cover (6) and soundproofing panel (18).
Remove the circlip (10) and withdraw the shim (9) and the sealing ring (8).
The drilled bush (7) is mounted to the cover by a forced interference fit. Remove it using a suitable puller.
Inspect the sealing ring (8) and renew it if necessary.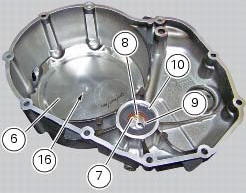 Unscrew the screws (2), (3) and (5) securing the clutch-side crankcase cover (1). Tap around the edge of the cover with a plastic mallet to detach it from the crankcase half. Remove th ...
Fit the plug (14) and the gasket (13). Fit the plug (17) and the gasket (15). If the bush has been replaced, fully seat the new bush (7) in the slot in the cover using a suitable drift and a pr ...
Other materials:
Reassembly of the timing pulleys
Fit the pulley (11) on the flange (24), aligning the timing mark (d) on the pulley with the timing mark on the (e) on the flange. Install the washer (23) up against the pulley, aligning the timing notch (f) with the timing marks on the pulley and the flange. Insert the three screws (22) ...
Throttle valve position sensor
Introduction The throttle valve position sensor (tps) of the diavel is mounted on the throttle body. The sensor is integrated into the throttle valve actuator motor, which turns the spindle of the vertical cylinder throttle valve directly. The sensor sends information to the engine con ...
Removing the front footrest brackets
Note The assembly of the front footrests is described only for the right one (2) but it is the same also for the left one. Place the spring (4) bringing the end (a) onto the footrest (2). Place the footrest (2) in the correct position, by inserting the end (c) of the spring (4) in the hole ...