Ducati Diavel Service Manual: Disassembly of the clutch cover
Remove the plug (14) and its o-ring (13), the plug (17) and its o-ring (15) from the cover.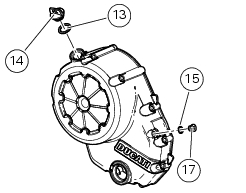 Undo the fixing screw (16) of the inner cover (19).
Remove the inner cover (6) and soundproofing panel (18).
Remove the circlip (10) and withdraw the shim (9) and the sealing ring (8).
The drilled bush (7) is mounted to the cover by a forced interference fit. Remove it using a suitable puller.
Inspect the sealing ring (8) and renew it if necessary.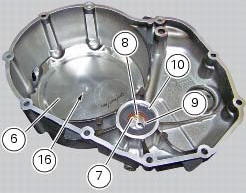 Unscrew the screws (2), (3) and (5) securing the clutch-side crankcase cover (1). Tap around the edge of the cover with a plastic mallet to detach it from the crankcase half. Remove th ...
Fit the plug (14) and the gasket (13). Fit the plug (17) and the gasket (15). If the bush has been replaced, fully seat the new bush (7) in the slot in the cover using a suitable drift and a pr ...
Other materials:
Default function (resetting ducati default parameters)
This function resets the parameters set by ducati for each riding style. To access the function it is necessary to view the "setting" menu page 48, using button (1, fig. 14) ?" " or (2, fig. 14) ?" " select the "riding mode" function and press the r ...
Description of the clutch assembly
The clutch is disengaged by a drive unit consisting of a thrust piston (c) accommodated inside a small cap mounted to the generator cover. This piston (c) pushes a pushrod (b), which runs through gearbox primary shaft and operates the Pressure plate (4) located on top of the clutch plate pack ...
Tail light - number plate holder
Rh tail light Vibration damper mount Spacer Screw Number plate light Screw Screw Plate Number plate holder Nut Screw Rear chain guard Lh tail light Spring washer Vibration damper mount Splashguard Screw Spacer Screw Washer Splashguard (europe - australi ...