Ducati Diavel Service Manual: Overhaul of the crankcase halves
Carefully examine the engine crankcase halves.
Check that the surfaces of the crankcase halves are perfectly flat using a reference surface.
Check that the bearings (1) and (18), and the bushings (2) and (17) are in optimum conditions. Note that the main bearings must always be changed in pairs (refer to the procedure below in "main bearings").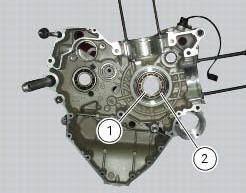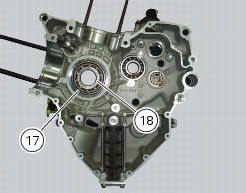 Note
When overhauling an engine it is good practice to renew all the crankcase half bearings.
After having renewed the gearbox shaft bearings (28) and (9), secure them in the crankcase half with the spacers (21) and the retaining plate (10).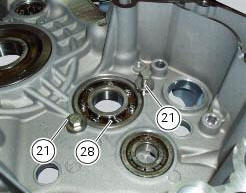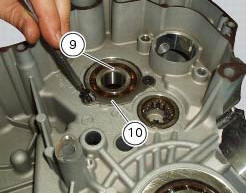 At each overhaul it is recommended to renew also the seal (8) on the outside of bearing (9).
Renew the bearings (7) and (23) on the ends of the gearbox shafts and timing belt driveshaft bearings (4) and (15).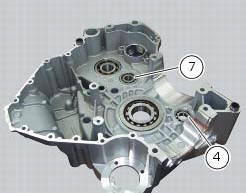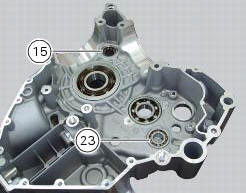 Take care not to lose the shim (6) interposed between the bearing (7) on the end of the gearbox primary shaft and the chain side crankcase half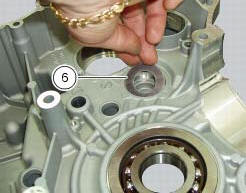 The seal (14) on the external side of the roller bearing (15) must be renewed at each engine overhaul.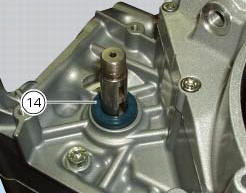 Check that the oilways are free of restrictions or clogging. Check the condition of locating bushes (22). If apparently distorted or loose in their seats, change them using proper tools. When the locating bushes (22) are hard to remove from casing, use a left-hand tap to force bushes out.
Important
The bushes (22) must always be renewed when they have been removed using the above procedure.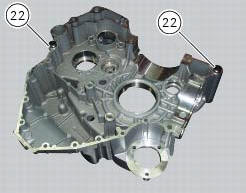 Remove the bearing (23), the circlip (5) and the roller bearing (4).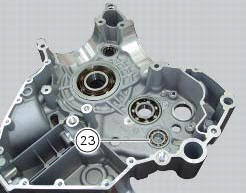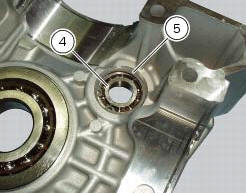 Use two screwdrivers to remove the circlip (29) from the timing belt driveshaft shaft (30) on the clutch-side crankcase half. Note Take care to avoid scoring the surface of the shaft while re ...
The main bearings have are of the angular contact type with offset inner races so that the balls transmit loads from one groove to the other along straight lines at an angle to the axis of the bear ...
Other materials:
Refitting the timing belts
Rotate the pulleys on the timing belt driveshaft until the timing mark on the outer roller is aligned with the mark on the clutch-side crankcase cover. In this condition, the horizontal cylinder piston will be at top dead centre. Install in the alternator cover seat the tool code 88713.20 ...
Air temperature sensor
Introduction The engine control system on the diavel uses a sensor that measures air temperature. This sensor has a resistance of ntc type (negative temperature coefficient), that reduces its own value when the temperature increases. The air temperature sensor allows the engine control unit t ...
Removal of the rear brake calliper
Important The brake manufacturer advises against any servicing of the internal components of brake callipers or the master cylinder. Incorrect overhaul of these critical safety components can endanger rider and passenger safety. Before removing the parts in question, you must first carry ou ...