Ducati Diavel Service Manual: Overhaul of the gearbox
Check the condition of the front coupling dogs of the gears. They must be in perfect condition and with no sign of wear on the edges of the teeth.
The idler gears must rotate freely on their shafts.
When refitting, make sure the circlips are correctly positioned.
Check the needle roller bearings for wear.
The threads and splines of the shafts must be in perfect condition.
Also check that the component parts of the gear selector mechanism are in good condition.
Engage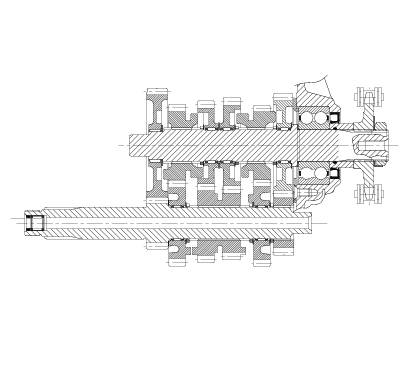 Engage the gears and check that the gearchange mechanism does not stick (selector fork - gear groove, and fork pin - desmodromic drum groove) due to incorrect end float. Restore the correct end float by shimming the gearbox shafts and the selector drum with suitable shims.
For the total gearbox shaft and selector drum end clearance values, refer to sect. 3 - 1.1, Gearbox.
Place the shaft in a vice in such a way as to facilitate the disassembly operations. Important Take care not to invert the positions of the shims on reassembly: this would potentially lead to jam ...
Visually inspect the gear selector forks. Bent forks must be renewed as they may lead to difficulties in gear changing or may suddenly disengage when under load. Use a feeler gauge to check the ...
Other materials:
Beam setting
When checking beam setting, put the motorcycle upright. Tyres should be inflated at the correct pressure and one person should be sitting astride the motorcycle, keeping it at right angles to its longitudinal axis. Place the motorcycle opposite a wall or a screen, 10 meters apart from it, draw ...
Identification data
All ducati motorcycles have two identification numbers, for frame (fig. 1) And engine (fig. 2). Note These numbers indicate the motorcycle model and should be quoted when ordering spare parts. ...
Air temperature sensor
Introduction The engine control system on the diavel uses a sensor that measures air temperature. This sensor has a resistance of ntc type (negative temperature coefficient), that reduces its own value when the temperature increases. The air temperature sensor allows the engine control unit t ...