Ducati Diavel Service Manual: Overhaul of the gearbox
Check the condition of the front coupling dogs of the gears. They must be in perfect condition and with no sign of wear on the edges of the teeth.
The idler gears must rotate freely on their shafts.
When refitting, make sure the circlips are correctly positioned.
Check the needle roller bearings for wear.
The threads and splines of the shafts must be in perfect condition.
Also check that the component parts of the gear selector mechanism are in good condition.
Engage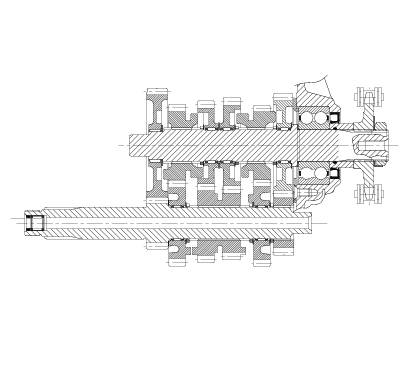 Engage the gears and check that the gearchange mechanism does not stick (selector fork - gear groove, and fork pin - desmodromic drum groove) due to incorrect end float. Restore the correct end float by shimming the gearbox shafts and the selector drum with suitable shims.
For the total gearbox shaft and selector drum end clearance values, refer to sect. 3 - 1.1, Gearbox.
Place the shaft in a vice in such a way as to facilitate the disassembly operations. Important Take care not to invert the positions of the shims on reassembly: this would potentially lead to jam ...
Visually inspect the gear selector forks. Bent forks must be renewed as they may lead to difficulties in gear changing or may suddenly disengage when under load. Use a feeler gauge to check the ...
Other materials:
Abs disabling function
This function disables or enables the abs. To access the function it is necessary to view the "setting" menu page 48, using button (1, fig. 14) ?" " or (2, fig. 14) ?"" select the "abs" function and press the reset button (12, fig. 12) To go to next ...
Checking and overhauling the components
Clearance between the clutch drum and friction plates Insert a friction plate (e) in the clutch drum (f) and measure the clearance (s) with a feeler gauge. Clearance "s" must not exceed 0.6 Mm. If it does, renew the plates and, if necessary, the clutch drum. Overhaul of the clutch plat ...
Removal of the water pump
Note For clarity, the figures show the engine removed from the frame. Loosen and remove the water pump cover (12) fixing screws (13) to the generator cover (16). Remove the water pump cover (12). Clean the pump housing of any scale. Check the bearings wear by turning the impeller s ...