Ducati Diavel Service Manual: Overhaul of the gearbox
Check the condition of the front coupling dogs of the gears. They must be in perfect condition and with no sign of wear on the edges of the teeth.
The idler gears must rotate freely on their shafts.
When refitting, make sure the circlips are correctly positioned.
Check the needle roller bearings for wear.
The threads and splines of the shafts must be in perfect condition.
Also check that the component parts of the gear selector mechanism are in good condition.
Engage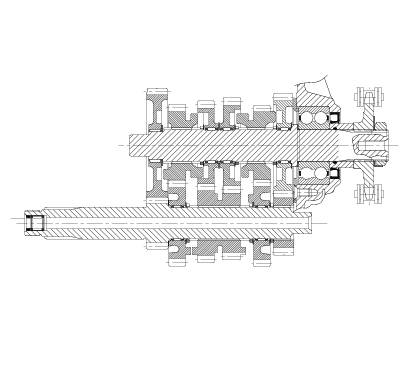 Engage the gears and check that the gearchange mechanism does not stick (selector fork - gear groove, and fork pin - desmodromic drum groove) due to incorrect end float. Restore the correct end float by shimming the gearbox shafts and the selector drum with suitable shims.
For the total gearbox shaft and selector drum end clearance values, refer to sect. 3 - 1.1, Gearbox.