Ducati Diavel Service Manual: Overhaul of the gearbox
Check the condition of the front coupling dogs of the gears. They must be in perfect condition and with no sign of wear on the edges of the teeth.
The idler gears must rotate freely on their shafts.
When refitting, make sure the circlips are correctly positioned.
Check the needle roller bearings for wear.
The threads and splines of the shafts must be in perfect condition.
Also check that the component parts of the gear selector mechanism are in good condition.
Engage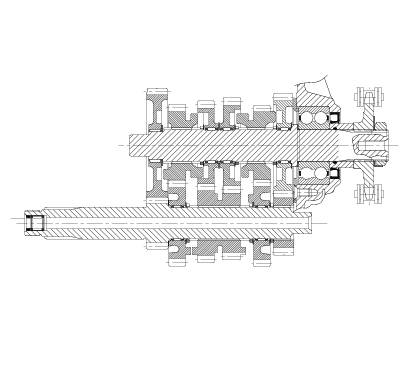 Engage the gears and check that the gearchange mechanism does not stick (selector fork - gear groove, and fork pin - desmodromic drum groove) due to incorrect end float. Restore the correct end float by shimming the gearbox shafts and the selector drum with suitable shims.
For the total gearbox shaft and selector drum end clearance values, refer to sect. 3 - 1.1, Gearbox.
Place the shaft in a vice in such a way as to facilitate the disassembly operations. Important Take care not to invert the positions of the shims on reassembly: this would potentially lead to jam ...
Visually inspect the gear selector forks. Bent forks must be renewed as they may lead to difficulties in gear changing or may suddenly disengage when under load. Use a feeler gauge to check the ...
Other materials:
Symbols
Ducati motor holding s.P.A. Advises you to read this manual carefully in order to become familiar with your motorcycle. If in doubt, please contact a ducati dealer or authorised service centre. The information contained herein will prove useful on your trips - and ducati motor holding s.P.A. Wis ...
Removing the water radiators
Loosen the screws (p) that retain the supports (s) of the front splashguard to the air ducts (24) and (26). Loosen the screws (30), to separate the two internal air ducts (24) and (26). Disconnect the wiring connectors of the main wiring loom (c) from both fans. Disconne ...
Tips for use on the road
Activate the dtc, select level 8 and ride the motorcycle in your usual style; if the level of dtc intervention seems excessive, try reducing the setting to levels 7, 6, etc., Until you find the level that suits you best. If changes in the grip conditions and/or circuit characteristics and/or ...