Ducati Diavel Service Manual: Reassembly of the gearbox
To refit the gearbox components follow the procedure under sect. 9 - 9.2, Reassembly of the crankcase halves, relating to reassembly of the engine crankcase.
As a final practical test, ensure that with the gearbox in neutral the front coupling dogs (a) of sliding gears (b) are equidistant on both sides with respect to the corresponding coupling dogs on the fixed gears (c).
Check also that there is always a small amount of clearance between fork (d) and relative groove (e) on sliding gear (b) when engaging the gears.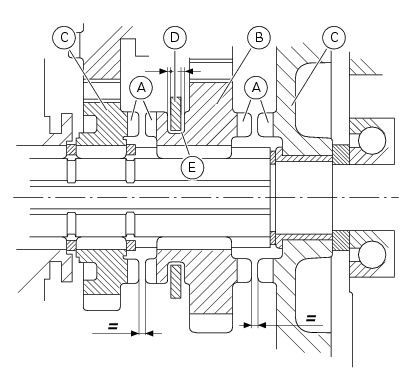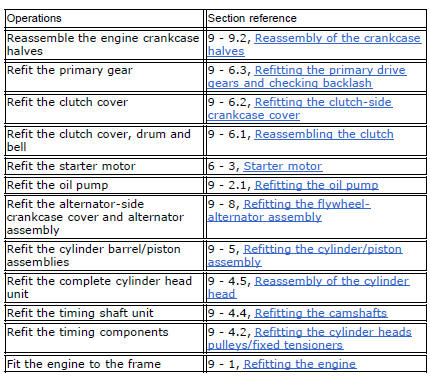 Figure 1 shows all the parts to be reassembled on the gearbox primary shaft (2), with the calculated end shims (1) and (11) (sec. 9 - 9.2, Reassembly of the crankcase halves). Figure 2 shows a ...
Screw Alternator stator Plug Sealing ring O-ring Cover Screw Aluminium gasket Screw Bracket Locating bush Screw generator cover Flange Flanged nut Plane washer F ...
Other materials:
Reassembly of the control unit
Insert the control unit (4) into the protecting sheath (5) and position it on the airbox. Position the relay supporting bracket (2) by starting and tightening the screws (1) to a torque of 6 nm +/- 10% (sect. 3 - 3, Frame torque settings), and connect the control unit connectors (3). ...
Water radiators
Clip nut Spacer Vibration damper mount Screw Screw Spacer Vibration damper mount Clip nut Bush Spacer Rear sprocket Screw Water radiator (right) Screw Screw Air deflector (right) Special screw Electro-fan Screw Vibration damper mount Screw Plug Half ...
Dashboard diagnosis
This function identifies any abnormal vehicle behaviours. The dashboard activates any abnormal vehicle behaviours in real time (errors). At key-on (at the end of the check) one or more "errors" are displayed in red (only if they are active). When an "error" is triggered, the indication (r ...