Ducati Diavel Service Manual: Refitting the crankshaft/connecting rod assembly
Install the connecting rod assembly (6) and (2) in the crankcase, carry out the shimming and crankcase half reassembly procedure as described in sect. 9 - 9.2, Reassembly of the crankcase halves.
Important
Make sure that the connecting rods (2) are correctly positioned in the cylinders. Incorrect positioning of the connecting rods at this stage will inevitably lead to the need to re-open the crankcase halves.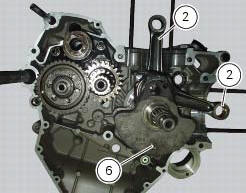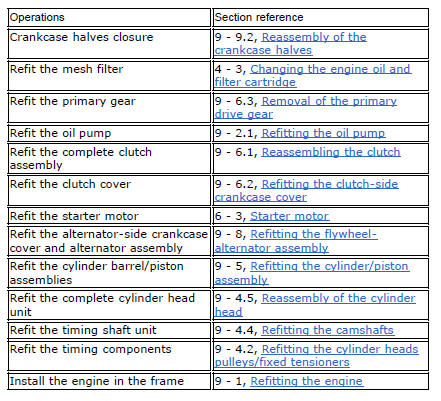 Before starting, check that the crankshaft main bearing journals and big-end journals are free of burrs or evident signs of machining: if necessary, clean the surfaces with very fine emery cloth an ...
Other materials:
Turn indicators not working
Fault codes Dds: no fault code displayed. Dashboard: no fault code displayed. Wiring diagram Db dashboard connection, bbs bbs unit connection, s turn indicator button, f1 front left turn indicator, f2 front right turn indicator, f3 rear left turn indicator, f4 rear right turn indicator. ...
Lap activation/deactivation function (lap time)
This function activates and deactivates the lap function (lap time). To access the function it is necessary to view the "setting" menu page 48, using button (1, fig. 14) ?" " or (2, fig. 14) ?" " select the "lap" function and press the reset button ...
Removing the front footrest brackets
Note The assembly of the front footrests is described only for the right one (2) but it is the same also for the left one. Place the spring (4) bringing the end (a) onto the footrest (2). Place the footrest (2) in the correct position, by inserting the end (c) of the spring (4) in the hole ...