Ducati Diavel Service Manual: Refitting the crankshaft/connecting rod assembly
Install the connecting rod assembly (6) and (2) in the crankcase, carry out the shimming and crankcase half reassembly procedure as described in sect. 9 - 9.2, Reassembly of the crankcase halves.
Important
Make sure that the connecting rods (2) are correctly positioned in the cylinders. Incorrect positioning of the connecting rods at this stage will inevitably lead to the need to re-open the crankcase halves.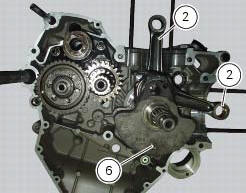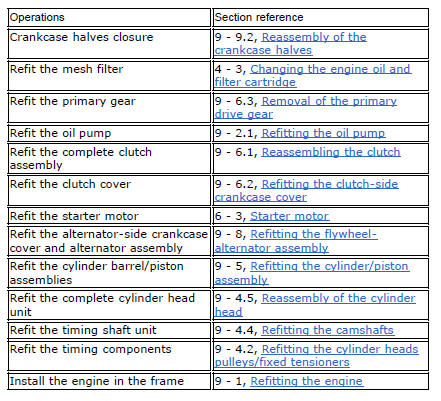 Before starting, check that the crankshaft main bearing journals and big-end journals are free of burrs or evident signs of machining: if necessary, clean the surfaces with very fine emery cloth an ...
Other materials:
Dashboard on tank
Menu 1 (tot, trip1, trip2, trip fuel). Menu 2 (cons.Avg., Cons., Speed avg, air and trip time) if active. Gear / neutral indication. Icon referred to the function below from menu 1. Indication of engine setting for the currently set riding style. Currently set riding style (riding mode) ...
Bleeding of the abs hydraulic system
If some "sponginess" is detected on the brake control, due to air bubbles in the system, bleed the system, as indicated in sect. 4 - 3, Changing the brake fluid. Before bleeding a brake pump, move back the calliper pistons, as indicated in (sect. 4 - 3, Changing the brake fluid) to Drain in ...
Overhaul of the gearbox
Check the condition of the front coupling dogs of the gears. They must be in perfect condition and with no sign of wear on the edges of the teeth. The idler gears must rotate freely on their shafts. When refitting, make sure the circlips are correctly positioned. Check the needle roller ...