Ducati Diavel Service Manual: Refitting the crankshaft/connecting rod assembly
Install the connecting rod assembly (6) and (2) in the crankcase, carry out the shimming and crankcase half reassembly procedure as described in sect. 9 - 9.2, Reassembly of the crankcase halves.
Important
Make sure that the connecting rods (2) are correctly positioned in the cylinders. Incorrect positioning of the connecting rods at this stage will inevitably lead to the need to re-open the crankcase halves.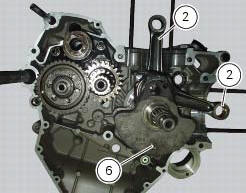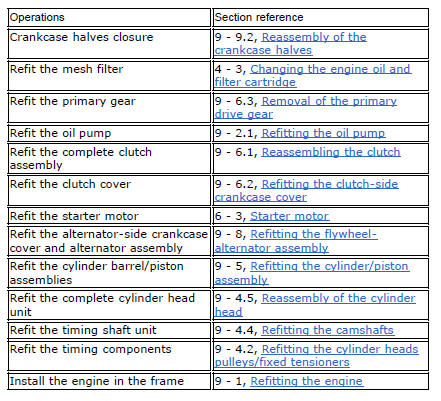 Before starting, check that the crankshaft main bearing journals and big-end journals are free of burrs or evident signs of machining: if necessary, clean the surfaces with very fine emery cloth an ...
Other materials:
Refitting the airbox and throttle body
Position the filter box (1). Operate on the vehicle lh side, connect connector (f) of the tps/div motor. Operating on the right side of the vehicle, connect connector (e) from the aps sensor. Check for the vibration dampers (20) on the map sensor supporting bracket (19). Insert t ...
Changing the engine oil and filter cartridge
Note This operation has to be carried out with hot engine (but turned off) because the oil in these conditions is more fluid and its evacuation is faster and complete. Remove the drain plug (3) with seal (a) from the oil sump and allow the oil to drain off. Warning Dispose of oil and/or fil ...
Changing the clutch fluid
Warning Clutch fluid will damage painted surfaces if spilled on them. It is also very harmful if it comes into contact with the skin or with the eyes; in the event of accidental contact wash the affected area with abundant running water. Remove cover (1) and membrane from the clutch fluid res ...