Ducati Diavel Service Manual: Refitting the crankshaft/connecting rod assembly
Install the connecting rod assembly (6) and (2) in the crankcase, carry out the shimming and crankcase half reassembly procedure as described in sect. 9 - 9.2, Reassembly of the crankcase halves.
Important
Make sure that the connecting rods (2) are correctly positioned in the cylinders. Incorrect positioning of the connecting rods at this stage will inevitably lead to the need to re-open the crankcase halves.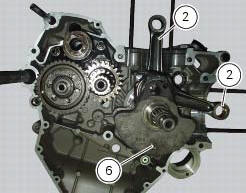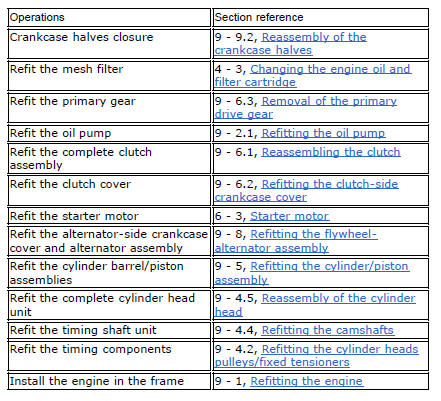 Before starting, check that the crankshaft main bearing journals and big-end journals are free of burrs or evident signs of machining: if necessary, clean the surfaces with very fine emery cloth an ...
Other materials:
Steering angle adjustment
Loosen the nuts (17) and adjuster screws (16) on both sides of the bottom yoke. Use a 6 to 6.5 Mm spacer (a) fitted to the fork outer tube, or use a gauge. Turn the front forks to the right until the spacer (a) is seated against the frame top tube. Tighten the adjuster screw (16) to ...
Draining the clutch hydraulic circuit
Warning Clutch fluid will damage painted surfaces if spilled on them. It is also very harmful if it comes into contact with the skin or with the eyes; in the case of accidental contact, wash the affected area thoroughly with plenty of running water. Remove the dust cap to expose the bleed val ...
Explanation of the function of the ride-by-wire system
Mechanism Via metal cables, the throttle grip operates a roller mounted on one end of a spindle located near the horizontal cylinder throttle valve spindle. The aps sensor, which measures the position of the throttle grip itself, is mounted on the opposite end of this spindle. A mechanic ...